The Brothers


Promotional photos of Andrew and Randall courtesy of Hannah Wahl. Check out her Flickr page: flickr.com/wakingtruth
Andrew "Gears'n'Shears" Leese
Raised on the rural south end of Whidbey Island in the beautiful Pacific Northwest, Andrew developed a love for cycling at the age of 5. His grandfather bought him a candy apple-red Schwinn with a banana seat and he learned to ride around his neighborhood with training wheels.
It was not until he began attending Western Washington University in Bellingham, Washington, that he became a bike nut. Andrew's love for recreational trail riding had been growing for about two years and he has to admit that his choice of WWU had some auxiliary influences, one being the amazing singletrack networks of Bellingham! Also, in his first year at Western a few students formed a university racing team so he decided to and try his hand at competition. While studying computer science, mathematics and physics he worked his way to the semi-pro cross-country ranks and category three on the street.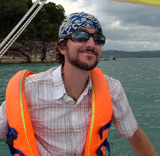 Andrew decided to take up haircutting when he discovered a talent for it while attending South Whidbey High School. He began by cutting his siblings' and friends' hair, and when he found that his high school had an off-campus vocational training program for haircutting he knew it was a calling. Andrew attended Everett Plaza Beauty School's barber program, receiving high school credit for it and benefiting from subsidized tuition by his high school. Barbering, for him, has been a way to pay off his college education while working in a well-paid, laid-back, recession-proof and flexible trade.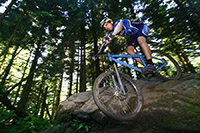 Since graduation he has traveled extensively in Southeast Asia and recently completed an eight-day, 1,200-kilometer, bicycle tour from Bellingham to Jasper, Alberta, with a cycling teammate. Now 32 years old, he has worked as a barber in an independent, old-fashioned barbershop on the south side of town since 2002. Andrew is an aspiring literary buff, skier, and hobbyist chef known by friends for his inordinate love of Thai sticky rice and sadistically chili-hot som tam.
Travels:
Study abroad in Florence, Italy, in fall of 2000. Traveled through France, Netherlands, Czech Republic, Switzerland and Italy during that time.
Backpacking through Thailand, Malaysia, and Cambodia in fall of 2005 and 2006. Bulk of time spent cycling the mountains of northern Thailand.
Various small trips in Canada and Mexico for bicycle racing, training, and touring.
Language Experience:
French – Beginner
Italian – Beginner
Thai – Beginner
Mandarin – Beginner
English – Beginner :)
Randall "Big Little Brother" Leese
Randall Leese, recently turned 23, lives and works with his family on their active 4th-generation farm, located at the heart of beautiful Whidbey Island. He first discovered his love for bicycling as a toddler, careening gleefully from the loving hands of his grandfather. His attraction to cycling evolved from BMX to mountain biking, and finally into a love of touring the open road, which has recently led him to organize and complete a wholly unsupported ride from British Columbia to Mexico—more than 1,800 miles in just 16 days. He raised more than $4,000 for charity, thanks to a supportive community.
To finance his travels, Randall works at the a local family-owned espresso bar and roasteria 20 – 30 miles from his home along the idyllic shores of Puget Sound—a pleasant daily cycle!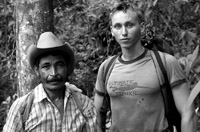 Randall is also an avid reader, an aspiring artist and musician, a traveler, and an accomplished photographer, whose work was lately published on Snowboarder Magazine's website. He is an Eagle Scout, and has volunteered extensively in his community.
When he returns home in early 2012, he looks forward to studying naturopathic medicine or linguistics in the university and seeing his darling younger sisters, Emma, Maria, and Katie.
Travels:
Over 10 months backpacking through Mexico and Central America, including 2 months of volunteer work at an organic cacao farm in rural Costa Rica. He also spent several months studying Spanish at an academy in Guatemala.
Cycle tour from Canada to Mexico to raise money and awareness for refugees of the Darfur genocide. Other small touring trips around Northwest Washington
Language Experience:
English – Expert
Spanish – Intermediate
French – Beginner
Latin – Beginner
Russian – Beginner