The Orphans



Most people know that India is a fascinating fusion of many languages, cultures, religions and ethnicities that contrast as much from one another as the vivid colors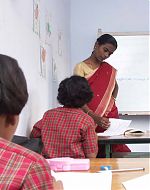 worn by her inhabitants. Most people also understand that India is a place that some of the world's poorest call home. In Indian society, the children catch the brunt of the desperate economic forces that ebb and flow. There are estimated to be at least 15 million child-slaves and 50 million orphans and child-prostitutes on the subcontinent. Think your life is tough?
How did we choose to sponsor this particular orphanage? It happens to be the extraordinary nature of its beginnings that inspired us.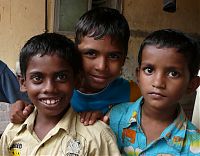 We first heard about the Servi Domini Orphanage when a young, newly ordained priest with whom we were acquainted went to work in the vicinity of Palayamkottai and returned with some vivid stories and tremendous enthusiasm. Andrew later came across the story of the orphanage's roots in an international publication. Its flowering was at first humble but quickly progressed to radiant bloom.
In 2001 a young lady from India named Swarna Vongala had just finished her degree in computer engineering from a university in Iowa and had begun a posh,
high-paying job when a curious notion prodded her to return to her native home in Cuddapah, in the southern state of Andhra Pradesh. In no time she had set up a local, government-approved society called "Servi Domini," rented a house, bought a plot of land for the future and had begun combing the streets of Cuddapah for societal rejects. Soon she had gathered fifty people. Most were young orphans, but some were also elderly who possessed no home or money.
Recognizing an opportunity to grow the orphanage (with the support of a Catholic community farther south in the town of Palayamkottai), Swarna packed all of the possessions and all of the orphans into a few trucks and made the move. This new locale would also allow her to tie the orphanage to a school so that the children could have the unprecedented opportunity of a good education.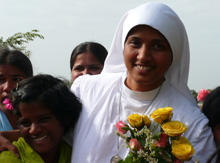 Over the past few years the Servi Domini Orphanage has flourished, as have its charges. Miss Marie-Blanche Herault (in the center of the class picture, above) took on the leadership of the orphanage while its founder
traveled to Vigne, Italy, to spend time as a novice with a small religious order, the Consoling Sisters of the Sacred Heart. A few of these sisters are helping to run the orphanage and there are now 30 children and 3 elderly in their care.
Swarna, known now as Sister Maria Immaculata, recently returned from her novitiate. There are plans in the works to build a much larger orphanage not far from the current location with the intention of taking on more orphans. At this point all that is needed to sustain the growth of this refuge for the some of world's neediest people is a continuing flow of revenue from generous patrons around the world.