Subscribe to our blog: RSS | Atom

17 Mile Drive


Our plan next was to ride down Highway 1 to San Luis Obispo, then east to Bakersfield. We began on a very smooth, quiet alternate road that goes over the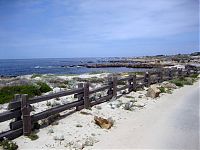 hill to Santa Cruz. The legs were NOT in tune after a week off! The first half of the ride was very pretty and took us through high end neighborhoods of the Northern California coastal elite. Stuccoed mansions were interspersed by groves of peeling eucalyptus trees which wafted their pleasant aroma to us. As we curved around the bay toward Monterey the light grew dim and we had ebbed into no man's land. Strawberry farms were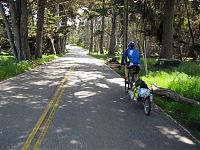 plentiful but it was a bit lonely. As we pedaled the wide shoulder of freeway a driver pulled off ahead of us and put on his emergency flashers. "Oh boy, what now," I thought. He stopped us.
"There's a bike path right there," he emphasized, pointing. He was a hip-looking middle-aged man with both ears pierced – the quintessential Monterey yuppie! I looked, squinting in the dark. Sure enough, a two-lane bike path just down the short hill.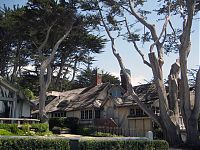 "That will take you all the way to Monterey. It's better than riding the freeway at night. Not so sketchy," he said with a smile.
I was mildly humbled by my apparent unobservant ignorance. I said "That will take us all the way there? Thanks!" And he was off. We hiked the bikes down the hill and I turned on my sun-bright helmet light and we sped off down the path. What a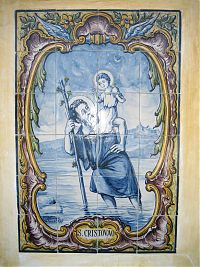 relief to be out of harm's way and riding in peace! We still had about 10 miles to go and the bike path eventually was lit by little lamp posts – so cool! It took us right by the bay past funky little shopping areas and people milling around in squares under the glow of street lamps. When we finally arrived at the house of the little old Vietnamese lady we were scheduled to stay with we were greeted by her at the door. She quickly let us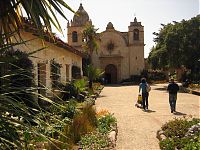 know that she had received unexpected company for the night and handed us money for the hostel down the street and a large bag stuffed with freshly-made jasmine rice, roasted chicken and carrots, and sliced oranges, and then sweetly wished us God's blessing and a safe journey.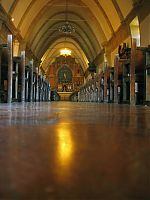 Our hostel was one of the nicest I've seen, on easily on par with one I stayed at in Swizerland years ago. We stayed up late eating and catching up on business. In the morning we mingled with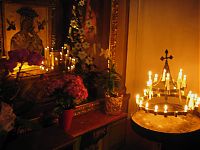 some of the other guests, some Swiss, some French, some Kiwi girls and passed out a few Orphan Ride cards. People are always interested in what we are doing and asking about our route and such! The proprietor was infinitely helpful and after advising us on our route and some important stops he even let us loiter past checkout time while we took advantage of the WIFI access and free, fresh waffles. Randall and I rode out along the scenic, private "17-Mile Drive" of Pebble Beach and the weather was fine. After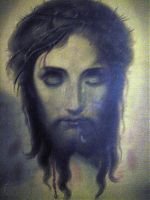 a stop at the enchanting Carmel Mission we rode on and camped behind the bathrooms of a day-use only park, leaving no trace that we had been there. In the night Randall woke me up.
"Andrew! The Raccoons are stealing our food!"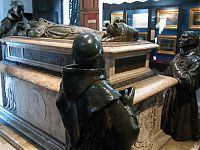 My earplugs were in to stave off the snoring of the Randall so I had not been disturbed by our late-night thieves. We had searched around and only one of his bagels had been taken. In foresight of such an occurrence, I had stashed my food in the bathroom.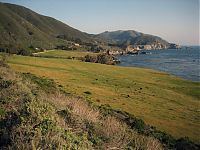 The next morning took us 100 miles to San Luis Obispo through some of the most lovely territory yet. The mountains of Big Sur were lushly covered and the road percariously hugged and wound around the steep cliff-sides. Traffic was light. The sun was out. Sometimes the coastline appeared as out of a fairytale. We stayed with another great host in SLO named Joel. We talked cycling and traveling much with him and gleaned some wisdom for the road ahead.
Comments:
Post a comment:
Commenting is closed for this article.