Subscribe to our blog: RSS | Atom

24 Hours Later...


Of the entire trip, day two has certainly been the most leisurely.
After a comfortable night at home, we waked to a rousing and and delicious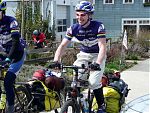 breakfast of Swedish Pancakes with lingon-rasp-blackberry sauce, fresh whipped cream, crispy fried bacon, eggs, and ambrosial coffee from "Useless Bay Coffee />Company , of course. Our agenda dictated arrival in Langley at 10:00am for our final Whidbey Island send-off, but we were, as Islanders, characteristically late. Presumably forgiven, however, as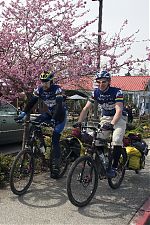 we rolled into Useless Bay at 10:45, we relished applause, cheers, and a barrage of questions and sweet well-wishes that lasted for nearly two hours. Thanks, everyone, for your support!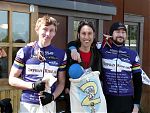 The sun was past her apogee when we mounted for Edmonds. Our gears ground and our legs churned as we struggled out of Langley. The plum blossoms were balmy and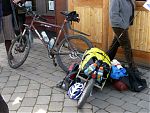 fragrant, the air calm, but quickened by your sweet farewells, we sped on, and on, and into the world.
Day 3 will see our young adventurers to a lovely remodeled fire station in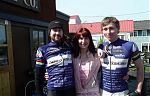 Bremerton… From its decks (or battlements, as I'm inclined to say) the Sound and the Mountains concurrently beckon and bid farewell as fair Aurora passes beyond gossamer curtains to her chamber. Now we leave the the psychological Aegis of the familiar,
and pedal on.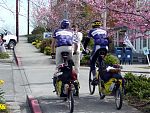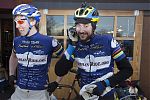 Comments:
Bon voyage from Kim in Istanbul!

— Kim Tinuviel · Apr 13, 04:05 AM · #
Post a comment:
Commenting is closed for this article.