Subscribe to our blog: RSS | Atom

A Last Farewell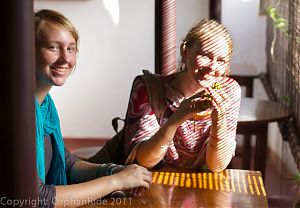 "Aṭutta muṟai varai, India!"
I hugged my sisters goodbye, and latched up my trailer for nearly the first time in six months. It was a familiar movement after hundreds, perhaps thousands, of repetitions, but uncommonly heavy after so many sedentary months. Heavy also was the parting: it had been two years since Katie, Maria and I had met, and another might pass before we would meet again. The end, however, was practically in sight: as my sisters returned to Palayamkottai by train, I would make for my rendezvous with Andrew in Northern Thailand – Chiang Mai, to be precise. From there I hoped to pedal down the Malay Peninsula to Singapore, and return to India — chiefly to make a film at the orphanage, whence I intended to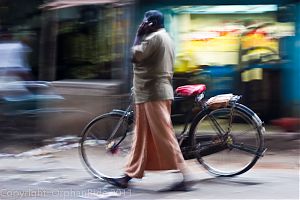 return to Malaysia and fly to Tokyo, Japan in February 2012 (I even had my ticket already!). Clearly I'm a slow learner, however, for I would find yet again that's almost impossible to plan so far ahead on a trip ruled by contingency.
My only hope was in purloining an empty box at the airport
For the present, I was waving one last time to my sisters as I cycled down the left side of the road, natural now with long practice through downtown Kochi towards the airport, a 60-70km (40mi) ride. I hoped to find a bicycle box en-route – had even pinpointed a shop with GPS, but failed to find it and had to cut the search short, lest I missed my flight. My only hope was in purloining an empty box at the airport.
I arrived at the terminal doors, where I was refused entry by the guard.
My quest abandoned, I set off again for the airport, on schedule and out of form; after my six-month sojourn in Palayamkottai, I was in lamentable condition for anything like a long ride at the accustomed rate (13 or 14 miles per hour). It began well; indeed, legs and outlook were both fresh, but the road taxed the former, and they in turn passed on the expense to my blunted will. It wasn't without its consolations, however: the Keralan motorists were extraordinarily friendly – they waved and honked encouragingly as they passed, lending encouragement and passed the time. Furthermore, the chaotic intensity of Indian traffic served as a prime distraction from the monotonous rotation of weak legs.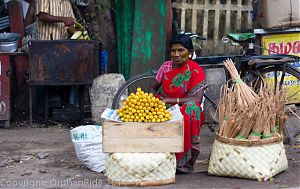 In any case, the kilometers ground by, and I arrived within sight of the airport without incident. A quick lunch at a cafe, and I arrived at the terminal doors, where I was refused entry by the guard. He said something about a boarding pass, and jabbered into his radio in Keralan (which is similar to Tamil, though more pleasing to the ear in tone and rhythm). He told me to follow him, and led me into an office where a man was seated. He greeted me in perfect English, acted the very model of courtesy as he looked over my documents, and gave me "special permission" to enter the terminal. The security guard led me through the doors and escorted me through a surprisingly empty area to the ticket counter.
My bicycle and trailer were greeted with a melancholy look – temperamental, perhaps – before I was told to put it through the x-ray machine. My movements were leisurely, although the attendants around me soon became agitated and while they tried to hasten me. A doubt, and I inquired: "This flight doesn't leave for two hours, right?"
"No, no! Half-hour!"
I rather began to hurry after that.
They told me not to disassemble my bicycle, a welcome break from one of the more annoying aspects of flying with such luggage, so I hurriedly handed over the majority of my remaining rupees (around 1000) to cover the bicycle fee, left my things, and dashed through the gates. The interminable hallways stretched on and on to the appropriate gates, where an attendant was shouting "Kuala Lumpur, this way," as he he made for the appropriate exit at a brisk pace. I was the last of my fellow passengers to board the little blue bus for the plane, just in the nick of time.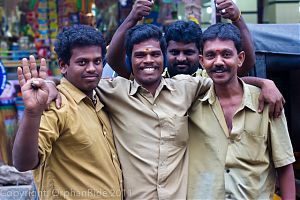 …
As the plane taxied to the runway, I reclined comfortably in my seat, closed my eyes, savoring the luxury around me, and whispered: "Goodbye, India…" Stretched my legs, and added
"See you again."
Post a comment:
Commenting is closed for this article.