Subscribe to our blog: RSS | Atom

A Stormy Pilgrimage

Not far out of Tottori I veered inland in the direction of Kyoto, the ancient seat of the emperor. It was a shock to climb in the low mountains after so much flat coastal terrain, but the challenge was welcome. I was caught in a miserable rainstorm on the final ride into the city and it would have been completely discouraging had I not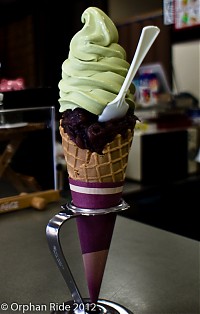 a friend awaiting me with a warm yet not spacious studio apartment to share. Zhang was a design student from Mainland China and I had yet another good opportunity to practice my Mandarin, a language in which I have become quite comfortable conversing in spite of my weak vocabulary. I was treated to true spare-no-expense Chinese hospitality and we partook of French wine and home cooked hotpot with vegetables, mushrooms, fish, beef and chicken in the his room before he went to work at a local restaurant. I did some site seeing in this city that overflows with historical monuments and cherry blossom lined avenues, and spent the rest of the time resting my cold and weary bones. From Kyoto I worked my way north along the busy shore of Japan's largest lake, Biwa, then made the short traverse northward to the Sea of Japan (west) coast of Honshu Island for some more quiet and scenic coastal riding.
They played "Puff the Magic Dragon" in honor of their English-speaking guest…
One day I was parked at a secluded place beside the road and had just taken I bite from my bread with butter and jam when I felt something brush forcefully against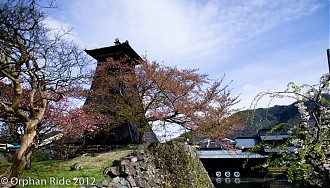 the side of my head. I looked down at my hand, still in the bread-holding position, and the slice had disappeared! I then looked around, confused, but there was no sign of my snack. Finally I tilted my head back to examine the sky, and, lo and behold, a large bird of prey was circling proudly overhead, taking bites from my bread, now his, as he clutched it firmly in his talons. Had he not gloatingly made known his robbery to me the disappearance of the slice of bread would be a mystery to this day, so fast, stealthy—to wit, ninja-like—was the falcon in his operation.
The next day I was working my way through the hills when I noticed a middle-aged road cyclist walking his bike alongside the road in a rural area. I stopped to see if I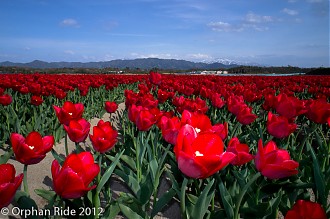 could be of assistance and he told me that his tire was flat with two punctures and that he had forty kilometers to go. I replied that I was in possession of two patches and we proceeded to repair the leaks. It is my suspicion that he cut the tube with his levers while repairing a previous flat. I've made the same mistake more than once with tight-fitting street tires. The work finished, the man asked me if I wanted money and I said "of course not," and then he asked me if I would stay at his house. I hesitated, then accepted since his residence was ahead on my route, in the city of Toyama, and we rode on after he had called his wife to make sure it was okay to bring home a guest. We met a young Japanese touring cycling on the way and my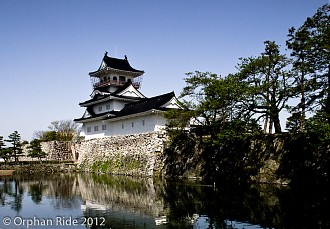 new friend also invited him to stay, but I believe that this was too much for the misses because our host instead brought us to a friend's house who was very wealthy and enjoyed entertaining visitors. We were treated to a feast of sashimi (fresh, raw seafood), home-made tempura (lightly battered, fried vegetables) dipped in matcha (powdered green tea) and salt, yakisoba and a variety of tofu soup. The evening was capped with an impromptu concert by my new friends who turned out to be semi-professional musicians. They played "Puff the Magic Dragon" in honor of their English-speaking guest and invited me to sing, but the lyrics I had long forgotten.
As I worked my way north I had many opportunities to stay in free campgrounds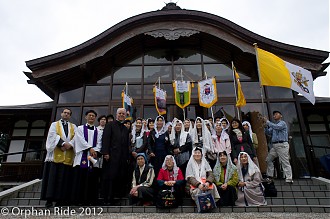 and the facilities were excellent. Fireplaces with grills for cooking, clean running water (sometimes from springs), wonderfully level and immaculate tent sites and often electrical sockets were available. I could save fuel and use my electric immersion heater to boil water for miso soup, tea and instant coffee. I had bought this device long ago in Syria for about $0.25 and it has been one of most useful purchases of the whole trip. However, I had not counted on Japan's voltage being 100v instead of the household 220v that is nearly universal in the Eastern Hemisphere. Thus, my heater required a much longer immersion before boiling point was reached.
At this point I have learned that "waterproof" gear—tents, jackets and the like—truly only delay the inevitable.
The weather was fine overall, though cold. I continued to wear everything that I could into my sleeping bag. Finally, the day that I pedaled into Akita it began to rain,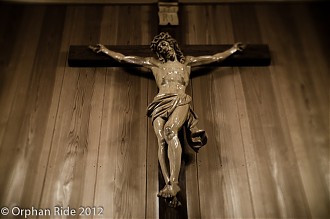 and rain hard it did. I was dripping and cold when I arrived at the meeting point of the pilgrimage that I had planned to attend, so, weary, smelly and shivering I left to find a supermarket and place to camp. The wind had picked up. I found a place to camp under some pine trees and pitched my tent in the downpour. At this point I have learned that "waterproof" gear—tents, jackets and the like—truly only delay the inevitable. I was fairly damp when I retired and woke up with the foot of my sleeping bag somewhat wet and my passport floating in a pool that had formed inside my luggage bag.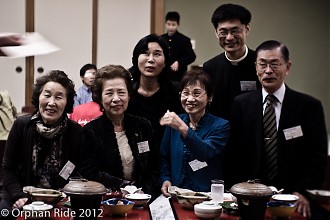 It rained and drizzled the following day, all day, and into the night, and I was ready to give it all up and go die in a cave, or at least sleep in one if such a haven could be found. A young Irishman from Couchsurfing had offered to host me on the third night so I had some relief from the rain, then the following night my pilgrimage group, with whom I'd finally met, generously put me up in an onsen ryokan, a traditional Japanese hotel with a mineral hotspring piped in. It was as if I had been reborn. We celebrated the conclusion of the pilgrimage with the most authentic and delicious Japanese supper that I have ever tasted.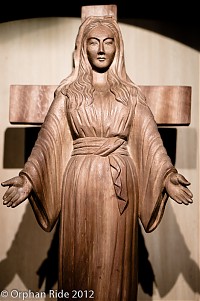 This pilgrimage is one of the most important in Japan. During the 1970s a Japanese nun from the area of Akita had been gifted with apparitions of the Blessed Virgin, and at the same time a wooden likeness of Mary that had been beautifully carved by a Japanese Buddhist artisan for the congregation began to shed tears, which it continued to do 101 times to the edification and astonishment of several thousand eyewitnesses. Some of the tears were collected and sent to the biology laboratories of several universities in Japan and were verified to be real human tears. This statue is now an object of veneration for the many pilgrims who come to pay a visit to Akita each year. A magnificent chapel in the Japanese architectural fashion has been built to house it.
…I locked myself into the spotless, spacious public bathroom for the night and slept like a baby.
I stayed a few more days with my accommodating host, Padraig, an English teacher from Ireland, awaiting a package from home that contained an ultra-light inflatable mattress for camping and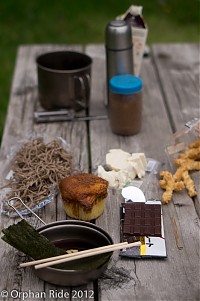 a new lens for my camera. One of those days happened to be his birthday so I did my best to cook an Irish supper of bangers'n'mash and cabbage and bacon soup, a meal we washed down with some dark, malty Japanese beer. Finally, after more than a week in Akita, I began to ride further north. I was not sure if I now had enough time to visit Hokkaido and put together a route that would do this immense island any sort of justice. On the first day I was working my way around the Oga Peninsula and my left crank arm finally broke completely off. It had been threatening to do so since my last tour in China but I had decided to try to finish the trip on it in spite of the crack in the spindle. Since I had enough food and a fantastic campsite (though a big orange cat attempted to steal a loaf of bread in the night and was thwarted) I spent an entire day there writing the previous blog post and enjoying the sunshine. Then I hitchhiked back to Akita. It was an enjoyable experience, though my second driver, also a cycling enthusiast, got a hefty speeding ticket on the way.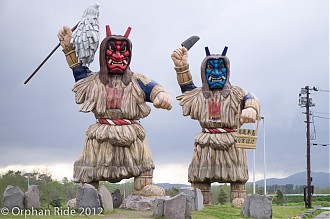 The bike shop was closed that day. I pedaled with one leg to the bike shop at 11am when they opened (nice hours), bought a new crankset and installed it, made one last visit to the convent and biked back to Oga where I slept again at the same campsite. The following night I spent in a campground in a vast virgin forest that UNESCO has recognized on its world heritage list. Due to the fact that the campground was deserted, the cold night air and the possibility of a visit from bears in the night I locked myself into the spotless, spacious public bathroom for the night and slept like a baby.
Post a comment:
Commenting is closed for this article.