Subscribe to our blog: RSS | Atom

Abominably Steep Hills


The gem of a stay at the Malabar farm freshened our legs (and our hair and skin!) enough to help us push through to Custer's hometown in New Rumley, Ohio, so small it didn't even have a store. It was the 3rd of July and fireworks could already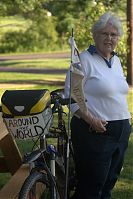 be heard popping and snapping in the hills, which were mostly very rural and lovely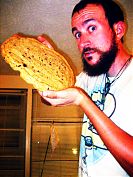 (and steeply-inclined and heavily-trafficked). We made berry-stops along the roadside all through the state to supplement whatever we had in our bar bags. After a while we began passing through Amish communities and got a kick out of the men on cruiser bikes. Some of these bearded rascals were actually quite quick! The only downside was that the crude shoulder of the road almost always was littered with horse droppings and the tread of my tires filled with the stuff. We camped with the mosquitoes by the monument to General Custer.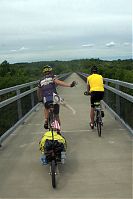 The next morning we took separate routs to Steubenville, a town near the border of Ohio and West Virginia. I crossed the Ohio River and hopped on the Panhandle Trail, which stretches from West Virginia all the way through Pennsylvania and down into Maryland on old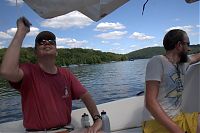 railroad grades. I followed it past shimmering creeks and through little old-American towns for about twenty miles, then met our Pittsburgh host who escorted us up another trail for 15 miles or so into town. Bruce's condo had a view of the city fireworks show that we took pleasure in viewing that evening. He also took us sailing the next day on his boat in the warm sun!
We took the Lincoln highway out of town and boy was that a mistake. Four lanes, cars and trucks hurling and roaring past, and generally poor concrete conditions made me shake my fist in defiance of Pennsylvania in general.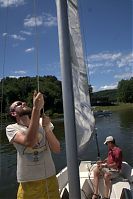 Leaving Pittsburgh difficult. Not because I had become particularly fond of this city-in-the-hills, but because Pittsburgh streets are just not bicycle friendly. The motorists are speed-happy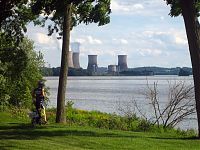 and impatient, the hills are very steep, and forget about a shoulder. We took the Lincoln highway out of town and boy was that a mistake. Four lanes, cars and trucks hurling and roaring past, and generally poor concrete conditions made me shake my fist in defiance of Pennsylvania in general. And, all day the traffic didn't abate. We were finally, after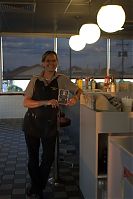 miles and miles, gifted with a shoulder to ride on. I can't remember any flat stretches…just large hill after hill. Just as you crest the top, you see the top of the next climb, which can really put a strain on the noodle after a few decades of miles.
Just after dark I noticed Randall riding toward me (we had separated earlier) with a car following him closer. Both he and the old man in the car beaconed me to turn around and follow, so I did. Randall had met Frank in a grocery store, a little, thin man with a cheery smile and strong-willed demeanor. Frank followed us in his Cadillac for two miles to his retirement park home that he shared with his grandson. There wasn't a lot of room in the house (though Frank insisted we take his bed and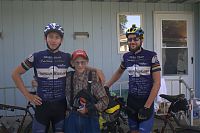 that he would sleep on the sofa, leaving nothing for his grandson) so we slept in our tents on the lawn. Randall was woken by our host at 3am. He had been out collecting money from anyone and everyone that was awake in the small town of Bedford who was still awake! We awoke at 5am to get a jump on the next day and Frank greeted us on the doorstep with a pile of groceries for us to pick through. "You can take whatever you want!" he would say with a grin. "I like you guys. You're going to need a follow car for the mountains. There's no shoulder to ride on!"
I did not want to offend him by trying to dissuade him from driving behind us for the day as a sag wagon so the three of us set out for the mountains. At the top of each repeated 1200ft climb (four or five, one after another…) he stopped and topped us up with snacks. To keep himself busy while driving his large pickup at a 12 mile-per-hour average all day, Frank used his HAM radio and cell phone to contact all of the local media ahead on our route, and in addition he solicited every single person that would listen for funds for the cause!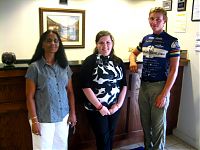 Finally, we arrived in the inviting town of Carlisle and stayed at the Best Western Hotel for a well-deserved rest after one of the most physically-demanding days to date. The Tour de France had begun and every day one of my top priorities was to catch some coverage on the telly. So, we kicked back and enjoyed the race coverage with waffles from Waffle House.
Carl had concocted a gourmet treat of french toast made with pound cake…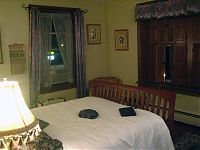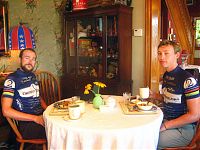 Lucky for us, the mountains were over with and the ride to New Holland was a beautifully-sunny trip the next day.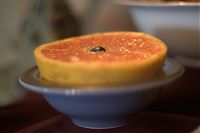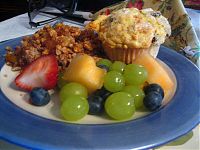 We stopped at the Harvest Moon Bed & Breakfast to see if there was room for us and the owner, Carl, affably invited us to stay the night. So, we did not hesitate. The next morning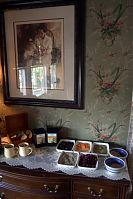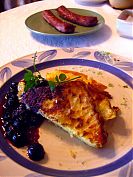 we were delighted to find a buffet of fresh, homemade granola, fruits, organic milk and coffee awaiting our consumption. But, this was not the main course. Carl had concocted a gourmet treat of french >toast made with pound cake ("We were out of Wonder Bread," he ironically remarked) with a lemon-ginger glaze and local blueberries, coupled with a locally-crafted turkey sausage. The B&B is thoroughly classic and steeped in a classicly European essence.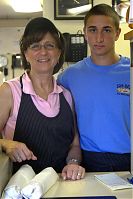 On our way to Jersey the next day we had to stop for a real Philly cheese steak sandwich before leaving the state, so we opted for the 309 Deli in Hatfield, PA, which lies about 20 miles north of Philadelphia. We stopped and ate them at a golf course and were almost kicked off the course until the proprietress discovered our mission…then she fed us hot dogs and snickers bars and made a donation for the orphans! Reeling with overly content stomachs, we set forth and north, into the great beyond that is New Jersey…
Comments:
Post a comment:
Commenting is closed for this article.