Subscribe to our blog: RSS | Atom

Affliction on the Frozen Plains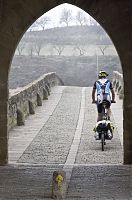 Late November…
I am in Burgos. That is to say, I was there at the confluence of events which led to my illness and consequent trial in the barren, windswept plains of cold Castile; but for all practical purposes I am there and before me is spread a dinner of sundry victuals appropriate to cycle touring and its physical demands, viz. dark chocolate, several varieties of French cheese, a veritable truckload of bread, potato chips and Coca-Cola (the fruit of an earlier urban-foraging foray). And it was the cheese that did me in.
I'd carried it all the way from France, rationing myself along the way to make it last as long as possible. But I was too frugal. It looked and smelled a bit off: not so much so that I wouldn't taste it, however. I sealed my fate when the first taste led to a second, then a third, and the complete demolition by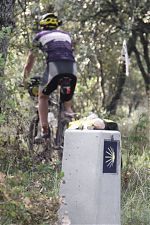 ingestion of my entire dinner, cheese included. Little-concerned at the time, I took another swig of soda, and went to bed, quite satisfied. But I awoke in the night with a portentous feeling in the pit of my stomach. I tossed and turned, waking finally, feeling positively indisposed to live any longer. It was morning. As the check-out time—normally 8:00AM—of Spanish albergues is inflexible as the aged dames who keep them, I was obliged to bundle myself up against the chill of darkness and clinging, half-frozen vapors that shrouded the city like a funeral pall, and venture into the dark morning of that difficult day.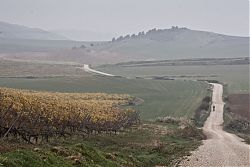 It was a chill morning indeed. We sallied forth along the cobbled streets, past the cathedral, which disappeared like the trunk of some frozen giant into the mists above. Under the influence of icy wind and creeping brume the feeling of malaise retreated to a small corner of my stomach, soon again to creep forth, the insipid wretch, and regain insinuating influence within the coterie of my bowls. Andrew outstripped me having been assured of my wellness, and I was left in the dim light to make my way as best I could. Some 20 kilometers crawled past. Strength ebbed, my head bent forward, supported, not by muscle or any desire to go on, but by necessity, and convenientely enough, inflexible joints of cartilage and bone. My legs continued in their inexorable circle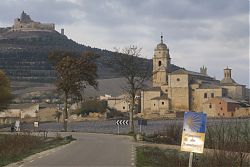 like the tired pistons of machinery long-abandoned, forgotten, left to burn its fuel and silently slow, ending, as if it had never moved in the first place.
A town rose up and receded. Every shelter—the albergue, bars, and even the church—were shut against my shivering, fever-racked frame. The next town was not far, I thought: there I could rest, if only I made it that far. But my strength retreated; my chest felt hollow and weak, my legs wooden, my feet numb with cold. I sagged gradually over the handlebars, my body fixed in a forward-leaning position; glassy eyes saw bleak plains as through a film.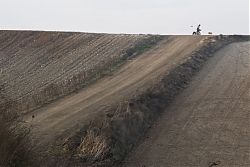 I reached a small incline: it was beneath me, but seemed far away and unimportant the remote and illogical cause of increased labor: merely new stress on tired legs. My stomach pitched and rolled: every pebble was a rising swell in an ocean of nausea. From the crest of one, my stomach leapt, suspended—and at that point, the bike also stopped, and I doubled over to let nature take its course, gasping frozen air at intervals. After continuing on for a stretch, I retired to the side of the track and sat on the rocks and staggling brown grass that grew there. It was pleasant not to move. I sank onto my back, feeling sleep steal close. But nature again made its demands, and I pitched onto my hands and knees to purge myself.
A low hill in the distance was certain to hide the next town—Hontanas—just beyond, surely. Or so I hoped. But when I crested some time later to survey the expanse before me, there was not a town in sight. The path curved around the hill to my right, disappearing for a stretch before continuing over a vast and barren plain to another set of hills at then other end of my then-shrinking world—I would never make it that far, and resigned myself to the vague idea of camping somewhere. But as I made my way down, lo! a church spire grew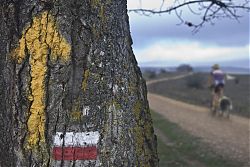 up before me; from a narrow valley a town sprang unexpectedly. I shivered down the narrow streets of secluded Hontanas. The door of the albergue was wide open. Not stopping long enough to secure my bike or trailer, I left them on the street and stumbled inside. There was no one about, so I went upstairs and found the bunk room, crawled under a stack of several woolen blankets, still shivering, and fell immediately to sleep.
My feet were still cold when I awoke several hours later to an 'hola?" and the puzzled face of a young woman—the albergue's hospitalera, I assumed—inquiring with her eyes why I was dressed in full cycling regalia, and buried in a mountain of blankets so early in the afternoon. After I explained my predicament in broken Spanish, her puzzled look melted into a sympathetic smile, and she offered me tea and rice—separately, I might add—after some consideration,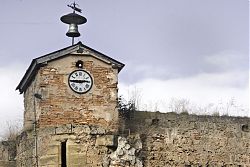 but, still unwell, I politely refused, and went back to sleep, not to wake until the rays of a new Sun hung brittle half-frozen in the chill air of Castille.
Even so, it would be several days before I was fully recovered, perhaps due to my foolish insistance on riding at least a short distance every day through those frigid plains, but be it as it were, by the time my weary legs pulled me into the age-old city of Leon, it was time for a respite. We would stay for a night with other pilgrims from places as far-flung as Korea, and Japan, in the old Benedictin convent, part of which had been converted into an albergue, before moving to the studio apartment of a local watercolor artist, not a stone's throw from the magnificent Cathedral, and surrounded by some of the city's best tapas bars.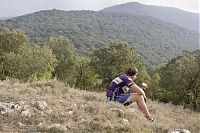 UPDATE:
I was due to make this post the week before Christmas, but certain impediments have since descended upon us, such as the holidays, and upon the floor—my laptop. Since then, the Holidays have passed without any significant casualties; and after a recent clumsy dissection of the Implement/Impediment, as I choose to call it, a culprit was found in the form of renegade magnet on the machine's circuitry, and the laptop was recalled to life. It now functions more-or-less as it should. Thank you, F. D. C., for your intended generosity in this matter!
Comments:
Insipid Wretch!
I love that title for one getting sick! We here at home in the NW are having sympathy sicknesses…i.e. we have a stomach flue going throught the house. "Think of Randall and his biking with this stuff and quit your whining!"
Our neice arrived back from India about two weeks ago. She was full of stories, wonderful memories and love for those children. Work is going right along for the new orphanage/ convent. They should be moving in by the month of February if all goes well. Sister Immaculata who started this endeavor is a fasinating person with a big heart. The children hang on her and love her very much and she returns the love ten fold.

— CM · Jan 11, 01:08 PM · #
Post a comment:
Commenting is closed for this article.