Subscribe to our blog: RSS | Atom

Agony of Travel / Kuala Lumpur
It was late when I arrived in Kuala Lumpur International Airport. I bedded down in the hallway near Starbucks for the night, curled round my trailer, which was locked to my bicycle. I woke early in the morning, sole inhabitant of an island besieged by a tumultuous sea of feet. Rolling over, I slept for another hour, when, failing to resume my peaceful slumber, I rose to face the day.
It was one of those days, although my bed had neither of two sides, wrong nor right, to rise from, when reality is noisy, oppressive, and generally unappealing: in short, I was feeling incurably grumpy. Such is life for the not-as-of-yet-saintly, on occasion, so I made the best of it, and bade my weary legs propel a weary body over the 70km (an infinite stretch of road, I thought) separating me from downtown Kuala Lumpur. Before I set off, some Chinese tourists who were giving me discreet glances from the corners of their eyes finally sprung the question and asked to take some pictures of me with my bicycle (East Asian tourists love this sort of thing, I've found).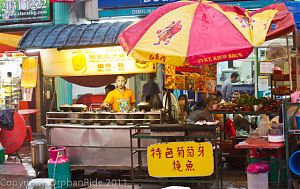 As I drank in these marvels, so far removed from the anarchy of South India, a kilometer sped past
There was still some meager spark of life in me while I left the airport, and I still possessed a healthy interest in breathing and the beating of my heart, to notice with pleasure the extensive organization of the roads, complete, with traffic lights, and motorists who obey the extant laws (I'm still not certain Tamil Nadu has instituted them yet, over and above the antidiluvian dictate that, "Physical Mass = Precedence, or right-of-way").
As I drank in these marvels, so far removed from the anarchy of South India, a kilometer sped past. Four more followed before they slowed to an obstinate crawl, flat-out refusing to move in quick succession, according to my impatient will.
It was one of those days when I regret ever leaving the comfort of my living room, much like Bilbo Baggins did after setting off from Bag-End for the Lonely Mountain. But, with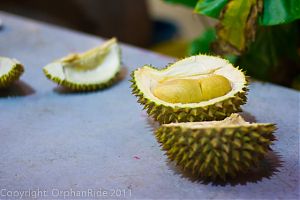 tired perseverance, I pushed on and on, till the skyscrapers of the cosmopolis at last rose in the distance. There's nothing like an objective at last visible to lend vigor to the will, and I pushed the fibers of my tired legs on till I was in the midst of the greatest marvels yet after backwater, but pleasant, Palayamkottai and the countries previous to India – the wilds of Pakistan Central Asia.
After a fast from good meat in India, it was like a revelation …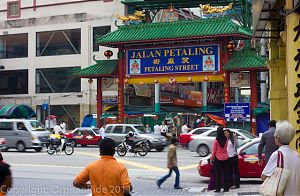 A tourist of the gap-year species, nevertheless kind, directed me to China Town on Petaling Street, which is well-known for its budget accommodations. The Inn where I set up seemed to have a minimum of those things that shoestring travelers most apprehend – bedbugs and shower grime –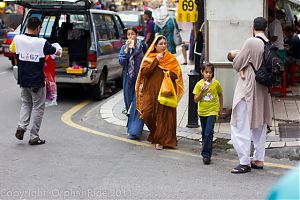 the amount of which is, thankfully, not always found in strict proportion to the price. It was on a different plane from the places we stayed in India; and soon I would find that the standard was much higher yet in neighboring Thailand.
Meanwhile I was feasting on delicious Chinese food – duck, chicken, and pork. After a fast from good meat in India, it was a like a revelation, and insofar as the superficial pleasures of this life can be so, transcendent happiness. I speak in hyperbole, of course, but such a welcome change from Tamil cuisine must not go unmarked.
After several days strolling Chinatown's bustling streets and visiting the several metropolitan sights of K.L., I loaded my trusty Rocinante into the train for the long trip up to Chiang Mai, where Andrew and his friend Jeff awaited my arrival. Midway was Penang Island, former capital of British Malay, a requisite stop-off in Malaysia. My next post will be from there. Meanwhile, I remain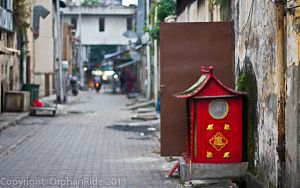 Yours From a Strange Land,
Randall
Post a comment:
Commenting is closed for this article.