Subscribe to our blog: RSS | Atom

An Introduction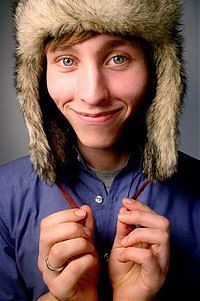 Dear Everyone,
I am pleased to introduce myself [RANDALL!] and to ramble… incessantly… I'll need to practice, you see, if I am to get in shape for 25,000 (or more) miles of tongue-flapping and general garrulousness; it is my hope, however, that my experiences will yield material, if not more amusing, at least less inane.
RECENT NEWS
Sponsorships are in the works
The

OFFICIAL

PRESS

RELEASE

is in the works
And I have a new corporate title…
Kind Regards,
His Magnitude the Vice Chair
(You may also refer to me as 'His Pulchritude' or 'Your Benevolent Condescension')
P.S.
Mt. Borah: Thank you very much for your generous and exemplary patronage!
Comments:
Dear "Your Benevolent Condescension",
Looking forward to the Smorgaasbord Sunday. Really like the fuzzy hat…where'd you get it?
Our hats are off to you two for what you are doing for the Orphans.
I have sent your sight to our whole email list…all 10 of them!
May OLG watch over you both.

— Mrs. M · Mar 17, 12:29 PM · #

Dear Your Benevolence,
I am merely commenting to see if the comments go through on to the comment page. I imagine it is mainly because of my being follically handicapped…(I am VERY blonde) but then again it may be a glitch. Said I would try a few times and see how the blog worked. If this goes through…something went right! Sincerely, C

— C · Mar 23, 07:44 PM · #
Post a comment:
Commenting is closed for this article.