Subscribe to our blog: RSS | Atom

Arrival!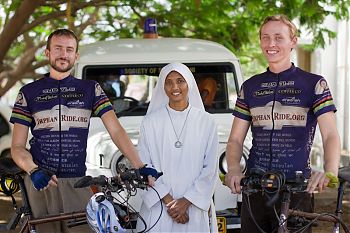 Yes, admittedly old news, but nonetheless newsworthy! I must say, I do regret not making this post in a timelier manner, but pedagogy is a demanding business, time is scarce, and laziness never fails to find an excuse. Now, to begin where Andrew left off…
It was only 55km from Tenkasi to Palayamkottai, so we got an early start to arrive, we hoped, at a decent hour.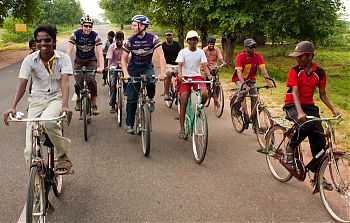 Dread of a welcome party was upon as as we finally pulled into the backwater town where the priory and orphanage were located. Andrew had emailed the prior to let him know when we would arrive, but hadn't yet had a chance to check his e-mail for a confirmation, so we carried on, hoping for the best.
It wasn't long before we found our way and pulled up at the steps of a shining white building that seemed to be our destination; yet all was silent. We waited on the steps for a few minutes, debating whether we were at the right place or not, before cautiously walking in through the open door.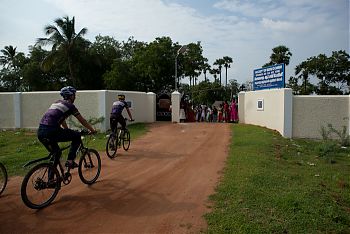 An Indian working in an office immediately to our left as we entered seemed reluctant to be disturbed, and only muttered something under his breath with a short, blank stare as we made inquiries. There were some others about; we finally stopped one young man who informed us that the Prior was out, but another priest was having lunch upstairs. We were to wait till he finished.
15 minutes later a young native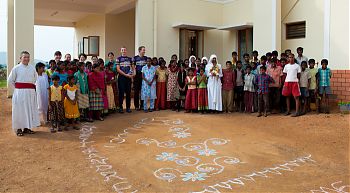 priest introduced himself to us without the slightest hint that we were known to him. He was extremely courteous, but seemed positively puzzled as to our business there.
Later, when Andrew had an opportunity to check his email, he found that the prior had asked us to arrive next day (Saturday), which explained everything.
Next day we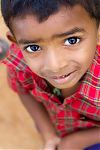 cycled with the orphan boys the seven kilometers to the orphanage, where the sisters and orphan girls were expecting us.
Shining white smiles and colorful banners greeted us from between the green gates of the orphanage as the last of many pedal strokes (somewhere around 6 million) carried us up the drive and onto the grounds. It was a joyful moment when we finally arrived there at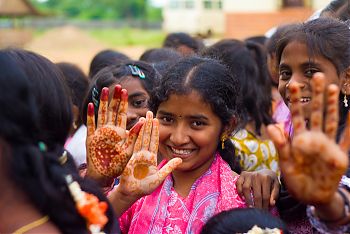 the orphanage, exceedingly joyful.
We were given a tour of the grounds by Sr. Maria Immaculata, and then went back to the priory only when it was impossible to extend our stay any longer.
Finally, we had arrived!
Comments:
marvelous blog Randall!
the pictures are quite charming. perhaps you will write a book someday? Your dear sister, Emma

— Emma · Apr 3, 04:03 PM · #

So happy for you guys! Once again, congratulations! I am soo jealous and wish you both the best on the rest of your travels! If the road sees you on your way to Ecuador, you will always have a place to stay in the Amazon!!

— Alex Helpenstell · Apr 12, 05:45 PM · #

Thanks, Emma, Alex!
A book just might be in order. We will see.
Alex, espero que tu viaje tambien va bien! Me gustaria verte ahi mucho — que bien viajar, trabajar y vivir en America del Sur! La buena vida, eh?

— Randall · Apr 12, 08:27 PM · #
Post a comment:
Commenting is closed for this article.