Subscribe to our blog: RSS | Atom

Arrival in Aktau – Intro to 'Outlaw' Hospitality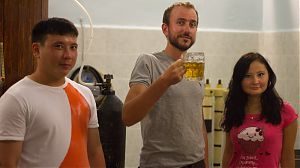 Our tires whirred northeastward over smooth pavement as our thoughts, to the long-accustomed cadence of our feet, reflected on the first day we'd passed in Kazakhstan: the unexpected quality of the roads, and the superb hospitality we'd already received there in the port of Aktau. I should add that relief and joy were the predominant feelings upon disembarkation (we'd escaped Azerbaijan and it's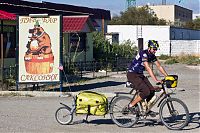 dreadful ferry at last!); and spent the day simply enjoying that fact and doing a bit of work and research on the side. As the day wore on, we had left town to camp on the broad, sandy beach of the Caspian. The weather was lovely, and warm, and we had a bundle of good provisions to cook after a bath in the sea. But just as we were settling down to cook, a couple of smartly-dressed men approached over the white sand and hailed us in English: "You are American!": they had noticed the flag fluttering from Andrew's trailer, newly-bought in Baku, and proceeded to inform us that they were the associates of a big American company with a branch in Aktau, and so invited us to sleep and shower at their nearby office. "No money, one answered proudly," when we asked about the price (just to be sure).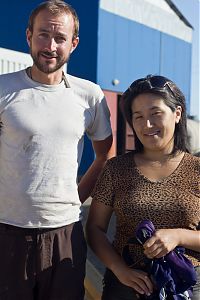 We followed their cherry-red SUV for a few kilometers back in the direction of the ferry dock, which was well outside of town, until it turned off at a remote, comfy-looking roadside pub called the Saxonaya in Russian. I thought with amusement how much that very same place had appealed to me as we had cycled past earlier that day from the ferry.
Our host Arwan, it turned out, was one of the very best: every attention was paid us, and we wanted for nothing. The place, we soon found, had a small brewery attached, and we were soon supplied with several tall glasses of crisp lager and a heaping plate of mutton-stuffed samsa. A young woman fluent in English was even sent for to supply the deficiency of my Russian and act as translator! A tour of the brewery, more tasting, and warm beds followed shortly afterward.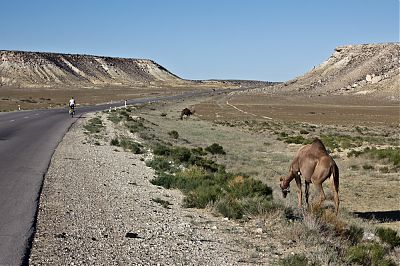 Kazakhstan was going to be great, I thought, as my tires whirred steadily over the smooth pavement and Aktau receded behind me. Little did I know that it wasn't going to last.
Comments:
Dear brothers

You look great.

Miss you.

Each photo you put with your's bob
Breaking my heart.

haim

— haim bar · Nov 3, 04:39 AM · #

You can't end with a teaser like that!

— Monica · Nov 3, 08:39 PM · #

Haim: Miss you and your family too. Sorry about the heartbreak, but only two more months till we arrive at the orphanage and the bob photos come to an end :) (for a time!)

Monica: 'enter knife-wielding bandits.'
But not really — just a solitary drunken kazakh with big fists a curious animosity …
Post a comment:
Commenting is closed for this article.