Subscribe to our blog: RSS | Atom

Azerbaijan and On

I scribble this little update in a fish cafe (where I will sleep tonight!) high on the Pamir Plateau in a remote corner of eastern Tajikistan.
One important occurrence that I should make note of before proceeding: FlyDubai finally came through with the full damaged baggage reimbursement after some persistence on my part. I would highly recommend this airline for travel within the Middle East!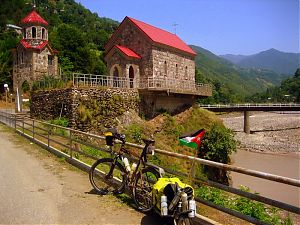 Onward…
Randall and I both very much fell in love with the little country of Georgia, which has come so far since the dark days of communism and the USSR. Wonderful people and good food, not to mention majestic scenery, are almost all the ingredients necessary for a for a fulfilling bike tour. The only thing missing: perfect roads. But we can't have it all!
Tbilisi, the capital, is a lovely and lively place to spend a few days, and we stayed with Alexandre, a young man with melancholic temperament and magnanimously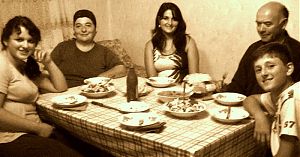 generous spirit. His love for the cycling, mountains, adventure and good beer helped us to form a bond of friendship from the start, and his dear, sweet grandmother would not let us miss a meal, be it home-made khatchapuri or ice-cold watermelon straight from the fridge! When not spending our days site-seeing with Alex, we worked on acquiring our visa for Azerbaijan. It cost a whopping $141 for each of our visas for this tiny country.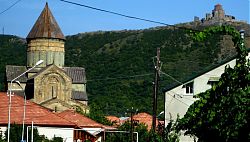 One might ask why we had chosen to transit the little-known land of Azerbaijan. The reasons were manifold:
1.There are no borders open to foreigners between the Caucasus countries and Russia, to the north.
2.Though it would have been a fabulous trip through Iran, to the south, the government would absolutely not allow Americans to enter (except in the rare case of an American joining a closely-guided tour group). The hangup is not a concern for the safety of the American, but simply a profound paranoia on the part of the Iranian regime in regard to spies.
3.The capital of Azerbaijan, Baku, is known among globetrotters as a good place in which to scrounge for visas to several countries in Central Asia.
The resident bearded orthodox priest offered us plenty of cold drinking water…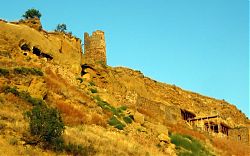 Ergo, the only feasible route for us was from Baku to Kazakhstan over the Caspian Sea on the "ferry". More on this "ferry" to come.
We took the northerly route to Azerbaijan with a detour to the mystical desert-cave monasteries of David Gareja. We arrived at St. John the Baptist Monastery at the peak of the day, throats so parched with dehydration that it was difficult to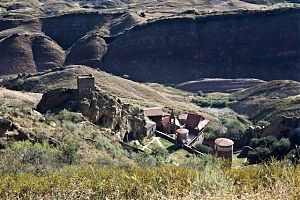 swallow. The resident bearded orthodox priest offered us plenty of cold drinking water and a full meal of hot soup, cake and watermelon and wouldn't accept any money. He even let us sleep in the workers' dorm! We left a humble offering under the pillow.
Our onward route took us through the Georgian wine country and along the splendid feet of the High Caucasus Mountains. In Azerbaijan, the road continued to follow this chain of high, green mountains that form a natural border with Russia. The Azeri People are essentially Turkish but lack the good qualities of their brothers in Turkey. We were both taken aback by these over-exuberant, invasive and coarse people. It was impossible to stop in any populated place without attracting a crowd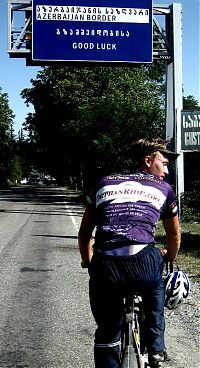 of loud men and boys who thought it was their right to put their hands all over our bikes and luggage while interrogating us with the usual slew of questions in Russian. Drivers would either lay on their horn when they were right next to me, or a impudent young man would hang out the window and yell something foolish and probably offensive as he drove by. In their opinion, bicycles are for children while black BMWs and old Russian Ladas are for men. In Azerbaijan we cyclists are nothing less than a "freak show on wheels," as another of our ilk so correctly observed on his blog. The women, whom we rarely encountered, were a pleasant and subdued contrast to the men.
I have had a vision of the 10th ring of hell. It is reserved for Turkish, Azeri and Syrian drivers, and consists of a walled stadium in which the inhabitants are subjected to a constant barrage of
automobile horns at well beyond 130 decibels for eternity. There may be a few unlucky Americans there as well.
Tourism is a bitter-sweet phenomenon in the eyes of communist dictators.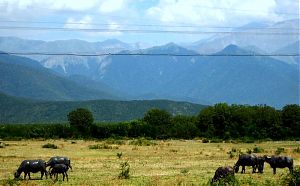 The landscapes that we passed through in Azerbaijan were as lovely as I could have hoped for until the road finally veered south in the direction of Baku. The majestic mountains dissolved into the parched desolation of desert hills. Our stay in Baku was dominated by the quest for expensive Central Asian visas. We picked up our Kazakh and Kyrgyz visas easily at the Kazakh embassy for $30 each in only three days' processing time, but the Uzbek embassy, although very friendly and welcoming, required each of us to have an official invitation from the government, a thing that a few travel agencies can acquire at $50 a pop. On top of that the Uzbek visas cost $140 each. They explain that this price "is the same as an U.S. Visa for an Uzbek," so it's only fair I guess. Tourism is a bitter-sweet phenomenon in the eyes of communist dictators.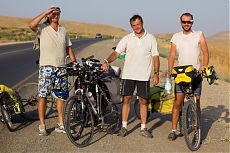 Overall our stay in Baku was rather nice. I escaped the balmy heat by sleeping on the roof of our hosts' (Ieva from Lithuania, Hannah and Karolin from Sweden, and Vladyk from Queens) flat, located in the old Soviet region of town that is only walking distance from the meticulously manicured urban center with it's innumerable fountains and bricked pedestrian streets, funded by the deep, rich oil wells in the Caspian Sea. Here, the McDonald's has soft-serve cones for $0.30 and these cooling treats became an essential part of my daily routine. I took a bike ride with the local cycling group and met a friendly Scottish expat in the oil business named Geoff, along with several refreshingly mature, refined and level-headed Azeri men.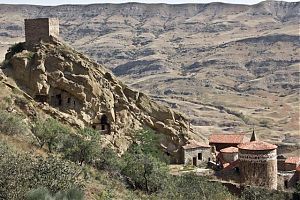 The ferry: a decrepit freighter with the bare minimum of operating facilities. One never knows when the ship will leave so he must call the ticket office several times every day until the lady on the other end says in Russian "Today! One Hour! Come!" Then you pack frantically and pay her $110 and find out the boat leaves at 4am. The bathroom consists of a western toilet with no seat and foot shelves nailed into the walls so that one could squat over it. BYOTP. The mattresses in our birth were heavily stained, the old game room with it's ancient slot machines was barred shut and the shower was constantly flooded. It's a twenty-four-hour trip but often passengers report being stuck on the boat for two or three days before Kazakh customs allows the ship to dock. Our boat was cleared and unloaded in the remote town of Aktau, Kazakhstan on hour thirty.
Comments:
HI Andrew, Randall told us you were already in China, wowww!!!!!! We will keep you in our prayers! God bless. :) luv, Emma

— Emma L. · Oct 19, 12:54 PM · #

Delightful to hear from you, darling girl! I'm preempting Andrew's first-response-rights (sorry Andrew), because I'm a greedy fellow and I love you dearly. Tonight's our last in China: we're off to Pakistan tomorrow, but not before celebrating with a feast of delectable Chinese vittles at one of the tiny local eateries here in chilly Tashkurgen. Miss you!

Love to all!

R
Post a comment:
Commenting is closed for this article.