Subscribe to our blog: RSS | Atom

Bicycling China's Poorest Province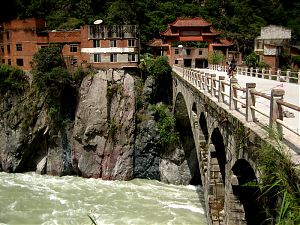 The agonizing eight-to-ten hour bus ride back to Kangding would have been an excellent opportunity for me to catch up on some reading or writing if the road had not had so many tight turns and bumps. When a road is repaved in China the original pavement is torn out before the new is laid down, so the road will be dusty or muddy, rocky and potholed for several weeks as the workers build retainer walls and new bridges. A great number of the roads that I have cycled in China were in this remedial state.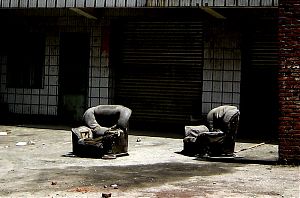 Nothing particularly remarkable happened on my way to Leshan. The scenery was surprisingly spectacular as I followed the riverside roads through the vertical mountains made of stone, with lush greenery growing in every crack and crevice of these imposing giants. Indeed, if the air had been more clear and sunny the landscape would have resembled that from the movie Avatar (which you may forego viewing if you're one of the few who has not seen it; aside from its visuals it's a rubbish film in my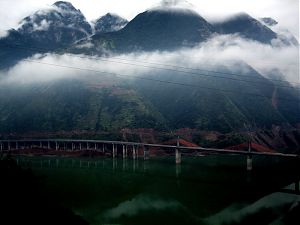 opinion). During the five-day ride I passed through towns that were astonishingly poor and mining villages that struck me with their bleak, depressed drabness, in surreal contrast with the otherworldly natural beauty surrounding them.
The food of Sichuan needs no description here. My writing would do it no justice! With it's liberal use of Sichuan peppercorn and chili, the dishes of this region easily raise it to within my top five favorite places for food, ranking just below Thailand (still the king of culinary paradises). However, I had a difficult time ordering in restaurants due to the fast,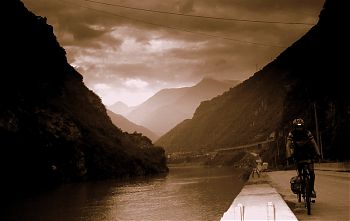 harsh-sounding, loudly-spoken dialect of Chinese spoken here. Most of the time the accent or tone is just different enough from standard Beijing-mandarin to throw even a native speaker off! In the city the accent was not too difficult to overcome, but in the countryside I was at a loss and had to have things repeated to me several times. Often, the speaker would yell progressively louder each time, as if deafening the listener were the key to aiding his understanding.
…the tone they use makes the greeting sound sarcastic and obnoxious, like the squawk of a large bird.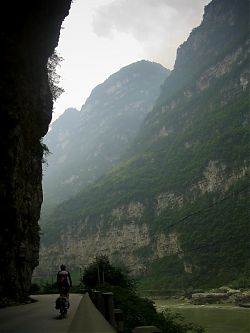 I was never at loss for company at lunch time. If I was not invited to join an already occupied table (in which case the occupants would never allow me pay a dime for my meal) some gregarious, curious locals would not fail to join me at my table and offer me a cigarette or three to break the ice, followed by a slew of questions. The only time that I have found myself impatient with the people of the Middle Country has been when they yell "HELLO!!" at me in English, because the tone they use makes the greeting sound sarcastic and obnoxious, like the squawk of a large bird, rather than sounding friendly and welcoming. I'm sure that they don't mean to sound as offensive as they do, it's probably how they they are taught to say "hello" in elementary school by Chinese teachers who were taught the very same thing themselves.
I saw the famous, 73-meter-tall Buddha…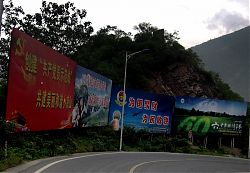 In Leshan I slept in the conference room of a four-star hotel, thanks to an employee who has a presence on the Couchsurfing website and who had previously studied at Washington State University. Hang Lo treated me to some incredible local meals with his coworkers, including Sichuan hotpot with fresh fish from the river and another spicy hotpot with rabbit. I saw the famous, 73-meter tall Buddha that is carved into cliff nearby the mellow town. It would have been a disappointment if I had paid the ¥60 ($9) fee to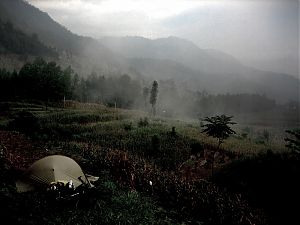 stand at its feet in the crowds of tourists. However, I paid ¥2 for a roundtrip ferry ride across the river to see it from a distance, thanks to Hang Lo for the tip!
The next several days of riding were unremarkable except that I began to pass through hill country in which the slopes were more or less entirely terraced for agriculture—mostly rice. These rice terraces vary greatly in color during the early autumn when much of the chaff has been cut away and bundled up for burning, and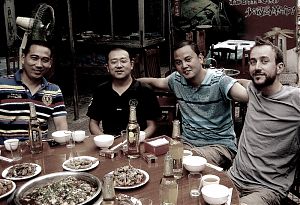 are delightful to look upon. In the province following Sichuan, Guizhou (the poorest province in China, per capita), many, if not most, of the rural people are ethnic minorities of the Miao and Dong groups. I was delighted to find these people to be far more quiet, tranquil and reserved, though I honestly enjoy the company of the greater part of the Han people, especially for their candor and friendly, generous spirit.
…oncoming busses overtaking each other with horns blaring…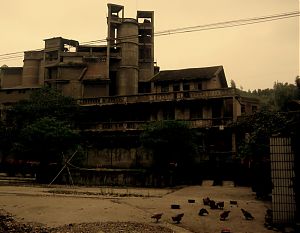 160 km from Guiyang a couple of friendly, young police forbade me to ride the last section of highway, insisting that this section was "too dangerous," due to heavy commercial traffic. There being no other conveniently accessible road to Guiyang, they flagged down a bus for a free ride onward. In the capital of Guizhou I stayed with friends of a friend who had formerly hosted me: a fantastic, affluent young family. As we sipped tiny, porcelain finger-bowls of the finest green tea their adorable five-year-old daughter, Yuan Yuan, kept us all entertained as she would intermittently paused in her chatter to stare at the strange, foreign guest with wonder.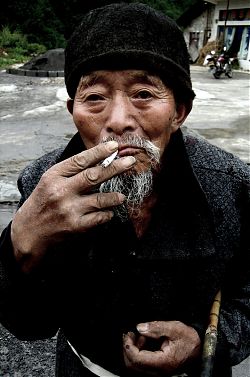 The weather had grown quite chilly and I was again in the mountains. To save time I began my trip from Guiyang on the unfinished superhighway that will link with the famous tourist city of Guilin in the Guanxi province. This road is a marvel of engineering! I felt as though I was spending more time in well-lit tunnels (still rather frightening), some of them over 4 kilometers long, than I was in the open air. When not in a tunnel the four-lane road is usually on a high bridge over a lovely river valley with rice terraces on either side and minority villages tucked into the rare parcels of level ground.
Normally I would stick to the smallest, quietest road possible, but in this highly exceptional case the scenery was better from the highway, I didn't have to worry about oncoming busses overtaking each other with horns blaring, the traffic was relatively light since the highway is incomplete and road surface was impeccably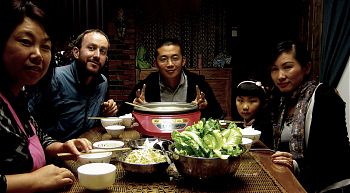 smooth. None of the convenience stores or gas stations had yet opened so my options for food were scarce, but I only spent two and a half days on this road before it ended abruptly. I was now among the dramatic landscapes of Guangxi, famous for its spectacular karst mountains, but I will save those stories and photos for the next update!
Comments:
Post a comment:
Commenting is closed for this article.