Subscribe to our blog: RSS | Atom

Bike Frames Completed!


I have received word (and pictures too 8) ) that our custom-built bicycle frames from CURTLO are finished! And in a beautiful "milk chocolate" powder coat.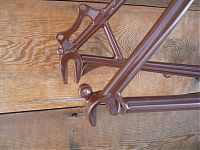 For the bike geeks out there (like me) here are some specifics:
Constructed using Reynolds True Temper OX Platinum tubes. Steel is the best choice for this kind of adventure, hands down. It is very resistant to fatigue, easily weldable anywhere should something break, and a good dampener of road vibrations.
Curved seat stays for even more compliance!
Eccentric bottom bracket can be used to tension the chain since derailleurs will not be used. With the Rohloff hub the chain needs no slack.
Cable routing for Rohloff hubs
Disk brake and fender braze-ons.
Tailored-to-fit the Brothers Leese' disproportionately long legs. As in, these have a slightly shorter top tube and a longer head tube than average.
Lovely, clean welds by Doug Curtis. Thanks, Doug!
There will be pictures of the complete bikes to come. Hopefully we can slap them together for an April 2nd departure.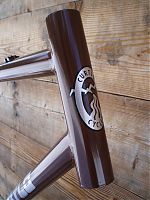 Post a comment:
Commenting is closed for this article.