Subscribe to our blog: RSS | Atom

Birthdays and Other Highlights

Diligence is the mother of good fortune; and idleness, its opposite, never brought a man to the goal of any of his best wishes. – Miguel Cervantes
I write from a ferry in the Aegean see, as it meanders its way through the Greek isles.
March-April, 2010: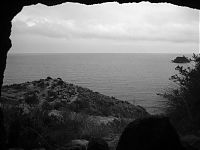 I had been riding ahead on a lovely unpaved coastal road along the Spanish coast and just north of Andalucia one bright and beautiful late-afternoon, through a park on the Mediterranean. The road wound through curiously-formed sandstone cliffs overshadowed by enormous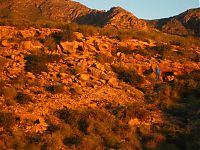 mountains. Finally, near the end of the park, I caught site of a cave above the road that looked like a perfect little home for the night. Next morning I awoke with a panoramic view of the sea from my little cave. A cool dip in the near-transparent water followed by espressos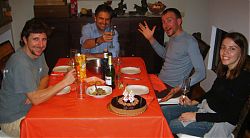 and breakfast in a Portuguese cafe was the ideal inauguration of my 30th year! Then, sped by friendly winds in the warm sun, Randall and I climbed over a small mountain pass to the town of San Javier and stayed with a veterinarian named Alfredo in his lovely, quiet country home. Somehow the news slipped what day it was and on short notice our kind hosts picked up an ice cream cake and we had a fine evening.
…the rapid-fire explosions increasing in intensity for a full five minutes…
Valencia: I had rode through the rain and camped in an unfinished shopping center outside of San Javier, flew through this region of Spain that is more British than Spanish, and arrived in Valencia to stay with Fernando his wife, and their unborn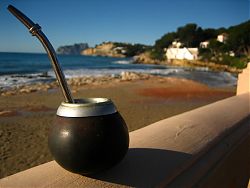 daughter. He is a cycle-tourist and advocate of our two-wheeled sport so we had an instant understanding. Fernando lined up interviews with the television and news media to help us gain publicity for the fund-raiser. Also, we had a great family meal with his parents—cooked with love by his mother. Just before taking off on the commuter train (to cut through the traffic of the city and suburbs) we three went to the city center to experience the Mascleta. It was a climactic, bone-shaking show, the rapid-fire explosions increasing in intensity for a full five minutes until I was sure that my internal organs had been rearranged!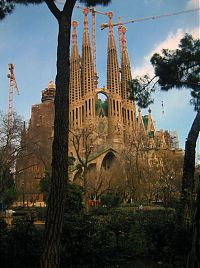 Barcelona: I stayed inland on the way up to this famous city on an old Roman road. To my infinite chagrin, I left my Leatherman tool in the shed that I slept in in an olive orchard. Randall and I met again in this enchantingly lovely Catalan city in front of the Gothic cathedral and stayed with a young university students Olga and Cesc in their inviting historic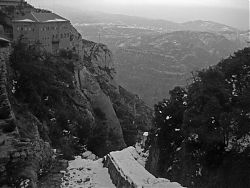 city center flat. We learned much about the city from our new friends and they took us on a great little site-seeing tour before going to Girona to visit their family for weekend. For a side trip I took the train to the famous, impossibly-situated, mountain-top monastery of Montserrat and hiked up the snowy trail to visit this majestic haven of the Benedictine monks.
I have been rolling the Marathon Extremes for about 18,000 KM…
Koos, the owner of Bike Tech S.L. in Barcelona generously accommodated our various bicycle repair needs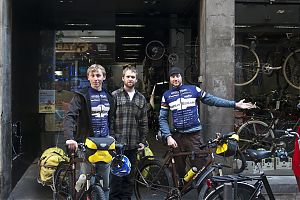 and gave us a sponsorship discount on a new set of Schwalbe Marathon Extreme tires and other odds and ends that we were in need of. These tires were an upgrade for Randall, who had been using the Marathon Cross and had achieved a record number of flat tires. I have been rolling the Marathon Extremes for about 18,000 KM and so far have only had 4 flats!! Bike Tech S.L., a very cycle-touring oriented shop, is also the official distributor of Rohloff, so we had some routine maintenance done on these reliable internally-geared hubs. Now, so I thought, our CURTLOSs were ready for the wide road ahead.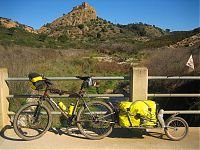 In the Girona we had a jolly host named Ricardo who treated us to all of the local Catalan delicacies that we could handle and graciously invited even our bikes, caked with mud from the dirt tracks we had taken to get into town, into his clean habitation. Girona was another captivating urban center, the old city having been well preserved over the centuries. Randall received his lovely new laptop and we were off to a late start.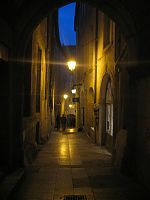 The next few days took us over the Pyrenees into France and we made our way to Montpelier and stayed with Joele, also a cyclist and a warm host, and then cut inland to avoid the bustle of Marseille. We attended mass at a traditional Dominican convent in Brignoles and through the vineyard-clad hills (some had small churches perched atop) and forgotted towns to the cost, then through Cannes to Nice, where we stayed with a well-traveled lady who had some very good advise to share about Syria and the Middle East.
Next stop: Italia!!
P.S. Both of us now have working PCs now. Randall received his from the hands of a new friend named Lisa – Thanks!! – and my power adapter failed but I was able to replace it a two days ago in Hama, Syria. So now we have no excuses. Expect some more regular updates. 8)
Comments:
Have been following your progress, with much interest, from Bellingham. Am also following the progress of a French journalist based in Washington DC who is driving a truck around the world, currently in Tanzania en route from South Africa to Arabia, then eastward. You might find inspiration from his blog at (http://transworldexpedition.com/) and perhaps meet him somewhere along the way.

— Robin · May 25, 12:23 PM · #
Post a comment:
Commenting is closed for this article.