Subscribe to our blog: RSS | Atom

Black Sea and Temper
After three weeks of pleasant inactivity in Istanbul, our legs were as weak as could be, but we were otherwise ready to continue on our way to India. Indeed, it was difficult to leave our friend Mustafa and the relative luxury of his flat, but leave we must, and leave we did. Andrew departed while I finalized the purchase of a new camera—previous attempts to procure one from the U.S. all having failed, only to find that my memory cards were cheap imitations, and my dear L-series lens wasn't working properly. I mention it by way of excuse for the lack of photos hereafter, the lens being so temperamental now, that it only works about twenty percent of the time.
Andrew and I would not see one another again for several days. Meanwhile, I found a new companion in the form of a little kitten as it rested, seemingly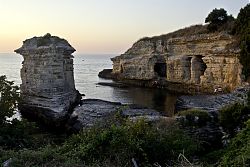 abandoned, on the side of a busy highway not far from the City. It was roused when I stopped near it, the poor little thing, to rub up against my shoes and noisily purr. It not only looked hungry, but proved to be so when I held a chickpea from my lunch under its nose: the food so excited my little pet, that chickpea and finger both were all but consumed in a single, eager bite. Not a dwelling or mother cat in sight: I decided therefore to take the little darling along with me in my handelbar bag.
But I was soon to regret it: that night it so persisted in kneading my face with its paws, purring uproariously, and tickling my ears and nose with its long whiskers that I was entirely beside myself, and had very little sleep that night. In the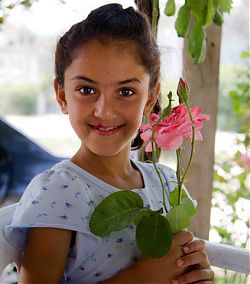 morning it ran off while I was invited to breakfast by my neighbors in the next tent—my first experience with the Black Sea hospitality Mustafa had praised so highly—only to return in time for an early afternoon departure.
But that day, what with getting a late start, riding in the heat of the day, the state of the roads, flaccid legs, and acting as the honorary unrested surrogate of my dear, dear little companion—what was, in short, a combination of all the variables least conducive to enjoying a ride, and I was ready to quit within the first hour. Impossible. I must push on.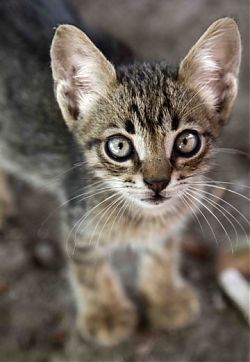 Grades as steep as fourteen percent were not uncommon, and the capricious pavement, as it rushed headlong into the little valleys and dells usually ended in potholes or swerved so many degrees to the right or left, that all of our inertia was hopelessly lost in hard braking at the bottom. As my legs were unaccustomed to the exertion, it was doubly difficult. And when Andrew and I met up accidentally several days later in a seaside town, we agreed that it was the most difficult riding we had ever done.
Looking back, I think that bicycling might ruin my temper at last: I'll grind up one-too-many hills and finally emerge from my voyage—a cocoon of sorts—not a butterfly nor even a moth, but some species of devolved, crotchety old caterpillar, muttering fuzzy imprecations on the world at large… Were it not for a timely reminder of why I love to travel…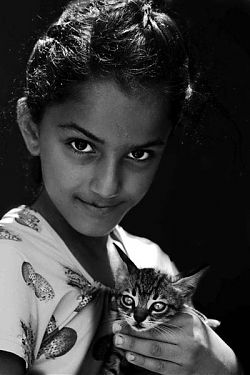 That night I found myself in a little beach town on the coast. It was getting dark, and my taillight, as usual, was out of batteries. A number of children shout from a yard off the road, "Hello!! My name is?!" (intending to ask my name). And I turned to ask their help. A number of people got involved before a decision was reached and a little plot of grass, which wasn't far off, shown me as a place to camp.
As I contemplated whether or not to stay, a couple of little girls ran down from another house to see the tourist, say with bright smiles: "Hello! My name is?" They were terribly charming little things. Soon after I was invited to tea, which evolved, as such invitations not infrequently do in Turkey, into a hot meal, pleasant conversation, a comfortable bed, and in this particular case, warm friendship as well.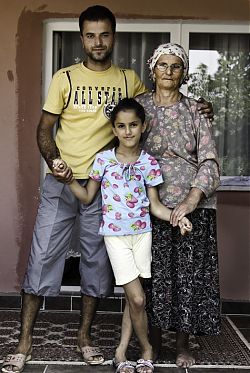 My host was a young man, trim, and serious, with a manly face: a fisherman who was well-acquainted with hard work. He was a most excellent young man, and had a small, dear family: his wife was a robust cherubim with big dimples, high cheekbones ever-raised in a shy smile; his daughter was a sweet little thing who adopted my furry charge, and before I left, gave me a pink rose and said she loved me. It was such a pleasant experience, so spontaneous, and warm, that I felt quite in love with all of them myself. They were such honest, good people, and it wasn't without regret that we parted next morning.
Another week would see us to Tbilisi, where we've just received our Azerbaijan visas from the embassy. We ride tomorrow morning!
Comments:
so happey to hear from you.
nice fhotos

— haim bar · Aug 3, 01:27 PM · #
Post a comment:
Commenting is closed for this article.