Subscribe to our blog: RSS | Atom

blather


Hello, dear friends!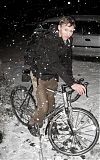 I write to inform; there are several developments that, though of little interest to many, is of much to few, and will serve at the very least least to quicken the pulse of anticipation as our departure date nears.
And so, the news:
1.) I caught cold and took to my bed for five days shortly after an exhilarating snowstorm cycle from Langley to Greenbank, and am only just recovered. The picture, above, captures the lurid, post-ride gleam in my eye.
2.) A press release is forthcoming.
3.) I'll write again soon. Thanks for tuning in!
Post a comment:
Commenting is closed for this article.