Subscribe to our blog: RSS | Atom

Building our steel steeds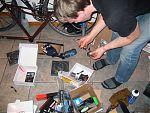 This post is a bit out of sequence but deserves to be presented on the blog nonetheless. After we had finally accumulated all of the small parts Randall made a special trip to B'ham so that we could put together our bicycles side-by-side. Building concurrently helped us to understand the inner workings and idiosyncracies of the equipment. It also allowed Randall to learn from the mistakes I made as we progressed.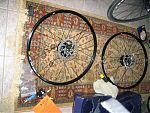 We began by putting some 3M protective adhesive on the vulnerable areas of the CURTLO frames to protect the lovely, almost edible milk chocolate powder coat. Next, we pressed in the headsets and took the forks apart to adjust the travel. Easier said than done!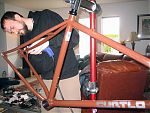 It was than time to build the wheels. We began with the rear wheels. Lacing them in a 2-cross pattern, I was finished tensioning and truing (with help from our friend Patrick Means), when I discovered in the manual the the lacing was incorrect by Rohloff's spec. Rebuild time…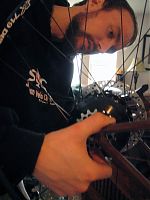 Randall's rear wheel was good to go so we finished putting the disc brakes and forks on. Routing the cables for the Rohloff took some time but they came out all right. Mine shifts like a dream through all 14 gears but with Randall's hub something is awry. He is able to use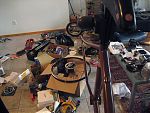 gears 6 through 14, but the smaller ones don't work. We're guessing something was done wrong during our setup. Until we have time to work on it, Randall will grind up the hills!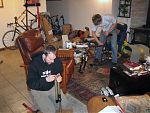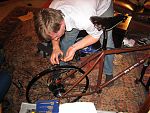 Our chain line is also off by 4mm which hasn't been a problem so far. We may try a workaround for that down the road. The CURTLO frames are built for the Rohloff hubs (they have a special vertical dropout and eccentric bottom bracket) so the setup is practically ideal. Using a Rohloff hub with a conventional bicycle frame requires some additional hardware and different cable routing. We took the bikes for a spin around the neighborhood and they rode beautifully! Sometimes it pays to take your time. In this case a good 3 days!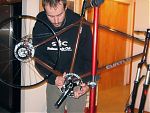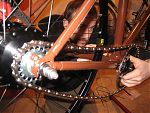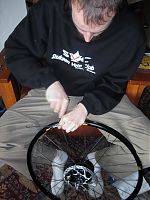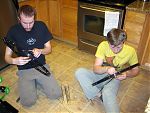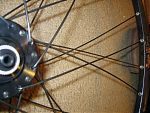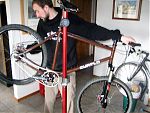 Comments:
I have been married for 30 years and have 6 sons…one thing I have learned is,
There is one thing certain about men and boys, they never read instructions before building their toys…HA!

Great photos! The bikes look great! Sort of like a GTO
Sincerely, C and the whole M family

— C · Apr 7, 01:38 PM · #
Post a comment:
Commenting is closed for this article.