Subscribe to our blog: RSS | Atom

Bye Bye, Palayamkottai!
We finished up the school year with a week of final exams followed by the traditional grade-giving ceremony in the the concrete second story room of the middle of three school buildings — the room where my favorite class, 'Standard E' met until recently under my inept but happy tutelage. The volunteer teachers, from as far-flung places as the North America, Scotland, Switzerland, Germany, and Austria, were grouped in the back where I crouched with my trusty DSLR. Three local teachers sat in elegant sarees at the front of the room (a forth, Mr. Xavier, was in a white dress-dotee) where the students were called up individually, one at a time, to receive their yearly reports from Fr. Brucciani.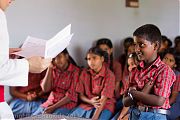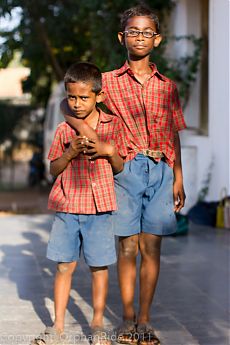 And what a touching, at times infinitely amusing spectacle it was! The youngest, Brighton, was the first to be called. He was sweetly oblivious; the others who followed were more self-conscious – all seemed to show the very index of their behavior, temperament, and personality in their faces and posture as they stood before their principle for public judgment.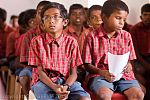 The hints were there for even the most casual observer to compose into a cohesive whole: the rebellious lower lip of impish young Libya, for example, paired with her crossed arms and hunched shoulders, as well as a crowd of other minute details; or the goofy, somewhat embarrassed smile and exaggerated confidence of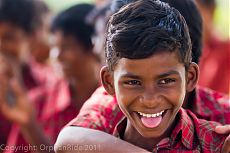 pudgy Paul Sujeet – although I should add that anyone who has had experience of the boys knows they're a bunch of lazy (mostly teenage) buffoons, the dears – the point being that demeanor and bearing often tell a tale, and in this case, seemed to reflect with fairly good accuracy at least what they expected in the inevitable, often dreadful, report.
Overall, the boys mostly projected a flimsy, careless sort of adolescent confidence, while the girls were generally sweetly disconsolate.


It was a pleasant affair for the observers, in any case, and heralded a much-anticipated two-week vacation. Many of the children would go visiting relatives or friends (since everyone's called aunty, uncle, brother, and sister here, it's hard to judge what the actual blood relations are from their hesitant English), so the other volunteers and I decided to go to the coast near Kanyakumari, and enjoy at least a day's welcome respite from dusty Palayamkottai and those puerile dynamos, the orphans.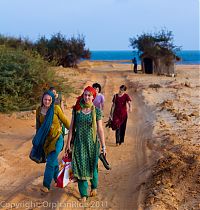 We took the 'Tempo,' a large, battered white Indian van and went south. Weather and water were perfect, and the beach refreshingly free of staring Indians.
But we dallied there, taking our pleasure, and got a late start home. We were benighted soon after we left, our destination still far-distant, yet determined to arrive as soon as possible. This was, perhaps, the ultimate test of reflex, concentration, eyesight, and nerve — my first experience of the South Indian highway after dark. Universal high-beams, boundaries unmarked, human and hoofed obstacles, narrow, twisting roads, no shoulders, excessive traffic, and absence of law (and often of common sense, too) made for truly nightmarish intensity. Often I was completely blinded by oncoming traffic, and reduced to guessing where I ought to be, with absolutely nothing to guide me for several seconds or more at a time. Truly, it was only my guardian angel, or uncommon good luck that pulled us through.
My mind was partially deranged when we arrived at last, my hands trembling with excitement…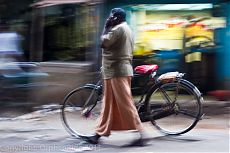 Later…
It was almost time to leave: my train would soon depart.
I clipped my trailer onto the rear axle with bits of rusty wire – I had long since lost the original clips – and saddled up. As I left the Priory grounds, the familiar clatter of the bullock gate passing under my wheels caused a mixed emotion of regret and exhilaration. I would miss my friends, but not anarchic, incomprehensible South India; and I looked forward to the unknown road ahead. Six long months had sped by, and I was ready to travel again – fortuitously, as my visa would expire in just a few days.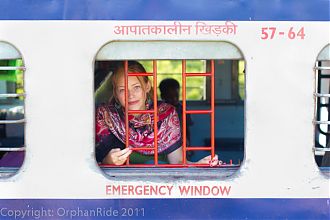 The streets were almost empty and eerily quiet as I made my way towards the main road that led through Tirunelveli to the train station, Tirunelveli Juncton. A few furtive figures – dogs and people, I think – some slumbering cows, and bits of garbage stood out in stark contrast in the lurid glow of the lonely street lamps that showed me my way along the haphazard streets. Empty of buses, autorickshaws, and the frenetic, flailing masses, they were unfamiliar and strange in the predawn darkness.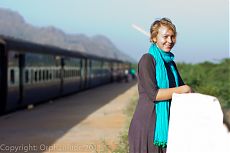 My sisters met me at the station, and we boarded our battered blue train for Fort Cochine on the Malabar Coast to the West. We would spend a few days together there before my flight left for Malaysia, and I continued the odyssey through other lands. Andrew was already in Thailand, and I hoped to meet him there. Meanwhile, I bade farewell to India in spirit – that wild country, almost more unlike than like what we know and love in the West, and moved on. I was ready. But I would be back, too: I was sure of that.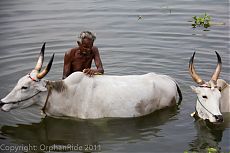 -From Singapore
Comments:
Superb post, brother! I think you've portrayed the Palayamkottai volunteer experience with acute accuracy.

Give everyone back home a big hug for me!

— Andrew · Sep 6, 06:50 PM · #
Post a comment:
Commenting is closed for this article.