Subscribe to our blog: RSS | Atom

Celestial Cycling and Kashgar Cuisine
We entered China on 13 October, 2010, mud-spattered and shivering.
Following our ordeal on the Irkeshtam Pass (leaving Kyrgyzstan), we agreed to find lodging and hot food at the earliest possible opportunity.
After having our luggage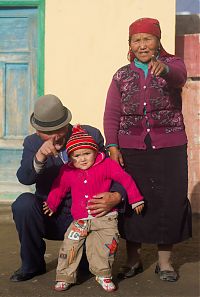 searched at a checkpoint, we proceeded through the main customs building, which is a gateway into the little border town of Irkeshtam, where we hoped to find a hotel and our first tasty Chinese meal, or at least something—anything—hot to ingest.
We found nothing, however. Huge signs splashed with Chinese characters over grim little shops facing either of two main, muddy thoroughfares told us nothing. We asked, and learned nothing—save that we could stay with the truckers in their long, low dormitories at an exorbitant rate. One look, however, at the leering faces of our prospective bunkmates through the heavily-insulated curtains that served as doors was enough to tip the balance in favor of continuing on to the next human habitation, wherever it might be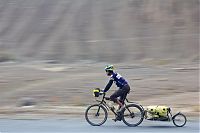 We had no idea how many kilometers we might have to ride till we found suitable quarters for the season: the weather was cold, the sky overcast, and our GPS maps showed no human settlements till Kashgar, some 260km to the east. The imposing brown peaks surrounding us were ominously barren.
Still, we left Irkeshtam behind with only one or two wistful looks, and slowly pedal-plodded our way, threadlike, through the mountains towards the great frontier city of Kashgar, where East and Central Asia meet in fantastic fusion of culture and ideas.
As we left Irkeshtam, a cold drizzle quashed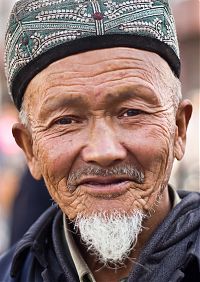 our last modicum of morale. Even the truckers' quarters would have fit the bill by this point, but even more than rainy high-altitude cycling at the end of a long day, we dislike backtracking.
After too many tedious kilometers, we indeed did come across a small agricultural village where it was strange to see the bright new government buildings with the deep red emblems next to the rundown homes, workers' dormitories, and shops.
We spent our first night in that village after Andrew negotiated with a local family behind their house (it was all suspiciously clandestine – we would discover why it was so the next night) for room and board at 100 Yuan (about $15). All still in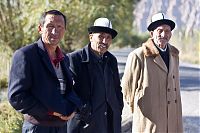 Central Asian fashion—blankets on carpet as beds, large bowls of mutton soup, and large-jowled Uyghurs to serve us.
The landscape transformed next day: trees broke up the desolation, but barren hills still dominated it. As night began to fall, we sought a place to camp in someone's walled enclosure in another small Kyrgyz-Chinese village well off the road. We were welcomed with the customary hospitality, though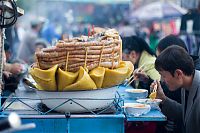 our hosts were poor, and invited inside for supper and sleep – a relief, as we were still at a fairly high altitude, where camping can be so drastically unpleasant.
But trouble was brewing. Word quickly spread that foreigners were abroad, and a couple of drunken neighbors—relatives of our host, perhaps—soon arrived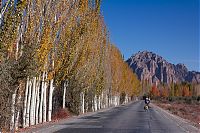 and asked us two questions with hand gestures and very simple Mandarin Chinese, with which Andrew is slightly conversant: 'Did we want to sleep here? Yes? Will you give me some money, then?' Their unctuous smiles were as distasteful as their requests. We refused. Our host caught joined a battle of quick-slung words wherein we understood little other than that he was championing us. His wife played a prominent role in the argument, which threatened to turn physical as tempers rose.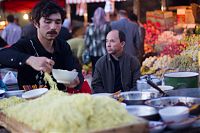 Why they were arguing, we were soon to find out; the drunken neighbors were beaten off, but the police arrived soon after: we discovered that the neighbors had been threatening to report our host if Andrew and I failed to hand over a little cash.
There were three officers, one of them female, who seemed to be in charge. They spoke no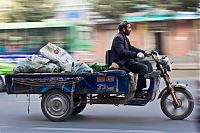 English, but after some difficulty managed to get through to someone over the phone who simply said: "No sleep here!"
We understood that we were to take our bicycles and luggage and follow the venerable Officers of the Empire Celestial to their tiny, toy-like white minivan which was parked outside and cram everything inside.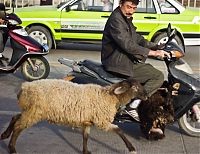 It was somehow managed, with Andrew hanging out of the open hatch, and myself twisted between the handlebars of one bike and pedals of another, when we were taken, to our utter dismay, to a town some 15km back along our route.
We were driven directly to an expensive-looking hotel where Andrew delighted in making trouble for our escort by claiming to be cashless.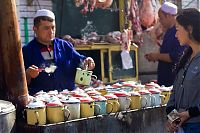 They, in turn, left their problem with a couple of young greenhorns, and looked positively delighted to be rid of us as.
Andrew continued to give the young fellows a hard time till they'd checked us into a cheaper hotel around the corner, bidding us a surly "goodbye."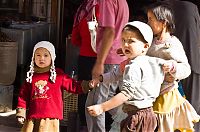 Next day we arrived in Kashgar, but not before passing our would-have-been Kyrgyz host waiting outside his village on the highway, looking deeply downcast. We made an effort to cheer him up, but I believe his honor was deeply offended by the incident of the previous night.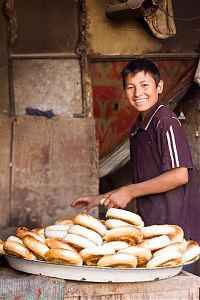 Kashgar marks the beginning of the Karakorum Highway, an 800 mile stretch of road that winds through some of the world's most rugged terrain to Islamabad, the capital of Pakistan. We rested and renewed our strength in Kashgar for over a week, anticipating the rough terrain to come, and enjoying Kashgar's wonderful fusion of Central and East Asian foods. We would soon find how much we needed that period of rejuvenation: our cycle to Tashkurgen in Southwestern China would be one of the most difficult yet.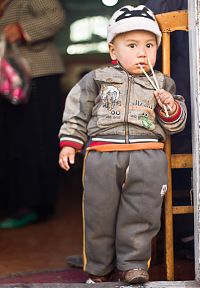 Comments:
Thank you for coming to my country!

— James from Bishkek · Feb 5, 02:30 AM · #

Any chance we'll be reading of your pedgogical exploits with pics of the kids and your sisters working at the orphanage there?
Enjoying all your posts and looking forward to a more up-to-date reports about now.

— Cameron Talbot · Feb 8, 06:19 PM · #
Post a comment:
Commenting is closed for this article.