Subscribe to our blog: RSS | Atom

China's Wild, Wooly West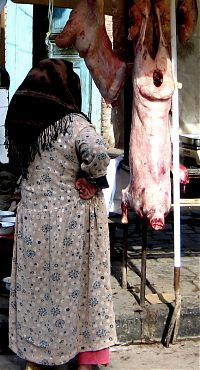 In Kashgar, one of my favorite cities for it's Central Asian charm, convenient amenities and authentic character, I spent three days in the youth hostel preparing for my departure on the North Silk Route. This side of China is not the ching-chong-tsung-tao-ting China that a an unfamiliar westerner may envision. No, this is still Turkic, rough-around-the-edges Central Asia with some ethnic Han Chinese spice thrown in. Although it can be observed that most of the cities are now populated by a Han majority as a result of the government's "Move West" program, outside of them one will pass through villages and towns of mud houses and pass through lands where nomads spend their days in sheep-skin yurts.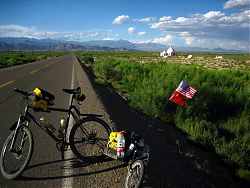 My ride was mapped to follow a higher-elevation, alternate road near the Kazakh border to Aksu, rather than the lower desert highway. From there, again, I would take an alternate, higher-elevation road through the Tian Shan ("Heavenly") mountains to Urumqi. I had a good first day, though the temperatures, as expected, rose well into the 30's (90's Fahrenheit). On the alternate road I spent the hot afternoon in the only shade I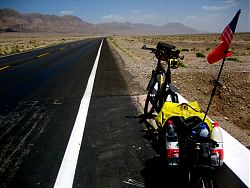 could find: under a drainage bridge built into the road. In the evening I arrived in a Kazakh village where I drew a crowd as if I were the first foreigner ever to visit. My intention was to buy some food and fill up on water, but was waved to the police station. The Chinese officers, after taking my passport in, told me I was in a "restricted area," that foreigners where not allowed here and that I would need to turn back and take the highway.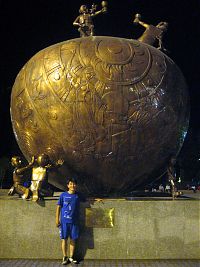 They offered to take me to dinner before I left to mitigate my disappointment but I opted out since it was getting late. The men then flagged down a pickup truck to take me back to the highway. I slept in a gas station that was being built and the staff fed me and let me shower there.
It was three monotonous days of hot desert riding before I arrived in Aksu, an prosperous agricultural city on the Aksu River. On one of those days the weather had turned to a violent sandstorm, which I waited-out in a Uygur restaurant. On the way I had met a young Dungan man who put me up in Aksu at his humble lodging and every day his girlfriend prepared a delicious lunch for us. The Dungans are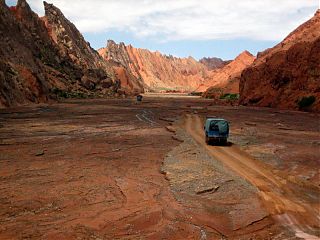 Chinese Muslims who many centuries ago mixed with Arabs, while the Xinjiang-indigenous Uygurs are a Turkic people, more closely related to Uzbeks, Kazakhs and Mongols. On the last day I found out that my friend Mafi had been in a car accident and was in the hospital with minor injuries. I spent much of that day visiting him with his delightful parents, who had come to attend upon him.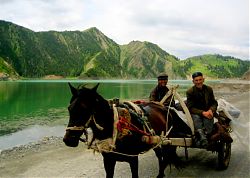 After my first incident with the police on an alternate route I was now paranoid and was concerned that the same thing would happen on my way to Urumqi—that I would be forced backward to the highway. At the first checkpoint I was passed through by the friendly police, mostly Uygurs. The road followed a river which irrigated farms for 100 kilometers or so. Grapes, melons, apricots and apples are grown here, among other things, and the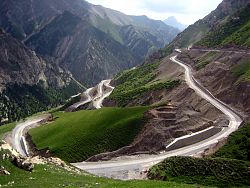 harsh climate lends itself well to these continental varieties. Before long I was back in the desert and passed through another police checkpoint successfully, praying the whole way. Eventually, I began climbing up into the high, snow-capped, green mountains and went over a 3300-meter pass into a high-altitude valley of lush grasslands dotted with Mongol and Kazakh yurts and horsemen herding their flocks of sheep. It was, as expected, very cool up here. I camped on the property of a Mongol family that night and they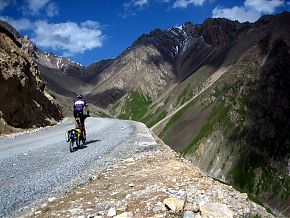 filled my belly with bread and rancid-tasting yak butter the next morning. It actually tastes swell after the first couple of bites, although the salty tea I will likely never grow fond of!
It was raining lightly the whole morning and I huddled in my tent writing a previous blog post. Finally it stopped in the early afternoon and I prepared to leave, only to be caught in a heavy, icy rain storm which chilled me to the bone. I determined to stay in the in a hotel in the next town. It was a strange little place that seemed only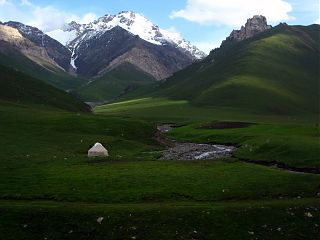 to exist for the purpose of putting up Han tourists who come out to see the Mongols and Kazakhs. Indeed, I was stared at so much that I began to think that I was the first foreign tourist to pass through!
The next day the weather was better, though I had to outrun a rainstorm at mid day. It was more of the same interesting scenery and the route was very lovely. That night I stayed in the yurt of a beautiful Kazakh family, but I think my tent would have been warmer as there was no fire in this yurt and it was too big for my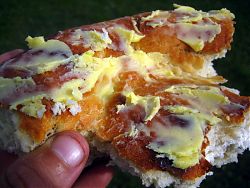 body to warm it. I was surprised to find the cold, drizzly morning weather mingled with light, infrequent snow flakes. Again, I waited until midday, and set out. Then it began to snow in earnest as I climbed again to 3300 meters. Better snow than rain, but in early July?
On the way to Urumqi I climbed another pass on a dirt road all the way to 4000 meters, and again stayed with some hospitable Kazakhs on the other side of the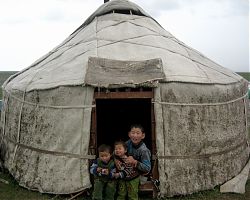 pass. The narrow gorge was filled with evergreens above the swollen river down below, and this leg of my journey, more than any since, excepting the inhabitants of the land, reminded me very much of western Colorado. In Urumqi I was accommodated by a well-to-do Chinese family in their flat near the city center and conversed often with the 12-year-old son, who is in an English-language program for the Summer and speaks rather well already. Urumqi is, if I understand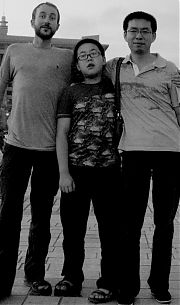 correctly, the most remote large city in the world and lies very near the geographical center of Asia. The population these days is 80% Han with minorities filling remaining 20%. I should remark that the food of Xinjiang is really appealing, though I probably have stated this preference before. It's heavy on the mutton. One of my favorite dishes is polo, in which a large pot of rice is cooked with slivered carrots and many fatty chunks of mutton that flavor the medley. My host family were good cooks, and when we often went out for Xinjiang delicacies they would not even let me pull out my wallet. To my friend Tony from Couchsurfing.org, who had organized this homestay I am very grateful. I hope that I left my friends in Urumqi with a good impression of Americans, for they certainly left me with a good impression of the people of China!
Comments:
Wow, great shots, Andrew! Even after so long a trip, I find myself envying your adventures. Keep it up!

— Randall · Aug 1, 06:19 PM · #

Very cool! I want to join in soon. I finally have a good touring bike! This seems like the life.

— Ryan Rickerts · Aug 3, 02:46 PM · #

Thanks to both!

Ryan, I'm always up for partners! Just say when and I'll say where!

— Andrew · Aug 8, 03:51 AM · #
Post a comment:
Commenting is closed for this article.