Subscribe to our blog: RSS | Atom

Crack-ups and Capitals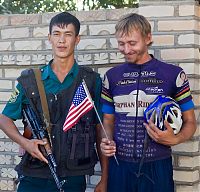 Uzbekistan is a fabulous country. Turqois domes hang like dreams above the colorful throng, a hospitable people, and the desert, an oasis of silence, surrounds all.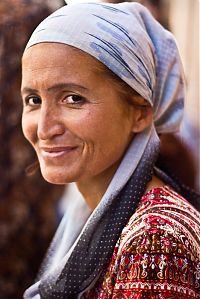 On 9 September we were only fifty kilometers away from enchanting Samarkand of the old Silk Road, the city of color, fable and spice. Day gave way to night, and we were left in darkness on a lonely stretch of road where only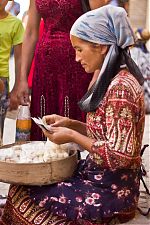 a melon seller still stirred with his laden donkey cart. Our intent had been to push on till we reached a chaikhana and its vittles—invariably mutton—and see about sleeping on a tapchan. That was our intent, I say, but as I lifted my bicycle into position from its awkward repose, the repeated strain finally proved too much for the steel fork of my trailer, and a loud "CRACK!" rent the cool, night air. It was Finished. Broken. Kaput. We

would ride no more that night, nor the next day, I thought, as the donkey cart rattled down the road into the deepening dark. After a short discussion about which course to take, Andrew and I wheeled our things down a nearby lane in search of shelter.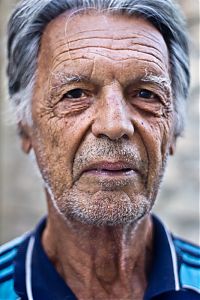 We made for a light that shone ahead off the path, not without the thrill that invariably accompanies the approach to a strange house in a strange land… One never knows what sort of person lives there, and the imagination simply teems with vicious dogs, twitchy trigger-fingers, and the possible effects of an irrational dislike of spandex-clad bicycle tourists.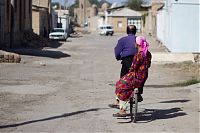 'Denge! Denge!' … in the unnatural glare, a couple of swarthy thugs walked through the door and began to demand money in Russian…
As we wheeled through the gate, we caught a glimpse of a group of men through the window. We were noticed presently, and soon surrounded. Rather than a swift death, however, we were pleased to find that the dogs (there were several) and the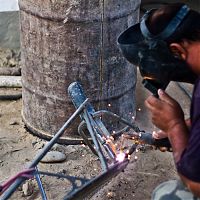 men (there were many) proved to be extremely friendly. Beds and food were prepared, and we were ushered into the manager's own room where the television (considered the supreme entertainment for guests, especially veritable monoglots like ourselves) was turned on. To top it all off, the headman told me to my surprise and joy that he would have his man weld my broken trailer at dawn.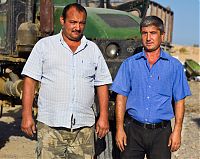 All proved well, and we were off with warm feeling on both sides and a newly-welded trailer early in the morning. Fantastic Samarkand was enjoyed for several lazy days before we left for Tashkent, Uzbekistan's centerless void of a capital.
I was in for more trouble. Seventy kilometers from Tashkent my rear wheel began to wobble strangely; I stopped, and upon examination the rim showed a black split several inches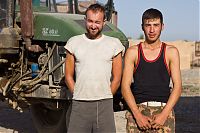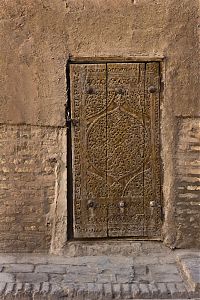 long where the innertube showed through. Calamity. 'How long could I possibly ride even at a most optimistic estimate?' I thought. My prospects looked bleak, and my melancholy nature had no trouble inadmitting it. Melancholy, true, but mulish obstinancy can sometimes fill the need when hope fails: I have plenty of that. I swore I'd get every last inch out of that wheel before I gave in. I would will it to last.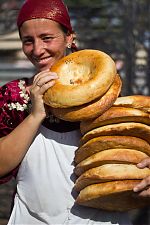 Then it occurred to me that I might need to use my bicycle in the city for some time till we had our lodgings sorted out. So I wheeled to the nearest chaikhana and threw myself on the hospitality of the staff. It was a typical Central Asian experience: the usual kebab, unusually large samsa, vodka, and more attention than anyone could ever wish for. Andrew had been ahead of me when I noticed the failure, so I dispatched several messages with passing automobiles to him, the first in Russian,
which he received, and the second in written English, which he never saw, because he stopped off the road at a cafe to wait after the first flailing Uzbek had managed to impress on him that I was in difficulty.
Next morning I hitchhiked into sprawling Tashkent and met Andrew quite by chance in the streets. Together we sought a hotel, but none would take us due to the iron-fisted regime's strict (especially in Tashkent) Tourist Registration laws, which dictate that tourists must be registered at least once every three days. It had taken us this long to arrive from Samarkand After trying several hotels, we left the city to find a chaikhana,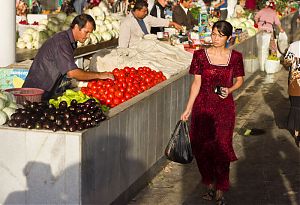 if possible, where we could spend the night. Five miles later we were established in a place in the suburbs; we even had a little room to ourselves that opened into an alley that entered the main street. It felt relatively secure, but we chained our bikes up just to be sure.
Later that night we had some unexpected company. The light was switched on, and in the unnatural glare, a couple of swarthy thugs walked through the door and began to demand money in Russian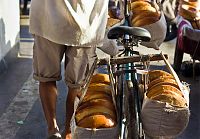 when they saw the telltale signs of foreigners scattered about. One was a bit tubby, the other wiry and muscular. They knew they had an even match, and they were more than a bit drunk, so they didn't try to use physical aggression. Andrew was very firm in his English refusals as they repeatedly insisted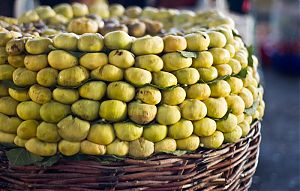 "Denge! Denge!" increasingly petulant voices, until they finally gave up and left, but not before trying to take our bicycles with them. All that time we hadn't even left our sleeping bags.
We stayed with a charming Russian family through Warmshowers.org, one Andrew Yorkman, president of the American Club in Uzbekistan and terribly enthusiastic about anything even remotely Yankee; as well as his sweet, domestically proficient mother and characteristically reserved Russian father.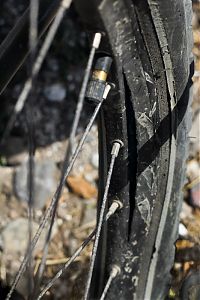 A week was passed in Tashkent while we waited for our expensive ($210/1) Chinese visas to be issued. We then found that the border with Kyrgyzstan was still closed due to the Summer ethnic riots, so we applied for a Kazakh visa, which would allow us to cycle via Shymkent in southern Kazakhstan and into Bishkek, capital city of Kyrgyzstan. Day after day we went back to the Kazakh Embassy, returning empty-handed, until our Uzbek visas only had three days left on them. We were left in painful uncertainty about which course to take. Two of our three or four options had been exhausted: neither Kazakhstan nor Kyrgyzstan could be entered by land, and visa extension were prohibitively expensive. Furthermore, I had been unable to find a suitable replacement rear rim in all of Tashkent.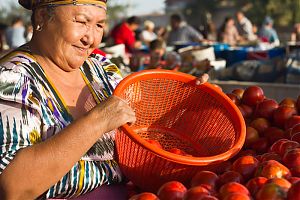 With many long and anxious hours, time resolved all: I managed to get a last-minute flight to Bishkek (against all hope) where there was the merest possibility of finding a suitable rim replacement, and Andrew somehow managed to get a last-minute visa for Tajikistan, which would take him along the famous Pamir highway and into southern Kyrgyzstan.
We left the country with mere hours to spare, full of relief and excited anticipation. If all went well, we would meet in the southern Kyrgyz town of Sary Tash 18 days hence. Meanwhile many miles and a few adventures awaited us on the mountainous roads ahead.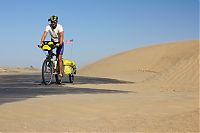 09/09/10 – 09/26/10
From Lahore, Pakistan
Also: a big thanks to Linda Jones, Nathan Cranston, Kelly Phillips, Sandra Cumming, Chelsea Winfield, David Pearce, Steven Purcer, and M. Pierre Halle for their recent donations!

Comments:
Post a comment:
Commenting is closed for this article.