Subscribe to our blog: RSS | Atom

Day 1: the Bellingham Ride-Off!


Most of these photos compliments of Michael Leese. All rights reserved.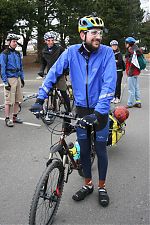 As we rushed to pack our gear (myself running on an average of 3.5 hours of sleep for the past
couple of nights!), between large cups of Useless Bay Coffee, we struggled to fit all of the possessions we will posses for the next two years into our trailers. The small backpacks and Big Agnes dry-bags did not quite fit. I had an extra 17 lbs of food to bring as well.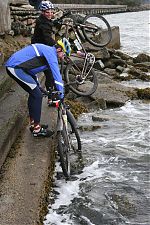 On that cold, overcast morning our spirits were high in spite of the gloom and lack of sleep. We flew down the hills from our brother's house at full speed with bells ringing and arrived at Boulevard Park about twenty minutes late. There were plenty of familiar faces and a few that we didn't recognize. Charlie, Kelly, his wife, and their darling daughter,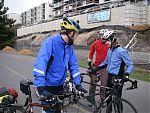 Hazel, were on their tandem with a kids' trailer. Stacy, Jeff, Jeff, Michelle, Patrick, Deanna, Steve, Michael (the other brother and photographer), Alex, and probably a few I am
forgetting to mention were there and ready to ride! They all waited patiently while we did the traditional tire-dip in the water, and we were off.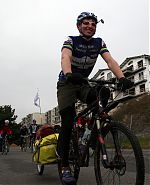 The ride took us down lovely Chuckanut Drive. Rain spit on us mildly a couple of times but no one was put out. The group arrived at the Farm to Market Bakery in Edison ready for some coffee and treats. I have to plug the bakery because it is the very BEST that I have been
to, bar none!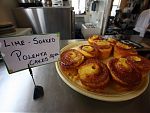 Owned by a relatively young couple, the Farm to Market has been serving up the finest down-home goods for a few years now. Imagine lime-soaked polenta cakes; fresh,
latticed apple or strawberry-rhubarb pie; the most mouthwatering gingersnap you will ever taste; and the ubiquitous black-bottom cupcakes. Not to mention sandwiches that are reputed to be as fine.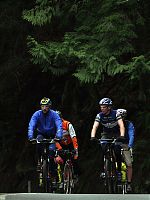 One gentleman, Charlie by name, decided to continue on with us after donating our food and coffee. He had learned about The Orphan Ride only the previous evening, through his daughter. Charlie, or "Carlos" as his friends address him, kept a fine pace on his 20"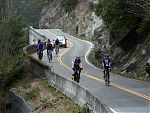 wheel folding bicycle, hooting and cheering us on all the way to Anacortes! As it turned out, he lives on his boat there. We stopped at a Sea Bears seafood market on the way to his boat and he bought some fresh Penn Cove Muscles and baguettes which we feasted upon aboard his well-kept vessel. And feast we did! Oh how those morsels from the sea went down after a healthy fifty miles in the saddle! We had the opportunity to meat some of his friends in the process and answer questions about our expedition.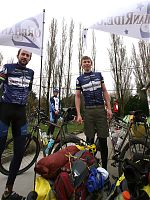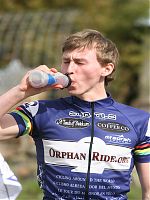 Next, Carlos, Randall and I spun up the hill and wound our way to Deception Pass. The sun had come out in force and the day had become more than a treat! We said our goodbyes to Carlos and promised to meet him again at some point on this trip. He's a great one to ride with and keeps the spirits high.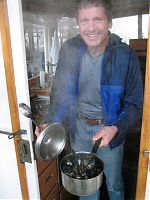 The road to Greenbank was smooth and hilly. We stopped to visit both our grandmothers to say goodbye on the way, and we were graced with a most fine sunset on our right. Arriving just at dusk at the home of our parents, we were greeted with warm smiles, hello's, and a succulent feast of bean soup, homemade guacamole, seafood paella, pasta, and wine.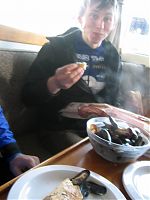 This was all topped off with some of the most flaky, delicious apple pie and ice cream ever to grace the face of the earth!
The obvious conclusion to such a day was a well deserved rest. I slept like a fossil!
Comments:
Hi guys:
Your sister Katie told me about your honorable efforts and the ride when I met her at the sheep shearing course she is taking. She suggested I look up the site and I'm very glad I did. Congratulations on trying to make a positive difference for the children in India and I wish you every success to achive your noble goals.

Stay safe and may your journey be fruitful.

— Grant · Apr 7, 08:02 PM · #

Hey brothas,
Been following your blog. Better you than me for some of the misery you've experienced. Fortunately humans don't rember pain well or at least not vividly. I continue to worry about your trip through the "stans". Fred Lundahl, musicfortheeyes@yahoo.com ,who has the rug store in Langley was foreign service in that part of the world for 30 years and is willing to consult with you. Of course your best info will come from traverlers who have reciently passed through that part of the world. From what I know of the ares (mostly from living in India for 2 1/2 years) the problem is getting through Tortugart Pass in Kyrgysten, Kunjerab Pass in China and the Kyber Pass in Pakistan before they get bad for the winter. That balanced against avoiding the Monsoon in Northern India (Sept-Oct) and the super hot season in the "stans" and Northern India (May-Sept) is a logistical dilema.
If it's hard for you to reshearch climate data, I'm willing to do some of that for you, just ask for specific data and I will do what I can. The American embassy should be consulted about personal saftey. They will of course be conservative in their recomendations.
Fred said that you should have all of your visas before leaving Europe. He also suggested finding out the location of all the U.S. consulates in citys you will visit and perhaps checking in with them as you pass through.
It's fun to follow your adventures so keep bloggin and spinnin.

blake

— Blake from The Clyde · Jan 13, 04:06 PM · #
Post a comment:
Commenting is closed for this article.