Subscribe to our blog: RSS | Atom

Descent from the Plateau and a Whirlwind Side-Trip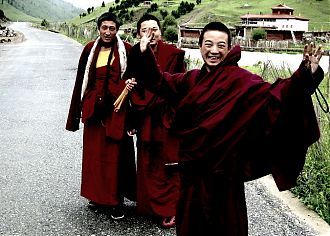 One cold, drizzling evening I arrived at the Seda Buddhist Institute, the only reason for which I had chosen this muddy, unpaved road into the Sichuan province. There was a sentry post on the road that led up into the monastic complex. I was stopped and told to wait for a police officer to arrive and the sentry shared his tea and yak meat with me to pass the time. Finally, the officer came up and asked me where I was from, etc., before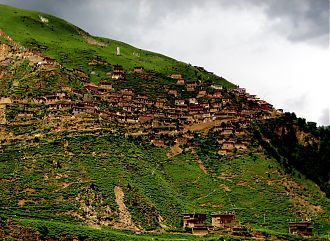 he told me that foreigners were not allowed to visit. Later I was enlightened that a lot of Tibetan political activity takes place in the institute and the Chinese government is paranoid that photos or video might leak into the mass media, thus fueling the Tibetan cause. I stayed in a grubby, damp dormitory room nearby and left the next morning.
The scenery became more and more beautiful as I worked my way into the the province, and the nomadic tents of the Tibetan people gave way to magnificent,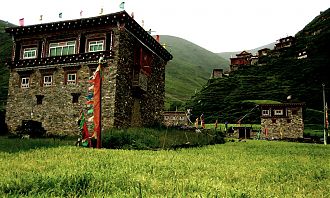 imposing Tibetan houses made of stone, so large and striking that they reminded me of forts designed for battle. The night before I descended to the town of Kangding, a stone's throw from the valley and Chengdu, I slept in one of these houses with a family whose boy was selling mushrooms on the roadside. Let's just say that the houses must have more aesthetic appeal on the outside.
…many Tibetans pass their entire lives without a shower.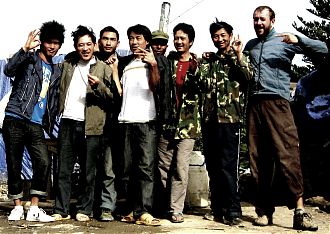 The road made a rip-roaring descent to Kangding, from 4,300 meters to 2,600 meters, where the air was warmer—just perfect, in fact. I stayed in a new hostel managed by a friend of a friend from Washington State who had been tremendously helpful in planning my route through the Tibetan areas. Finally, I was able to take a shower! This had been a record fifteen days of traveling without a proper shower, a fast that I would have readily and gladly broken had the opportunity for a cleansing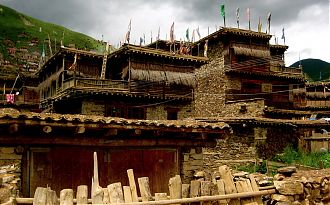 presented itself. I was told by one of the Tibetan staff at the hostel that many Tibetans pass their entire lives without a shower. It can be supposed that living in such a cold climate might allow bathing to be less of a necessity, and I don't remember any of the people reeking of body odor.
I must also reflect that Tibetan dogs, while fearsome in appearance, did not live up to the reputation for aggression that my Tibet-traveled cycling acquaintances had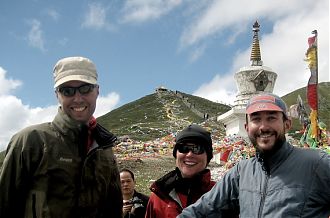 bestowed upon them. I won't say they were friendly, but the few that did chase me quickly desisted when I made the motion of bending over to pick up a stone. The ones that were openly hostile were all tied up, thanks be to God. The only time that I really had a problem was when I had left a large bag of tasty biscuits (a rare commodity in China—that is, tasty biscuits!) in my tent for a few hours and returned to find a hole torn in my tent precisely where the bag had been and a fat-looking dog sprawled out nearby, crumbs on it's nose. If only they had been chocolate biscuits!
The casinos in Macau are enormous and gaudy, even surpassing those of Vegas in extravagance…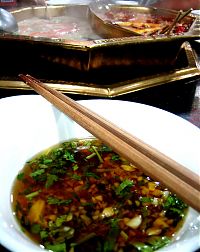 During my stay in Kangding, a delightful, small city situated along a river in the high mountains, I enjoyed the company of a pair of Belgian cyclists that I had met as we climbed and descended the final pass the day before, and we sampled several Sichuan delicacies at a local Chinese restaurant before I took the bus to Chengdu to travel onward to Hong Kong by train. I left my bicycle and luggage behind and made my way to the steamy south-coast in order to to attend the Mass and refresh my visa, which requires me to leave Mainland China every ninety days.
Hong Kong was the very antitheses of the undeveloped lands that I had been recently sojourning in, with it's polished, lit-up, cosmopolitan charm. I made a side-trip to Macau and was delighted to walk through the historic Portuguese side of the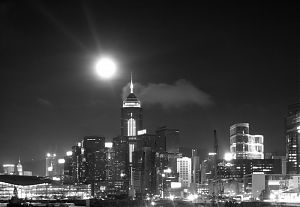 island and savor the memories from one of my very favorite countries. The casinos in Macau are enormous and gaudy, even surpassing those of Vegas in extravagance (so I hear), but they drive the economy of this small formerly Portuguese colony. A new friend from the mainland, a fellow cyclist named Oh Wen, hospitably put me up here in his company apartment and we and some of his friends had a superlative supper of Portuguese cuisine, complete with bacalao and chicken piri piri the night before I left. I also ate my fill of pasteis de nata, the famous Portuguese custard tart, possibly my favorite pastry of all time.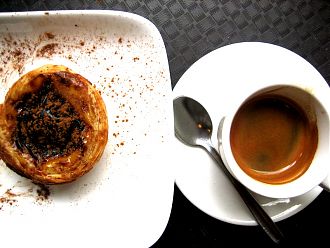 I returned to Guangzhou and could not get a train ticket back to Chengdu do to the high demand during the Chinese summer holiday period, so I took a sleeper bus Guilin, then another to Guiyang and a night train to Chengdu. In the end it would have been about the same cost to take a short flight. Live and learn. I spent two weeks in Chengdu researching ESL jobs in Asia and weighing my options before finally returning to Kangding by bus, from which place I would again begin to pedal my way toward Shanghai.
Comments:
Greetings Andrew! Just a note of encouragement. It was standing room only at Randall's slideshow presentation here at Corpus Christi Chapel. The wide eyes, oohs and aahs, especially from the children inspired dreams of their own adventures to be sure. The brothers Leese are certainly true modern day heroes who not only deserve National Geographic status (says Father Johnson), but a status of a higher nature where Crusaders for a cause continue today. Thank you for your wonderful example for our young men and women. Remember what St. Francis de Sales said: "Serve God where you are… have courage to cultivate this vineyard…consider as temptation everything that will be suggested to you regarding changing your place; because as long as your spirit looks elsewhere than where you are, it will never apply itself rightly to profiting from where you are."

— Mrs. M Blanton · Oct 5, 07:29 AM · #
Post a comment:
Commenting is closed for this article.