Subscribe to our blog: RSS | Atom

Dinner a Major Success!


What a magnificent success the "Evening in India" was!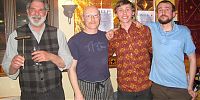 Thanks to the outstanding generosity of Des Rock, Useless Bay Coffee Co., and the lovely attendees who made the event possible, over $3,500 was raised for the orphanage! Useless Bay Coffee Co., has magnanimously donated EVERY


penny of the proceeds to the cause; we, and by us I chiefly mean the orphans, are deeply indebted to Des and his surpassing generosity.



To recap:
The evening was kicked off with a delicious variety of wine and coffee as guests


began to arrive; the place was shortly filled and enthusiastic conversation and well-wishing competed with the up-beat Indian pop-music. While the ambiance was decidedly Indian, there was a charming vestige of the retro-diner feel remaining: draperies and raiment from the subcontinent adorned the walls. The brothers gave a talk on the trip, and answered questions until the food came out on steaming platters During the meal, sitar musician Linda Good and friends played traditional Indian music. Our first T-shirt was auctioned off to the highest bidder at $125; the first jersey at $200. More wine followed, and everyone left in high spirits. A pleasurable evening on the whole!


Thanks to everyone who helped!
Des Rock for superlative Indian fare; Tracy, Oliver, Lucy for their invaluable help; Marty and Peggy for their generous assistance (Marty was instrumental to the cooking process, braving billows of inky smoke for sumptuous grilled kebabs); Dana, Helma and Tory: decorators; Linda, Mary, Bob, and Joni: musicians; Cory, Tess, and Zoe, John, Kelson: indispensable volunteers and good friends; and everyone who came to support a great cause!
PHOTOS BY ZOE HAYES of UBCC
Post a comment:
Commenting is closed for this article.