Subscribe to our blog: RSS | Atom

Divergence and Diversion
Early November 2009
The relationship enjoyed by my brother and I has been marked by mutual tolerance for some time. It's been said that seven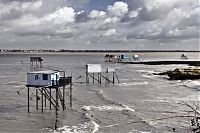 months is a long time to travel with anyone (least of all an elder brother—even a fine fellow like Andrew—or a crotchety younger one, for that matter), and that he and I indeed do have our differences. Needless to say, we diverged just south of Port-des-Barques and again in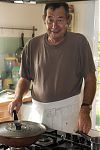 Audenge for the umpteenth time since leaving the U.S. After a refreshing respite from one another, and that indomitable fiend, Familiarity's offspring, we would rendezvous in Pamplona, on the second day of our pilgrimage along the Way of St. James, El Camino de Santiago.
But let us bring it back to France.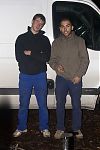 We separated some three hours North—by bicycle—of the Gironde's gaping mouth. That morning I plunged ahead into the oppressive coastal winds with the aim of finding internet access whereby I could retrieve the address of that night's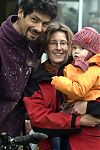 hosts in Audenge, 110 kilometers southwards, before being ferried across those wind-harried waters to Pointe Grave and Aquitaine (I not only got the address, but hopelessly lost, wet, and several flat tires as well). While I was thus occupied, Andrew slipped across the river. The ferry crosses only every three hours: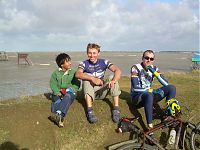 I had to wait. By 3:45pm I was southbound in Aquitaine, roughly 100 clicks from a warm bed in Audenge. It might take 4 hours under ideal conditions; however a steady headwind kept my speed and spirits down. At my current rate, I wouldn't arrive before 10:00pm.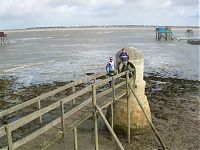 It was dusk when I sailed southwards through the vineyards of the famous Medoc region. As I approached the namesake town, Lesspare-Medoc, the aroma of red wine pervaded the air, heavy and rich, bathing me in its scent. I stopped for a coffee at dark and pressed on.
I had 81.6 kilometers to go at 6:00pm, broken lights, and a highway without shoulders, save a bit of uneven turf on either side. Without lights, I was virtually invisible. But I was determined to keep on, and by waiting until there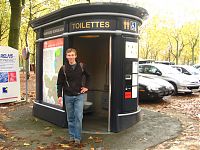 was a sizable gap between automobiles, I could surge for a short space, riding until the next car was close, and I felt it necessary to repair to the side of the road in preference of a sound and whole constitution. It took me two hours to ride 15 kilometers to Hourtin—it was less than half my normal rate of speed; I coasted through the cold, empty streets, looking somewhat dejectedly for a place to camp while thinking of the warm bed that could have been not far to the south.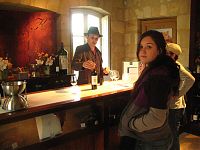 And with those thoughts, I couldn't resist a last resort: I found a bright streetlight on the road to Audenge, stuck my thumb out, and tried hard to look sane and friendly. A car passed. Then another. And a third. The fourth—a large white van with tinted windows—stopped just past me.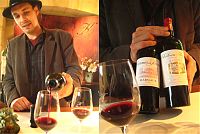 The window shot down, a head shot out, and said something rapidly in French. 'Audenge,' I ventured. The youth tapped the van and said ' Bordeaux.' It was good enough.
Two French youths of my own age were in the car—they were very friendly, and glad of the extra company. The first, the passenger I'd spoken to, fixed my broken light on the way, and when we arrived in Bordeaux, they both insisted on buying me dinner at a fast-food chain. I told them I scarcely had time,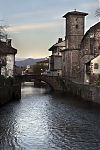 because it was so late, and I was afraid of arriving after my hosts went to bed. But they wouldn't hear any of it: we stopped all the same, and they laughed as I wolfed down a couple of burgers. Soon we we parted with kind words, and 2 hours later I arrived in Audenge. Andrew
was already there, comfortably settled in the cozy home of our warmhearted and hospitable hosts, Phil and Fabian, with whom we passed a thoroughly enjoyable stay.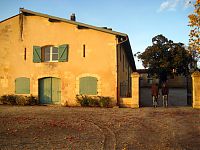 A friend from home—Zoe—was planning to be in Bordeaux the next day. Andrew and I parted ways yet again. In Bordeaux I stayed with a fellow who works in a (prominent) Medoc chateau, and who offered to give us a tour the following day, only that 'we'd have to hitchhike, 'cause Zoe doesn't have a bike.' So next day we stood to the side of a river of cars going in our direction, and we waited, and waited, and waited, our thumbs out, our smiles curving into frowns. We were late. I was simmering about the French lack of consideration, and Zoe was just remarking that 'someone always stops at the last minute,' when, sure enough, a car veered off the road to offer us a lift.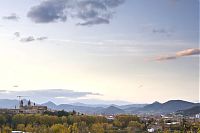 The man who gave us a ride—a stout man with a pleasant aspect—was the former Chief Executive of Tourism in France. We had a capital tour of the region and its culture, especially the grape aspect, in fluent English while he conveyed us to the front door of Chateau Kirwan, where we were to meet Johan, my host. After a tour and tasting session, we were off.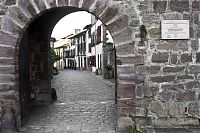 And soon I was off for Spain, and my first few miles along the Way of Saint James, having bid adieu to the country where I felt so at home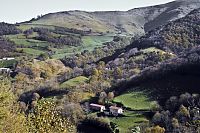 with the people: France, our many friends, and the culture I loved. Onward, onward in the currents of life! The heart, that 'muffled drum,' will not pause or fail until the march is finished, and so: on we must. The world awaits.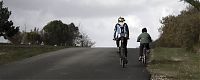 Comments:
"…stuck my thumb out, and tried hard to look sane and friendly."

:D Aha ha!

Wonderful new blog post – a very enjoyable read! May you safely meet the awaiting world.
God bless!

Hi guys. Regards from Pamplona from Sergio, Leire and aldo Shiva… How are you¿ Have you see the snow? I hope you are in a safe and comfortable house, not in the road, jejeje.
Kisses and hugs.

— sergio rey · Dec 3, 11:49 AM · #

Thanks for the great comment and well-wishes, Rachel! We'll try to stay safe, but no guarantees.

Sergio! Great to hear from you. Thanks again for a truly enjoyable stay in Pamplona. We just arrived in Santiago today after several very snowy passes and much rain—wet, but content.
Besos a todos!
Randall
Post a comment:
Commenting is closed for this article.