Subscribe to our blog: RSS | Atom

The Road to Santiago
We are, at the time of writing, in Sarria: only 110 kilometers to the east of Santiago. I'm stranded with a broken wheel, awaiting parts, and cringing at the projected expense. As Autumn drifts away with the last brown leaves from stark, naked trees, we turn our thoughts towards rising sun, to the East, and to the coming year. Our anticipation rests on the fact that our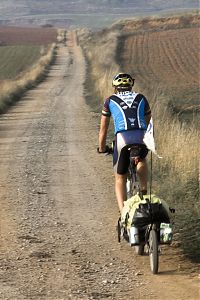 gateway into India and the lands of eternal summer is the steppes of Central Asia, which must be crossed in July or August, or not at all (unfortunately we forgot to pack the skis and boots). From Spain, as you know, it's rather a long way t o Kazakhstan; and as much as we'd like to tarry in Europe, we have decided to press on with the hope rather of seeing our dear family and friends sooner than later. It won't be long, therefore, before we cinch-up our belts and head East.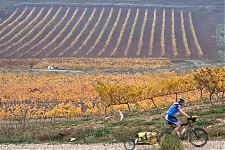 But meanwhile we are still in Spain, grinding and bumping our way along the walking path to Santiago. Andrew has taken you with him over the first several hundred kilometers of that primitive track; now accompany this green pilgrim through the several misadventures of HIS first several days.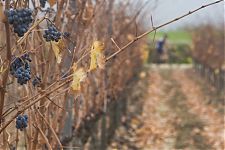 We left Sergio with smiles and warm sentiments. After our first steep climb from Pamplona (made miserable by several days of pleasant inactivity—it's invariably difficult to get back on the road after a pleasant stay) I were descending the rocky slope beyond, my trailer jolting and rumbling along behind me. Perilously steep, our path was over terrain that was scarcely fit for riding. The thought that a lesser bicycle—and maybe even my Curtlo—would not be able to handle the intense strain was lingering when I was startled by a crash and harsh grinding noise immediately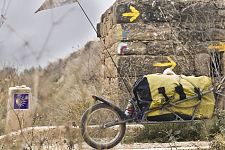 behind me. At the same time my bike jolted and began to wobble while I grabbed the breaks. 'That noise was MY bike,' I thought. Unbelievable!—Was it then end of the trip?—Had my trailer been cracked open by the old teeth of the mountain? With the extra friction of metal dragging on rocks, it didn't take me long to stop. When I did, I looked around, expecting the worst. As I did so, however, a perfectly sound trailer wheel came bouncing merrily past. It looked so decidedly merry, in fact, that I had to laugh.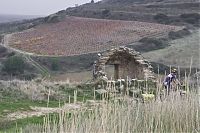 I soon found that all the rattling and jolting had loosened the nuts holding the wheel in place, and the wheel had been freed by the tug of an especially large and malicious stone. An easy fix!
Trailer wheel newly-tightened, we left the albergue of Puente la Reina next morning (not far from the trailer incident) to wind through narrow cobbled streets flanked by tall buildings. We were guided by spray-painted yellow arrows and yellow-on-blue cockle signs out of town and onto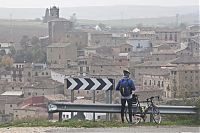 the path and into remarkably warm and beautiful weather. The path, not uncommonly, was extremely rugged, often covered in a layer of loose stones as large as one's fist; sometimes forming natural steps: progress was slow, but satisfying, as we were constantly challenged by the terrain. When we could loosen our concentration on the path and raise our eyes, they rested on truly breathtaking landscapes. Rolling green pastureland raced off to meet low mountains and green-forested hills; sunset-colored vineyards flared up on either side, their vines sagging under clusters of ripe purple fruit. Olive trees squatted in neat lines, arranged in small orchards that lent a delicious diversity to the atmosphere. The fruit hanging in great numbers from their branches—purple, red, and green—looked so delicious that I had to taste it. But hardly had the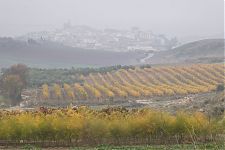 flesh entered my lips when out it came in a sputter: it was incredibly bitter. As I was making wry faces at Andrew, a couple of Spanish pilgrims trudged passed and laughed, telling me (belatedly, need I say?) that olives need to be processed before they're good to eat. There's something to be said for reinforced learning!
A little further on we came to a steep grassy slope that led down to a broken old stone bridge. Andrew cruised through the obstacles without too much difficulty while waited to snap a few photos. As I was surveying the descent, a large group of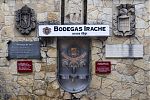 Spanish (most are Spanish) pilgrims came up behind me. I had an ominous feeling about the descent, sensing an imminent acquaintance with the wet grass beneath my wheels—and that's what did me in: as I edged my down the incline, my bike began to skid, and turned sideways, increasing in speed all the while. Everything pitched over when it caught on a rock, and I tumbled down the hill for a space down the hill in full view of the Spaniards, audience to my first, and most undramatic tumble.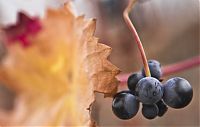 Unfortunately Andrew wasn't filming.
I would have ample opportunity to refresh myself soon after. We came upon an impressive metal-faced fountain alongside the path with a sing that read in Spanish: "Pilgrim! If you wish to arrive at Santiago with strength and vitality, of this great wine take a swig and toast to happiness." We were happy to follow directions and help ourselves from the fountain (yes, it's free).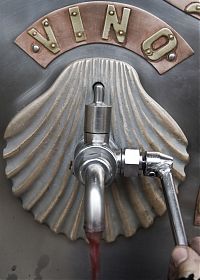 It's a shame, really. If I had known of the place ahead of time, we could have scheduled an international viewing of the team—His Pulchritude,' and brother 'The Magnitude,' appellations which, I take pleasure in expounding, we find most convenient for imparting a sense of our General Excellence to those who would otherwise remain in ignorance of such things—or wait, back up! That's the wine talking!—via the webcam, where pilgrims with enormous backpacks and bicycles alike can be viewed making small libations to Happiness and Strength.
And with that we move on through the rolling vineyard covered hills of Nevarra and La Rioja for the vast, barren expanses of the plains to come, a bout with sickness, and a fortuitous encounter with 'Mago Adrian,' professional Parisian mime, and other adventures, of which now to write would be altogether excessive.
And so,
Adieu for now!


Comments:
Hello from Scotland,
We are still following your travels and your blogs are read aloud with great enthusiasm among all the children. You are still very much in family conversation!!
Thinking of especially now as Christmas approaches.
God bless you both!
Marian and all the children

— Marian Guest · Dec 15, 06:11 AM · #

Thank goodness that your computer is still working despite the rugged trail. We're happy to know that you are all well. We finally have snow here. Little J enjoys learning about your adventures and keeping track on his placemat atlas. If you ever stop by at Fatima, please pray for us and the world.

— DJ and JDT in KS · Dec 15, 07:18 PM · #
Post a comment:
Commenting is closed for this article.