Subscribe to our blog: RSS | Atom

Georgia and the Caucasus (at last!)
We were in Georgia at last, but separated once again.
Andrew was nowhere to be seen at the chaotic Turkish crossing, so I pressed through as quickly as I could to find the Georgian side extremely orderly and its female customs officials refreshingly polite by contrast.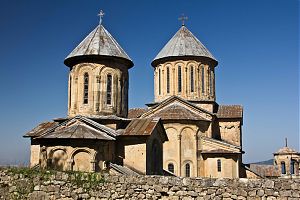 The road wound pleasantly along the Black Sea to the city of Batumi, where I was fist struck by the visible signs of Georgia's great poverty and Soviet inheritance: drab, blocky buildings above countless Russian automobiles skittering along wide, broken avenues. Seemingly aimless, workless men lounged in the shade, t-shirts pulled up above their great Georgian bellies. I waved to some, but none waved back: they seemed cold after the friendly, hot-blooded Turks.
As I wasn't inclined to prolong my stay, I continued along the coastal road directly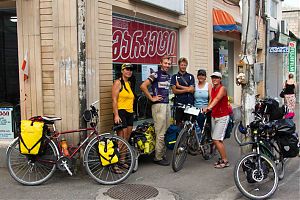 to Kobuleti. There I passed my first night under the care of a Georgian pastry cook, who gave me my first taste of hot Khatchapuri, a sort of addictively delicious cheese pie, fresh out of the oven. Instead of charging me to sleep there, as he had originally proposed, he instead sent me on my way in the morning none the poorer and with handfull of hot pastry, too, in true Georgian fashion.
Through the hills, past sublimely-perched monasteries and churches, across swollen rivers, and into deep valleys I rode. Hospitality was forthcoming, but not always of the best quality (it's no discredit to Georgians in general that I was forced to bribe one host with beer and Khatchapuri to use his shower). On the other hand, the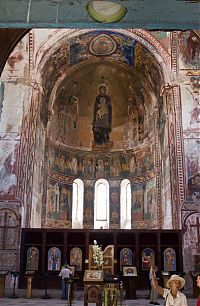 better experiences were truly superlative.
One of these was in an unlikely setting. After Andrew and I fortuitously met in a >khinkali house (khinkali: juicy, steamed meat dumplings—rated right up there with good, hot, khatchapuri) we pressed on till it was nearly evening. We had intended to camp on the riverside, but found ourselves separated from it by a sordid, post-apocolytpic little industrial town with with no prospect of a peaceful patch of ground to bed down on. Rather than turn back, however, I decided to peek through an open gate nearby and ask about sleeping in the courtyard. A sinewy young Georgian met me, and looked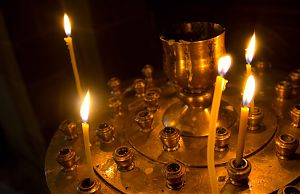 mildly pleased at the proposal uttered in my broken Russian. We were invited into his comfortable home, introduced to his family, and fed to the gills with all variety of tasty victuals. Real beds—no patch of hard ground—were arranged for us that night.
Breakfast was another affair altogether. We were just sitting down to eat another sumptuous home-grown meal when our host brought out a bottle of clear liquid and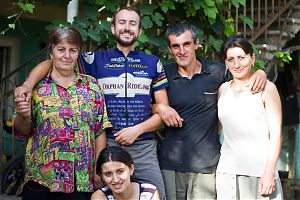 set it down gingerly on the table. As we hadn't drunk last night, he informed us with a smile, we were obliged to do so before we left. Welcome to Georgia. Before we could refuse, he poured out three large shots of fiery chacha (something like Georgian grapa). The womenfolk looked on resignedly, sometimes gigglged, as our host made toast after toast—international friendship, America, the confusion of the Russians, etc., and we drank. Several toasts later, we thought we might escape more-or-less unscathed when out came a couple of bottles of homemade wine – a plummy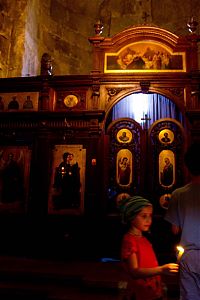 white and a red we'd find later to be absolutely delicious, but not so with breakfast. As it was, we were obliged to try both before we managed to escape.
It was a short cycle on to Gori, where Joseph Stalin was born Iosif Jughashvili, and thence to Tbilisi via Mtskheta, the former capital, as well as the scene for St. Nino's conversion of the Iverian kingdom to Christianity in the 4th century. The Caucasus' most charming capital awaits.
Comments:
Post a comment:
Commenting is closed for this article.