Subscribe to our blog: RSS | Atom

From the Oregon Dunes to the Avenue of the Giants


It was difficult to drag ourselves away from the Clifford's house in Veneta. After feasting and relaxation

on Easter Sunday thought we would be able to make a run for it. It had been discovered that my suspicion that we would have a tough week ahead was well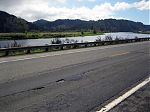 founded. By the map we had 700 miles to cover in seven days to arrive in the Bay Area for our pre-scheduled retreat!
After an ill-fated, rainy Monday morning trying to get this blog updated and bikes tuned up in Eugene, morning turned into cold, windy afternoon, we decided to take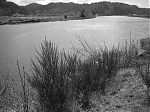 the Clifford family up on their offer for another warm dinner and comfortable bed! The next morning we pedaled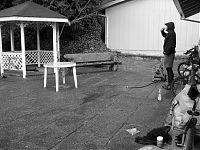 to the coast and arrived in Coos Bay by nightfall, where we poached a camping spot under the cover of a little gazebo at an evangelical church with the coastal drizzle coming down all around. My legs had felt heavier then ever that day. In the morning we left without a trace and surfed the snaking tale wind down 101 and through the dunes to Brookings, OR, where we stayed with a new accointance named Ken. Ken was kind enough to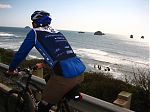 introduce us to a very rare and beautiful beer. Mandarin-Wheat comed from a brewery in Eureka, CA, which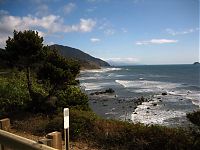 has no distributer so he makes special trips to get this stuff. If you are ever in Eureka, make a point to acquire a sip of this citrus-tinted elixer of the sun!
The next night we spent in Eureka, CA with a very sweet lady named Cena, who openned her door to us with the warmest of hospitality. We were fed until stuffed with chili, cornbread and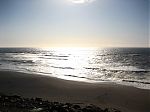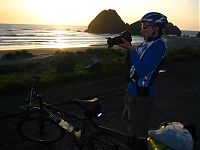 brownies with strawberries and wipped cream. The next day we rode off again into the tail wind in the early afternoon and were able to pull off eighty strong miles. We climbed into the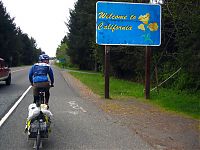 redwoods and Randall, the stronger of the two of us, pulled away in the hills with his legs working like steaming

pistons. I kept my own pace and eventually arrived at an exit that read "Scenic Alternate: Avenue of the Giants, 25 miles." I hesitated with Randall ahead, then committed to the exit with a

screaming fast, twisty, downhill entrance. The glassy-smooth pavement swooped right and left through girthy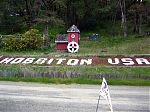 redwood trees and lush undergrowth for miles and miles, paralleling the river. The soundtrack on my iPod was perfect the the tailwind kept the exhiliration high! It was one of those times I will always remember.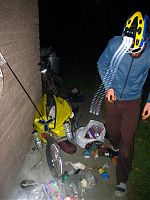 Clearing the Avenue of the Giants, the light began to grow dim. I passed Hobbiton and continued on Highway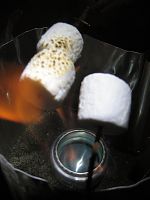 101 into the dark, not knowing if Randall was still ahead or behind. Assuming he was ahead, I decided to press on until the next campground. After a few miles there he was, parked next to a campground entrance. We slept under the stars and the night was quite cool but calm.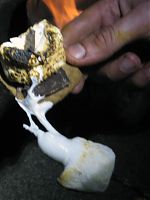 Toasting marshmellows over the the alcohol stove to eat with dark chocolate was a nice conclusion.
Post a comment:
Commenting is closed for this article.