Subscribe to our blog: RSS | Atom

Further Escapades in the Stans

Beyneu, Kazakhstan: a somewhat filthy little town plopped in the middle of the desert, full of devilish gangs of little boys that refuse to keep their hands off of one's bicycle.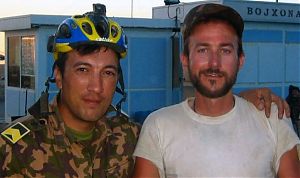 Nevertheless, we were both happy to be in civilization again for an afternoon. We met an American man from Spokane who was helping to build an enormous grain silo south of town, some friendly Kazakh men who paid the hotel receptionist to let us take a shower and a drunken Kazakh that wanted to fight Randall for reasons that I can only guess at. It was a long haul (420km, or 260mi) to the next town worthy of mention, across a vast, salty, dusty desert, so we each bought 10 liters of water and several pounds of food, and the trailers were heavier than they had been for a very long time. Nearly all cyclists take the train from Beyneu to Kungrad; I have not heard of any that have persevered through this desolate stretch of land.
…it was my dismay to discover that he only wanted to do so in order to extract a bribe.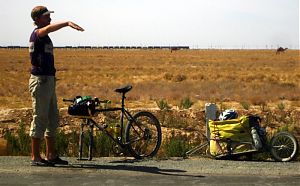 The Uzbek border was only 90km away but the road had no tarmac left to speak of and the hot wind blew into our faces the next day. We were coated in a hefty layer of dust when we arrived at the middle-of-nowhere border post (the customs and immigration buildings were almost completed but not yet operational) in the infernal heat of the afternoon. A bloated, oily Kazakh officer wanted to see each of our electronic items before he would let us through and it was my dismay to discover that he only wanted to do so in order to extract a bribe, or "souvenir." I had to quietly and persistently ask him to return my new iPod more than once before he handed it back, after motioning that he wanted to keep it.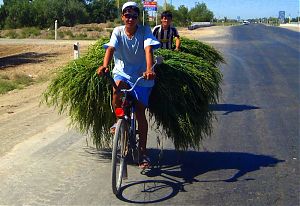 To my joyful surprise, the road on the Uzbek side of the border was freshly paved and smooth instead of being composed of tracks in the sand as I had expected, so we road into the evening until we came upon a police checkpoint with a chaikhana (tea house) opposite, where we were invited to stay the night after a bowl of mutton soup, a frosty beer and a glass of shubat (fermented camel's milk). An early start the next morning saw us pedaling into the the empty desert.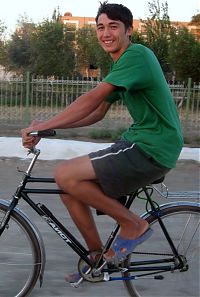 This is Qarakalpakstan: a vast, desert region of western Uzbekistan; home of the disappearing Aral Sea, the victim of an ecological disaster caused by the Soviet regime when it boosted cotton production in the region far beyond capacity of the Amu Darya, the river that feeds this nearly extinct body of water. One may visit the towns (nearly ghost towns) on the old sea shores and witness ships and fishing boats half-buried in the salten sands. These former, post-apocalyptic shores are now about 100km from the edge of the sea.
After only 30km Randall's last inner tube failed at the valve, just as the previous three had done, so he was obliged to hitch a ride to Kungrad, still an additional 300km away. I was none too excited about completing this leg alone. I had not a drop of water to spare for the next 100km of 40-degree (104F), brain-boiling heat, and had to ration the three liters to the next settlement. In a tiny chaikhana run by a adorable Qarakalpak woman, after imbibing an enormous bottle of ice-cold soda, I spent all the hot afternoon eating samsa (fatty mutton'n'onion pies) and churning up a plan of attack for the final stretch of desert.
At 3am I had spun through 120km but the pavement had become lumpy and broken, and my head was heavy with nearly-delirious exhaustion…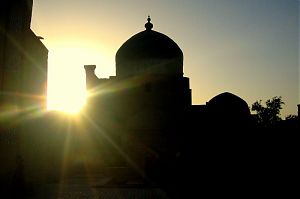 My plan was this: wait until nightfall when the air is comfortable for cycling, then clobber the entire 200km (125mi) in one go. I had a strong maté at the café and at 9pm hit the road. The moon was full so I just used my tail-light. However, riding at night, for me, is a spooky experience and the thought of being robbed by some ill-favored motorist crossed my mind more than twice. One time I even drifted completely across the road and into the lump sand, narrowly missing a concrete distance marker, while changing tunes on my iPod. At 3am I had spun through 120km but the pavement had become lumpy and broken, and my head was heavy with nearly-delirious exhaustion so I found some tire tracks leading off the road, spread out my sleeping bag in the sand and slept until 5:30am. Mildly refreshed, I doggedly bounced over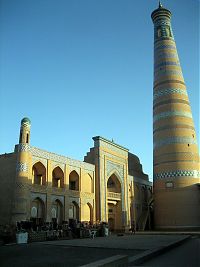 the worsening asphalt, which gradually deteriorated to non-asphalt, and arrived in the gritty town of Kungrad around lunchtime, where I met Randall, by chance, in the late afternoon.
Uzbekistan is a police state and thoroughly communist. Very little has changed since the country's "independence" from the USSR and President Karimov runs his deeply corrupt regime with an iron fist. To illustrate, he has had his own nephew locked in a mental institution and pumped full of drugs ever since the poor chap became a social activist and consequently dissident to Karimov's political vision. All organized Religion is subject to the approval of the state, meaning that only "patriotic" religion is allowed to be practiced. All underground (free) religious practice is subject to persecution by the state. At the border I was only allowed to retain a small meditation book that I carry on the condition that I "don't show it to anyone." When changing money (only crisp U.S. Dollars will do) a tourist will take nearly 50% more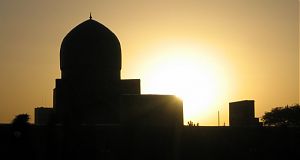 Uzbek Som by changing on the black market rather than at the banks, who change at the "official" rate. There was a black market money change station inside the military zone at the border. All of the money changers in the bazaars and in the change-booths in the city change on the black market rate. And, there are police everywhere. I can't even begin to count the number of checkpoints that we passed through while traversing this land. Fortunately they don't attempt to shake tourists down for bribes as much as they have had the reputation to do in the past. Also, a tourist must keep his police registration dockets from each hotel that he stays at. The hotel must pay the police a certain amount for each foreigner as a registration fee. If there are any gaps more than two nights' duration there may be some trouble for the tourist when leaving the country (translation of "trouble": large bribes to pay). Consequently, part of our mission here was to collect a consistent stream of these little scraps of paper.
Surely I won't be allowed to return to Uzbekistan if a government official happens upon this post.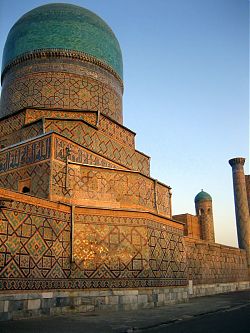 There are also many things to love about Uzbekistan: lovely people with boundless generosity, an excellent cost of living (for a westerner) and some exceptional sites to see. We spent a day in the capital of Qarakalpakstan, Nukus, to visit the famous haven of well-preserved USSR-dissident and Qarakalpak art at the Stravitzky Museum, then continued east toward the famous museum-town of Khiva. I had started earlier than Randall and waited for him in a little café with an ice-cold soda to beat the mid-afternoon heat. He didn't show at the appointed time and the owner of the place invited me in for coffee, tea and "Uzbekski" samsa, then, frustrated by the language barrier (my Russian is almost nil) called the town's English teacher, who invited me to stay with her family over the phone. I originally wanted to tick off a few more miles before sunset since our contingency plan was to meet 100km away in Khiva at 11am. However, I received such a warm reception that I really could not refuse a warm bed. First my host, Nurhan (real name withheld to maintain her anonymity), spread a table fresh-cooked eggs and sausage, Uzbek bread and out-of-the garden cucumbers and tomatoes as I quickly became acquainted with her delightfully warm family. Then she, her husband and I followed the meal with some vodka toasts in true Uzbek fashion. I was asked all the usual opening questions ("are you married?" – a Central Asian ice-breaker staple) but was also engaged in a refreshingly substantial conversation due to the absence of a language barrier. Later, when she found out I had not yet tasted the Uzbek national dish, plov, she insisted on amending this cultural discrepancy of mine by preparing two enormous plates of the hearty rice, carrot and mutton dish, which we all shared and consumed with our hands.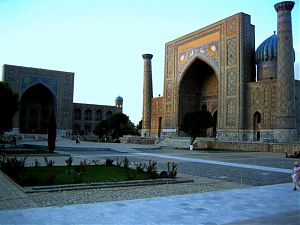 Nurhan had hosted several friends from the U.S.A. during the last decade, visited there a few times to visit them and in the process had converted to Christianity. Noticing a gradual, positive change in her behavior the husband and four sons eventually followed suit. Her in-laws, somewhat conservative Muslims, were enraged when they discovered the conversion of the family and ratted them out to the police. Subsequently, she and her family were interrogated by the KGB, who continue to keep them under surveillance, and she was dropped from her public-school job, unable to take teaching position in any school since that time.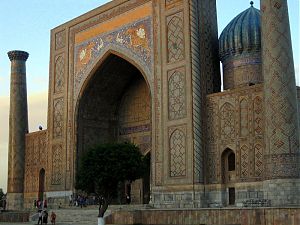 Randall and I met in Khiva the next day as planned, enjoyed the sites of this ancient slave-traders' town, then embarked on another desert traverse. This time we spent four days riding through the windy, sandy, fly-infested Kyzylkum Desert to the famous oasis-town of Bukhara. We had stopped to have lunch in an town next to a lake on the border of Turkmenistan and were invited in by a very poor but delightfully hospitable Uzbek family, who, of course, broke out the vodka in honor of their guests. After lunch two of the young men took us swimming and fishing on the lake, the some of the produce of which they fried up for us to taste. I was concerned that this might be another massive stretch of desert with no towns from which to stock up on food and water. Luckily for us, there were chaikhanas situated every 40km so we were not forced to cover any large distances at night. After Bukhara we moved on to the world-renowned city of Samarkand, with its myriad of beautifully-restored mosques and madrassas (Islamic schools), all topped with domes of deep, eye-catching turquoise and encrusted with turquoise and gold mosaic. As Randall put it, the much of the city "looks as though it belongs under the sea."
Comments:
Fine work! Keep it up fellas! Love the photos.

— F.P. · Nov 17, 04:37 AM · #

Beautiful pictures! We are enjoying your blog…going to miss the updates when it's all over. You must be getting close now!

— Vicki · Nov 24, 11:39 PM · #

All the best to you all! Just wait 'til we put on sale the OrphanRide 2012 Photo Calendar! That is, maybe 8)

Still plenty of articles to come…

— Andrew Leese · Nov 30, 05:51 AM · #
Post a comment:
Commenting is closed for this article.