Subscribe to our blog: RSS | Atom

Haimglish

Bind it upon thy fingers, write it upon the tables of thy heart. Say to wisdom: Thou art my sister: and call prudence thy friend…
-Solomon the Wise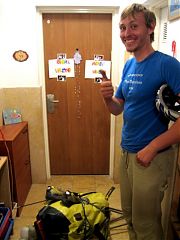 Still stuffed to the gills from Fauzia's sumptuous feast, we met Haim in Karmi'el. On his doorway were two signs, carefully produced in Technicolor by small hands, which read "Welcome Randall" and "Welcome Andrew;" and before I knew it three young lasses and a mother were buzzing around us with excitement…and I, for one, felt pretty special.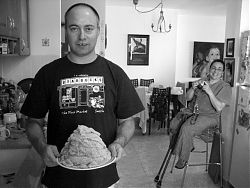 Coffee (one of Haim's passions) was served promptly— Good coffee! —and we all became friends in no time. This meeting was highly anticipated by all parties. Haim, of course, had been plugging us all over the tiny country of Israel and lining up a fantastic variety of great opportunities, even while the upset of his mother's passing lingered in the air. Michal, I am sure, deserves just as much credit for picking up the slack!
Michal, her parents from Europe and her father a survivor of the Holocaust, grew up in Israel with a leg handicap. As with many persons with a disability, the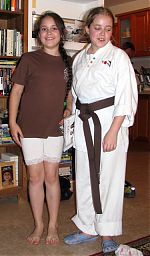 strength that was wanting in one area was exceptional in another: in this case, her arms. A weightlifting coach recognized her potential and she trained under him for less than two years. In no time at all she was winning competitions and her athletic career culminated in a gold medal at the world championships in Australia. And that's not all: Michal still holds the weight record in her class. However, one would not guess that she was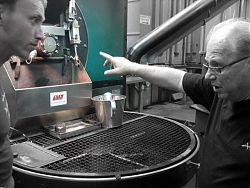 as tough as nails merely from casual acquaintance as she retains the feminine grace and motherly deportment of a true matron.
Kesem, Otzar and Agada are the daughters in the Bar family. The elder two were too shy to speak in English with us, and my Hebrew is nil, so we did not have many conversations. Adorable Agada (5 years old) was not shy in the least, however, and she fell in love with Randall from the start.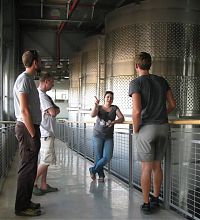 The six days we spent in Karmi'el were too packed with activity to relate here in the detail they deserve. Both Haim and Michal bent their schedules around our
every whim and we enjoyed fine coffee, cakes and homemade bread over the course of each day. We went to the coastal city of Haifa the second day to take a peep at the renowned Bahá'í Gardens and took a rigorous night training ride with the Haifa Masters Cycling Team and stayed the night at the home of Yaron, one of their staple members. Sandwiched between these two activities was a "surprise for Randall" that Haim had been anticipating and hinting at for months: a tour of Israel's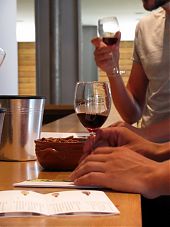 premiere coffee roasteria. Both of us arrived in a daze of caffeine withdrawal that was hastily annihilated by a complimentary cup of the midnight-brown brew and a handful of meticulously roasted beans. After the intriguing walk through the Ava Coffee roastery (with live commentary by the owner, Michah Reiner) we left with no less than five vacuum-sealed bags of freshly ground stimulants for the road, Michah's personal gift to us.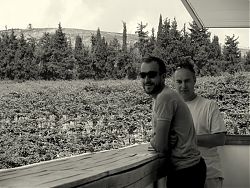 The following day we took a tour of a lesser-known but more important Bahá'í Garden near Haifa, and then had some wrenching done on our bikes at Rosen-Meents, thanks to Schmuel, the service manager, and the wrench, Amir.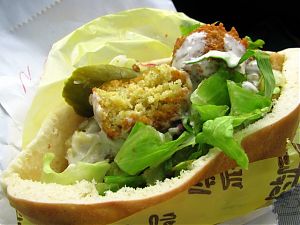 Afterward we had a nice swim in the Mediteranean followed by a mouth-watering felafel. I could write a poem about felafel. But I won't [Sighs of relief are heard all around]. The following day was spent wine and cheese tasting in the Golan Heights at, at the Galil Winery. This particular winery is within gunshot of the Lebanese border but the staff did not appear to be disquieted by the shadow of a Hezbollah crow's nest in clear view just beyond the Israeli fence. Having tried the wine, I'm not sure that Israeli wine is as popular as it has the potential to be: the merlot was lip-smacking good. That night I was allowed full reign of the kitchen, to my ultimate elation, so I put together a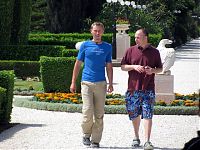 decadent Indian meal, and then Swedish pancakes next morning. The curries, I might add, were somewhat too fiery for the delacate palates of our host family so there were leftovers for days to come. Haim kindly took us back to Haifa the next day to meet Yaron and shred the dusty, flowsome singletrack of Mount Carmel.
What great perfume you have!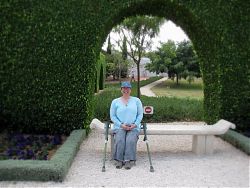 But all too soon, it was time again to move on and tear ourselves from the warm comforts of our new second home. It is difficult even now to adequately express my appreciation of Haim's tireless work in the Holy Land; instead, therefore, I will sign off with a touch of humor. This is an anecdote of Haim's from his stay in the United States a couple of years ago:
One night Haim had enjoyed a jazz show in Seattle (his favorite genre) and was outside when one of the large, black bandmembers exited the venue after the particularly excellent show. "What great perfume you have!" said Haim, confusing the word "perfume" with "performance".
Abashed and taken aback, the man asked after an awkward pause "Where are you from?"
"Israel," replied our friend, full of confused innocence.
"Hmmm, I guess homos are everywhere these days!" said the bandmember with a jolly, but uneasy, laugh. Haim did not find out his error until the following day when his mischoice of words was brought to light.
I have since nicknamed his unique English dialect "Haimglish".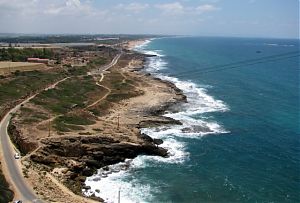 So, we left our new Israeli relatives, hearts heavy, for Tel Aviv, and on the way stayed again with Ran and Daniella and had another harrowing, adrenalin-spiking mountain bike ride with Ran on the single-track that we missed the first time around. Randall had the most epic wipe-out of trip so far, but was ready to stiffly pedal south the following day.
We spent two days in Tel Aviv with Amy and Yotam, who is an employee of the Israel Bike Association. I passed too much of this time banging my head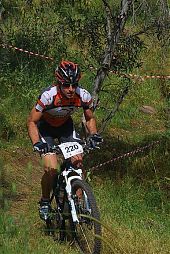 against the wall searching for an affordable way out of Israel but still found time to soak in the aura of this hip, cutting-edge locale, Tel Aviv. The only airline that flies directly to Istanbul from Tel Aviv would have charged us $200 a piece for our excess bagage on top of the $250 tickets. Randall looked into the far-fetched option of a passage aboard the reactionary Israeli aid flotilla headed for Turkish Kurdistan (and found success, although no one knew when it would actually embark) while I negotiated a deal with Fly Dubai to have our bicycles and trailers taken for free on the flight to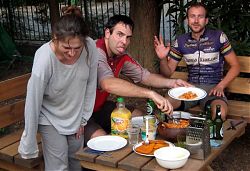 Istanbul from Amman. While the ride back to Amman through Jerusalem and the Jordan River Valley was an unsavory thought, it had a twofold advantage:
a) It would save us some money.
b) There would be no evidence of a visit to Israel in our passports, which might be problematic in Pakistan. Had we flown from Tel Aviv we certainly would not be able to visit again countries like Syria with the same passport even though we had avoided the Israeli entry stamp. The absence of a Jordan exit stamp is effectively equivalent to having an Israeli stamp in one's passport.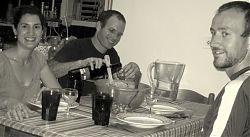 So, we opted for a flight from Amman and got an early start in an attempt to avoid the heat of the day…
I write this post from the comfort of Mustafa's flat in resplendent Constantinople.
Comments:
Post a comment:
Commenting is closed for this article.