Subscribe to our blog: RSS | Atom

High and Dry in Qinghai
My sojourn across (or, more aptly, criss-across) the Middle Country was to continue upwards, but to the south, onto the desolate northwestern portion of the Tibetan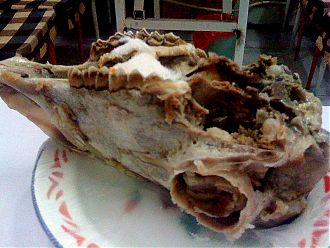 Plateau, a high desert with a few towns dedicated to mineral extraction, several nuclear testing sites and also prisons for political dissidents in which the occupants undergo "reeducation through hard labor." Needless to say, some areas are very sensitive and closed to foreigners.
The air was much more temperate at 3700 meters than it had been in the low basin of Dunhuang but there was truly nothing but quiet roadway in the midst of a vast land of blighted earth and the occasional, massive salt lake with no greenery nearby whatsoever. This was a moonscape. The road was being upgraded to a 4-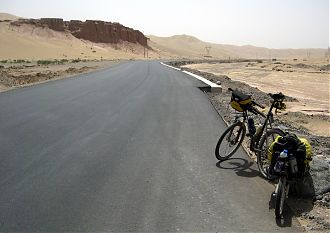 lane highway so there were road crews with portable asphalt factories every 20km. Every 100km or less one may pass by a sort of village of mud-brick buildings, whose dismal property is littered with plastic waste and things, and whose sole reason for existence is to supply the needs of passing traffic.
…in the midst of the mosquito monsoon, which followed me as I pedaled off.
To my surprise, when I finally came to an area where scrub bushes could somehow make a living, and had made up camp beside the road, a swarm of mosquitoes overcame my campsite and hummed about my tent until I had fallen into a slumber. In the morning my tent was literally covered in these aggressive insects, who, as soon as I left the confines of my humble fortress, not swarmed, but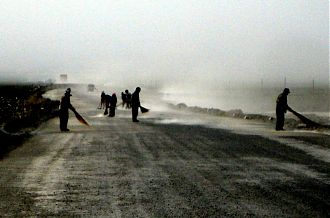 tornadoed over me with so much desperation that they wholly forfeit defensive tactics. With a slap to the hip I was able to kill five at time and I foolishly thought that eventually I could eliminate the lot of them, but as time passed each dead mosquito was replaced by two live ones, so I ate and did as much packing as possible in my tent before hurriedly preparing my bike to ride in the midst of the mosquito monsoon, which followed me as I pedaled off. For the first two hours I was climbing a gentle grade, so the beasts were able to keep up. I had the pleasure of the company of at least two at a time before reaching the top.
As has occurred on many days I was stopped by a convoy of Chinese tourists with cameras who were excited to see someone traveling by bicycle through such an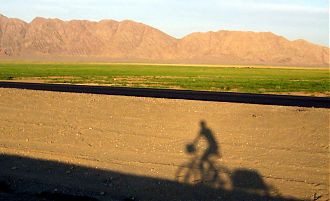 inhospitable territory, and gave me bottles of water and cool, milky coffee, for which I was grateful, after I posed with each individual for a photo. In the early afternoon I arrived at a toll gate where the usually friendly attendants waved me through with a smile. This was immediately followed by a police checkpoint. I stretched my legs nonchalantly as the stern officers keyed my passport information into a computer in their tent. They passed it back to me after several minutes and asked where I was coming from and where I was going. I answered that I was on my way to Golmud from Dunhuang and to which answer they waved negatively that I was to turn back to Dunhuang, a desolate 270km, two and a half days, backward. In disbelief I asked "why?" and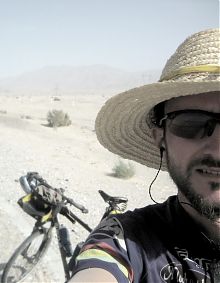 was told that the police had phoned in to headquarters and were told that I was not to pass through. Discouraged and weary, I made my way a little way backward, out of sight of the checkpoint, and took a look at my computer map to see what my options were, and there weren't any other than the road that I was on. A curious road worker came up to peer over my shoulder and asked what I was doing. After explaining he made an exclamation of perplexity as to why the police had turned me around. He then told me to wait until nightfall and sneak through when the police were asleep. "What time?" I asked. "3 o'clock," he replied with a sly and reassuring smile, as if to wink.
He offered to smuggle me through in the back of the truck for the equivalent of $75…
I found drainage bridge nearby that was littered with dry piles of human excrement and toilet paper. This was the bathroom of the road construction workers, and it would be my resting place. I set up my tent to keep out the mosquitoes and slept very poorly, if at all, until 2am. I then packed quietly and went out to the road, and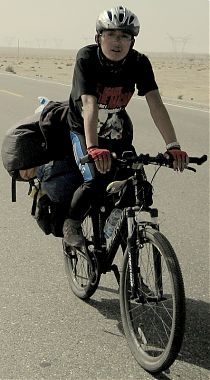 to my chagrin was chased by a barking dog, which fled when I bent over to pick up a stone. I then pushed my bike off of the road in order to sneak around the police at a wider distance through the grass that I had seen during the day. It turned out to be a mosquito-infested marsh. I turned back. Through the toll gate I pedaled, barely breathing, and stopped behind a parked commercial truck to eye the checkpoint, which was now so close I was afraid of being heard. The situation appeared to be hopeless. I saw humans around the checkpoint and a bus stopped with it's emergency lights on, and cars and trucks made a stop at the place as they had done in the daytime.
Someone poked his head out of the window of the truck that I was hiding behind and asked what I was about, and I explained what I was doing. He offered to smuggle me through in the back of the truck for the equivalent of $75, and I politely declined. Things were now quiet and I made my move, heart in my mouth and not daring to breath, toward the enemy line. The emergency flashers of the bus lighting my way, I shifted into my quietest gear and stealthily passed by the silent tents, expecting every fraction of a second to hear a shout, and imagining what the horrific repercussions would be if I were caught, and the "reeducation through labor" prison camps.
But there was no shout. I up-shifted to a faster gear to put some distance between me and my persecutors, and fled into the night and quiet desert. The next town would be the last habitation on my map followed by 190km of no-man's land to the small city of Golmud. I arrived too early to stock up on anything but water and two packets of instant noodles: the stores were not yet opened. And there was, to my infinite agitation, another police checkpoint which I felt I needed to pass through as soon as possible. It was, at 7am, as yet unmanned, and I flew through in a rush of adrenaline. I did not have enough food for 190km of riding, but I knew that Providence, Who has been ever-present from the start of this trip, would extend His hand in all necessity. Sure enough, at 8am I stopped at the tents of some road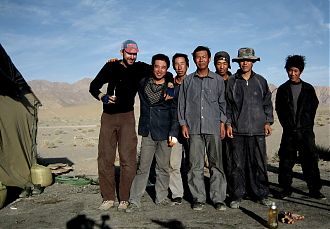 workers to ask for hot water for my maté, and I was invited to have breakfast with them: a heaping bowl of beef and vegetables with a freshly steamed mantu (Chinese steamed bread) to soak up the gravy. The jovial crew sent me away with a bag of mantu for the road and told me I would find a truck stop in 60km where I could stock up on food. What a relief!
It was a hot day with heavy side-winds but I was able to get within 50km of Golmud. The builders of roads, my friends and allies, invited me to ride the newly-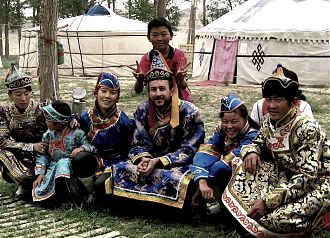 paved road the whole way rather than the torn-up, dusty old road that the motor traffic was forced to toil on, so I had a broad, smooth, silent ride and camped beneath the arm of an excavator. In the night the winds rose to an extreme cacophony of violence and the atmosphere was filled with dust. I thought that my tent would be torn to peaces as the gusts grew to hurricane force. Even so, I was able able to sleep for spells as a consequence of exhaustion from the sleepless night before and long ride that day. I was awoken by the operator of the excavator and I passed him a cigarette (this is just the tip of the iceberg of Chinese hospitality) as I hurriedly packed my things out of his way, and he accepted it with a grin. "Cold?" he asked, point to my tent. "Not too cold," I smiled.
Toward the end of the day I began to feel unusually week and felt the unwelcome symptoms of gastroenteritis grow in my guts…
In Golmud the next day I visited several hotels before finding one that was registered with the police to take foreigners. As usual, I washed all of my dirty clothes, had a desperately-needed shower and stocked up on food for the stretch of empty desert ahead. The next day was sunny with a westerly wind, and the road was flat so I flew along at a great pace. Two young Chinese men from the east side of the country cycled with me this day and we pushed each other to ride a massive 250km (160 miles) before the end of the day. They had already made the popular, mountainous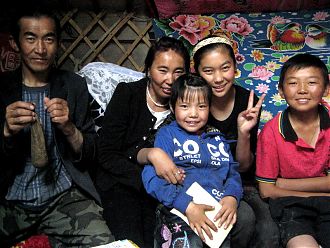 loop from Chengdu in Sichuan to Lhasa in Tibet and then north to Golmud, so our speed was well-synchronized. Toward the end of the day I began to feel unusually week and felt the unwelcome symptoms of gastroenteritis grow in my guts, and had nothing for supper but a beer. I was week from diarhea and fever the next day and parted from my friends at the first river oasis we came to, after only 15km of suffering. I stayed in my tent for the entire afternoon, resting, and ate nothing. This was the property of another Mongol-yurt restaurant and the owners expressed great concern for me, asking me often to eat with them and pleading that I would not have to pay for anything. Finally, with great reluctance to move, I said that I would sleep in one of the yurts to appease their anxiousness for my health.
The next morning I felt greatly improved, and they dressed themselves and myself in their traditional costumes for a session of photography filled with mirth. They brought me a bone of mutton. I took what my stomach would allow when the man of the place came in with small plate on which was a kidney-shaped organ that had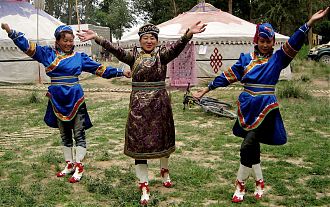 been boiled. He cut it in half and passed one half to me. I had the strong suspicion from my miniscule knowledge of Mongol culture that this was a great delicacy in their culture: the stewed testicle of a ram. It would have been to my great social detriment to refuse this privileged, bigger-than-bight-sized morsel, so I put it in my mouth and chewed. Oh! what foul flavor nearly brought me to a fit of gagging. Do not envy the man who must undergo such a cruel cultural experience the day after a bout of the stomach flu! I brushed my teeth again and weekly hit the road, not the stronger for having ingested that loathsome organ.
Comments:
Post a comment:
Commenting is closed for this article.