Subscribe to our blog: RSS | Atom

Highland Jaunt


Scotland: a rich culture, and spectacular scenery; the land of bagpipes, kilts, and haggis—not to mention whisky—and some of the most enjoyable touring to-date.
Our narrative finds us on the doorstep of the Marshall Clan in Glasgow, a supremely hospitable family. But in the interest of getting caught up on the blog, I am forced to abstain from duly praising the tablefare of that stay—not even Joseph's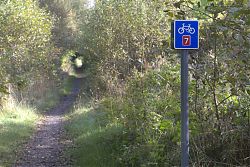 delicious pan-seared steaks (with Chilean wine, and followed by a sampling of the heavenly Macallan 12 year), or the much-anticipated, much-appreciated national dish: Haggis—with whisky cream sauce. No, I'm forced to move on. After a difficult leave-taking, we set off for Sustrans (a UK transport charity with great cycling routes) National Route 7: Lochs and Glens, which would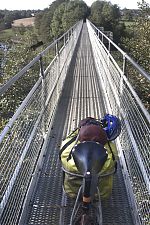 take us along narrow trails and paths ideal for cycling to Inverness, in the Scottish Highlands. A Scottish gentleman we met directed us to our route, #7, and to stay south after Bell's Bridge. We did so, trustingly, although it's not, as we would later find, the way to Inverness.
That night we camped behind the Strathclyde Police Recreation Club, rising before dawn the following morning. A man arrived soon after, and said 'morning,' as he passed us and our gear then wheeled abruptly as a thought struck him. 'Did you sleep here?' He asked sharply. 'You can't do that! This is private property!' We looked sheepish, and after a moment's consideration, regarding us, said 'you're alright, boys.'
We continued along the cycle paths to Johnstone. I was riding along, when Andrew,, who had been ahead for some time came wheeling back. 'You're going to laugh, he said, repressing a a half-smile, half-grimace, himself. "We're going in exactly the wrong direction." We rode back to Glasgow, and took another wrong turn, riding along the river towards Edinburgh for several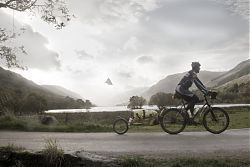 kilometers before we realized our mistake. Finally on the right track, tired from our pointless exertions, we continued on to Loch Lomond. On top of it all, I had 8 flat tires that day.
Beautiful weather for the second day, spectacular scenery. It was very crisp and cold, fall colors, placid lochs, and deep glens. Thick tree cover everywhere—little traffic, off-road, in the parks—perfect for cycling. Several steep climbs took us very high up above the Lochs far below.
That night we stayed in a town hall in Killin. A number of ladies were having a meeting that evening, and were very kind—making us tea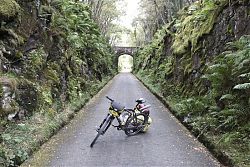 and leaving cakes and sandwiches for us. Elizabeth, who gave us permission to stay, invited us for breakfast at her Fair View B&B just up the road. We accepted, of course, and that morning she seated us in a sunny parlor. We had tea, coffee, canned peach, plum, and grapefruit, oatcakes with honey, followed by a full Scottish breakfast: crispy black pudding, mushrooms, tomato, and eggs. Yum yum.
She also packed us a lunch for the road. Killin was delightfully scenic. Expansive rapids flowed over and around black rocks through the center of town,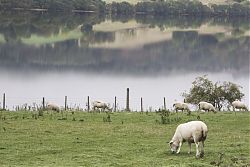 under a bridge, and around a clan burial site. The morning was cold and misty. Beautiful views of hills meeting locks, mirrored perfectly in the swirling mist. It was rainy later, and I had several more flats, which left me even more wet, and very frustrated with life.
Our fore-mentioned detour from Glasgow left us behind schedule: in order to catch our train from Inverness to Edinburgh, we were obliged to catch another train from Pitlochry the rest of the way to Inverness. But the weather wasn't very pleasant, and we didn't mind.
Our host, Kathryn, met us at the station around 7:30 with her friend Tom. Soon everything was packed into the car, and we were off. Dinner followed shortly after: lamb leg drowned in lentil stew, a Jewish New Year dish—very tasty! Lots of good wine, followed by a bit Scotch. A wood fire roared in the hearth. Tom is a middle-age hobnobber with a good sense of humor and a dry laugh. Kathryn is vibrant and ebullient—she has tremendous energy. Next morning we woke to a severe gale, and light pine-filtered sunshine pouring through the window and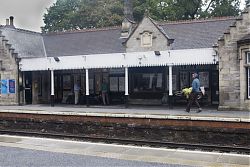 spilling all over the room. Took a brief ride through Grilig Glen forest—a lovely ride, but wet, with a stone-arch bridge at the apex of the cycle loop.
Kathryn gave us a driving tour of the area, pointing out the second highest mountain in Scotland and showing us famous Loch Ness, surprising us by its vastness.
Comments:
Hi Ranny! I love the photos! the landscape looks beautiful! your loving sister Emma

— Emma · Nov 12, 03:27 PM · #

Emma is right, both your photos and writings are wonderful boys. Keep it up. Maybe in the future you could possibly include more dates so we could be filled in with a timeline of your great and wonderful (and sometimes unfortunately not so great or wonderful) adventures. May all your new adventures continue to be safe and you both live well. Love Dad. (P.S. Been downloading your blogs and printing them off for Grandma to read and she has found great joy with your adventures. If you would like to send an email to her rather than a letter just email it to me and I will pass it along.)

— YOur Dad · Nov 14, 04:54 PM · #
Post a comment:
Commenting is closed for this article.