Subscribe to our blog: RSS | Atom

Israel, Part II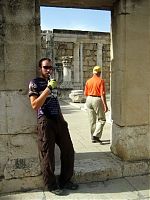 Of course there's more to report than I could now ever hope to write, but in the interest of staying somewhat current, I'll have to keep this short. It''s a shame, as Israel deserves more attention than we can afford to give at present.
It was a short ride from the snug Fauzi Azar Inn to Tiberias: but in Israel, every path is short. I arrived in the heat of the day, dehydrated and indisposed to little more than a nap in the shade; maybe a swim if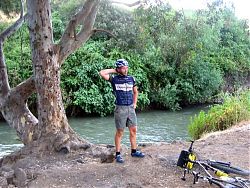 my will wasn't completely sapped by the midday sun. But as I was at the Sea of Galilee, and not just anyplace, it was best to ignore the inclemency of the climate and proceed with the previous day's foolish plan of seeing everything, like a proper tourist.
Although I have to admit that I'm far from being a tourist at heart. I slogged around the sea, fuming and wondering why I hadn't decided to take a motor along.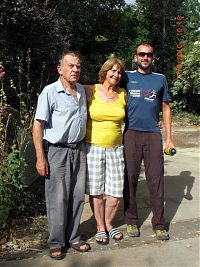 Sometimes bicycling puts me in foul mood, and this was one of those days.
Still, on I crawled: Migdal to the Mount of Beatitudes (or a hesitant "Mount Happy" in Haimglish), Tabgha to Caparnaum . And of course a short bath in the Sea, which, out of keeping with its name, doesn't have a bit of salt within its bounds. The water was cool and pleasant and the seashore was thick with small shells, bleached white in the sun and whispering softly underfoot.
After refreshing ourselves, we crossed the River Jordan and followed it into the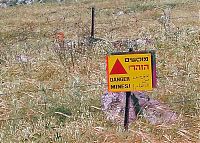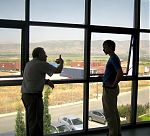 Golan Heights. The ride was lovely: golden meadows and long fields lined the road, although signs reading "DANGER: MINES" were posted every few meters along the fence. In a way, it made the fields even more beautiful and alluring, as I wouldn't dare to enter them. We stopped for a swim in the emerald-green Jordan as it bubbled healthily along to the Sea we'd just left. Further south, due to over-use and mismanagement, the river is little more than a trickle.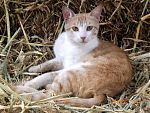 After our bath we continued climbing past several outstanding camping spots—the weather was clear and comfortable in the evening—and dipped into the Hula Valley, part of the Great Rift Valley that extends all the way from northern Syria to Mozambique. Our path took us through avenues of verdant green that yielded short glimpses of sunflower fields below looming mountains; the sun, a crisp pink, was setting behind them.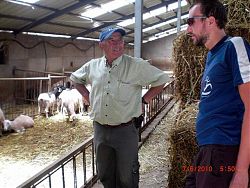 The stars were bright against night's dusky cloak when we climbed the last hill into Kibbutz Shamir and the home of our hosts, Froyke and Mia, who welcomed us warmly. Water chilled with geranium and lemongrass was offered by stout, motherly Mia, with every assurance in her choppy 'Kibbutz English' that we were most welcome.
A surprisingly tasty breakfast in the communal cafeteria next day was followed by a tour of Shamir Optical Industry (led by higher-ups' secretary, Mira, thanks yet again to Haim's extensive connections), which employs twice as many people around the world (about 1200) as live in the Kibbutz itself. The immense wealth generated by this industry led to the Kibbutz' privatization in 2002: it's no longer a traditional kibbutz, but retains the flavor of one, with many communal services.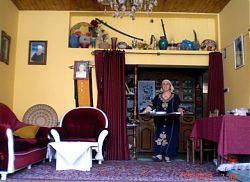 Our time there was short. Directly following the tour, Froyke whisked us off into the Golan heights, up past the crumbling bulk of Nimrod Castle, and to the farm of a Druze friend of his. He was an old man with a beautifully wrinkled face under a faded blue baseball cap, and perfectly serene, like his farm. Birds twittered in the trees, sheep bleated in the barn, and cats lounged on the hay bales, scattering wildly when approached.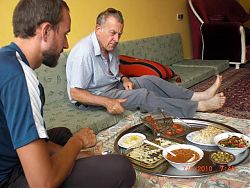 It was just like home.
We sat on a small, sun-dappled sward under lightly-swaying fruit trees: a fragrant enclosure fringed with herbs—lemongrass, verbena, sage, thyme, and many I did not know. We picked ruby-red cherries from one of the trees, the largest I've ever seen, and our host brought us a plate of ripe black mulberries and a pot of chamomile tea in the old tradition. His curiosity about Syria was boundless, as travel between the two countries, still officially at war, is difficult. Many Druze have families in Syria, but are only allowed to visit periodically. Fauz, our host, had met many of his near relations for the first time on a recent, rare trip to Damascus.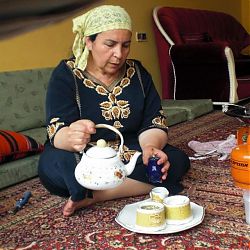 His other home is not far away, in the village of Majdal Shams: thither we went after bidding Fauz farewell for a sampling (or feast, rather) of traditional Druze cuisine prepared by his wife, Fauzia. She was a stout, beautiful woman, with a quite, modest grace about her that made one feel at home immediately. Soon after we arrived and sank into the soft cushions, tray after tray of succulent dishes appeared: spicy baked lamp with cheese, home-made hummus, Druze-style pita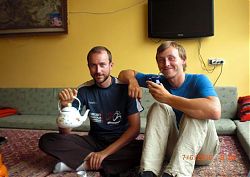 bread and vibrant salads, with a yerba maté digestif and baklava. Froyke later intimated to us that she had refused to take any money for the meal after hearing of our trip (she spoke little English), but Haim, when we spoke with him later, thought the case might be otherwise: "[Froyke] so tricky: maybe he say dis and pay the money for the food. We Israelis so tricky."
But I think Fauzia really did refuse.
From Istanbul, Turkey
Comments:
Thanks!
Love!
About Fauzia: It's my thought. Not knowing. I think we should think of her that really she would not receive payment
The truth is that in retrospect of my acquaintance,Fauzia story really refused because of your journey.

— haim bar · Jun 28, 06:34 AM · #

I agree wholeheartedly, Haim. Although I wouldn't put such an excellent trick past Froyke, having had a little experience of his character, it seems that Fauzia's kind intentions were beyond a doubt. Anyway, I will remember her with gratitude, and as the woman, who, by the dictum "[Good] food is the key to a man's heart," I should now consider myself hopelessly in love with :)

— Randall · Jun 28, 11:26 PM · #

Thanks for the writing!
sometime, through a visitor's eyes, you get a new dimension on the land you've lived in all your life…
amazing journey, and writing.
Thanks!
Ido
Israel

— ido mazor · Jul 1, 09:37 PM · #
Post a comment:
Commenting is closed for this article.