Subscribe to our blog: RSS | Atom

"Some People Hate Americans"

Early December, 2010
Hunza Valley/Lake, Pakistan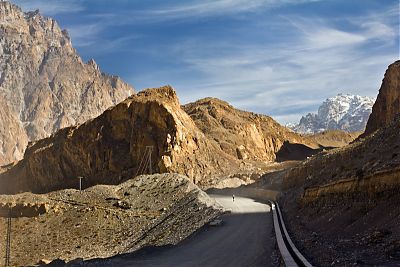 Andrew and I were loitering about the Hunza boat launch, where the Karakorum Highway disappeared abruptly beneath the turquoise waters of an extensive glacier-fed lake, formed earlier that year (2010) when the river was blocked with the debris of an immense landslide.
We were waiting: waiting for the impossible. The boat captains were asking far more than what we believed was fair for the two-hour trip down the lake to the point where the KKH emerges onto dry land again. We could not pay so much, both out of principle and practicality. As much as we dug into their greed, we found no hidden vein of honesty or fair dealing. The problem was that we weren't using the proper tools.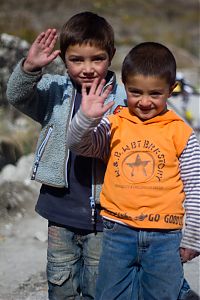 Guests are considered almost sacred in most of the Eastern cultures. Friendship is also valued highly, and Pakistanis are quick to love, as with their other passions.
I approached a young man in a red-checkered turban and loose leather jacket as he watched a chain of men load one of several boats with boxes, and asked him, "Is this your boat?"
"It's my brother's."
"Can it take us?"
"Yes…"
"How much money?"
He considered for a moment before changing the subject.
We continued chatting, and he showed me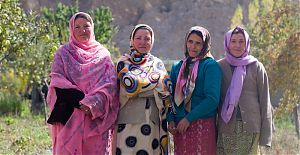 pictures of his family on his cell phone. He shared some of his favorite American music with me (atrocious stuff, I'm sorry to say), as well, and gave me a crisp, fresh pear from his brother's cargo.
"This bodes well," I thought.
We waited for men to finish, when Andrew and I were to load our luggage. I was apprehensive about the price, and asked once more how much we were obliged to pay. My friend considered for a moment, then had a brief discussion with the crew, whose gestures towards me didn't seem particularly friendly. He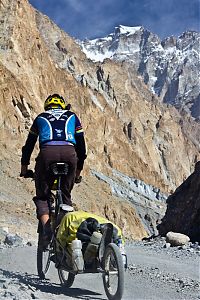 soon returned and informed me, "It will cost 500 rupees: friend's concession. Another man payed 2000 last month for the same trip, but for you, 500, because we are friends."
"Oh. Is that per person?"
"For both."
"OK. Great. Just a moment."
And I ran up the launch, elated, to fetch my brother. We loaded the bicycles and the men pushed off as Tariq waved goodbye from the shore.
I have to admit that I was touched, as we shook hands and he smiled the hard, somber smile of the orthodox Muslim. I also felt a slight tinge of shame for my intention to get a fair price through friendship. But then again, I have a delicate conscience, and it was all for the best, anyway: by speaking of things common to all men, we were able to connect on a natural level, and had a true, if brief, mutually beneficial friendship.
We crawled through the waves and passed through the darkness on the other side to Karimabad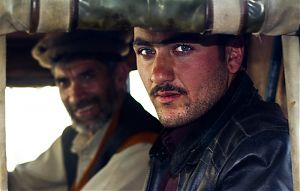 Despite the promised price, I should add that the crew, a ragtag lot of uglies, wasn't above an attempt to squeeze us for twice what we'd bargained for. However, it came to naught.
The next stage of our journey took us through a tiny lane along the forested hillside of the Hunza Valley, westward from Karimabad towards Gilgit. It was enchantingly bucolic, and the weather was perfectly serene. It was that variety of day whose moments, in the long afternoon, seem to stretch to the very doorstep of a pleasant eternity.
We broke our journey at Chalt, a charming rural village across and above the river halfway to Gilgit along the choppy highway. We arrived at our destination next day.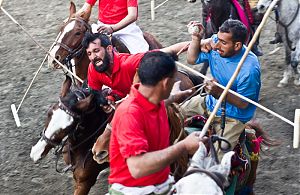 Gilgit is a small city that sprawls along its namesake river. It had all the liveliness of a market town, but with a charm, I suspect, faded since the days of the old silk road caravans. I was feeling dreadfully sick with the same symptoms that oppressed me every month or so since I left Istanbul. It was a good excuse, anyway, to stay and enjoy the annual police and military polo matches — part of the British colonial heritage. Admission was free, and as foreign tourists, we were given VIP seating. The game was very intriguing, but I think it's safe to say that we both enjoyed the rowdy antics of the crowd as much as the match.
Occasionally the more ardent fans let their emotions get the better of them and scuffled with one another, and sometimes even the police, who carried their bamboo clatter sticks for more than mere show.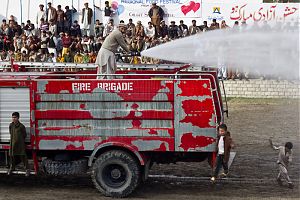 From Gilgit we intended to avoid Indus Kohistan to the south, a notoriously dangerous stretch of tribe-controlled lands, and take the 4500 meter Babusar Pass route. But our hotel proprietor at the Gilgit Madina Inn informed us that the pass was deserted by all decent people at that time of year, and now patrolled by bandits; that travelers had been robbed at gunpoint several times already in the previous months.
With these and other considerations, such as the swift approach of Christmas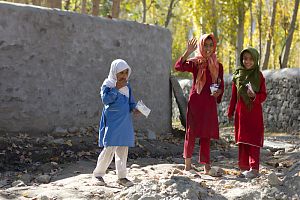 and our desire to enjoy the Holidays at the Orphanage in Palayamkottai, we decided to take a bus over the remaining 450 miles to Rawalpindi (Islamabad), and carry on to India from Lahore after receiving (we prayed) our Indian Visas.
Due to the roughness of the road, the lurching joyride took upwards of 20 hours.
We stayed in Rawalpindi, an ancient settlement that exploded into major city while nearby Islamabad (the capital of Pakistan) was being built. It took us hours to find a hotel that would take us, and even then it was relatively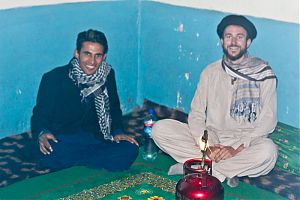 expensive, at 300 rupees each (~$3.5). Nor did the staff make us feel particularly welcome. Not long after we had settled in, the door opened suddenly and one of the proprietors came in – a gaunt, bearded figure who fitted the media's visual depiction of the Islamic Extremist to a T. "You no leave door open: some people hate Americans… You know? You know this? Keep door closed," he said with the faintest suggestion (or was it my imagination?) of a threat.
After leaving our passports and visa applications at the heavily-barricaded Indian consulate in Islamabad (India and Pakistan are still at war), we crossed our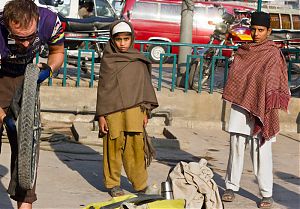 fingers for six-month visas and saddled up for Lahore, some 300 kilometers to the southeast.
India, ho!
The Grand Trunk road between Rawalpindi and Lahore was straight, flat, and featureless, save for the heavy traffic—largely of liveried Pakistani trucks. Their power-to-weight ratio was ideal. It was ours. As Andrew and I were eager to be in Lahore, we tried drafting the trucks (cycling immediately behind them in order to cut down on wind resistance) and found that we could comfortably maintain an average of 30-40km/hour.
We broke our journey at a hotel just off the GT road. Next morning I was surprised by a grim face under a black beret that came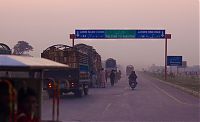 in through the unlocked door, followed by a broad back with an AK-47 slung across it. I started, of course. A moment later, the face spoke: "You are awake. Good," before retreating into the hallway again, and I recalled that we had asked the staff to wake us early in the morning. In the west we might expect someone other than a machine-gun-toting security guard, however.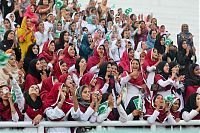 Next day we arrived in Lahore, the alleged culinary and arts capital of Pakistan, located only 25 kilometers from the Wagah border crossing into India. A long week was passed at a little guest house with all the luxuries one prays for on the road: functioning showers, a washing machine, and cooking facilities. We enjoyed ourselves over the Eid festival , for which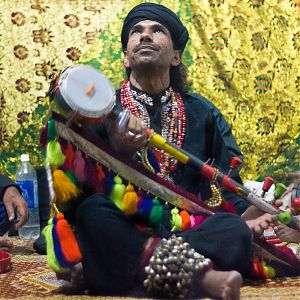 our host treated his guests to an immense pot of mutton biryani and his special 'throat tea' to combat the smog that shrouded the city night and day, while waiting for our visas to be issued back in Islamabad. Our host also invited some internationally-renowned Pakistani musicians for an intimate, open-air concert.
I spent an entire day fetching two six-month visas by train from the consulate in Islamabad. There was nothing but a few kilometers left between ourselves and India. That point in time when we would cross into the country at last, which had seemed so remote, so impossibly distant almost two years before, was now impending… "India awaits."


Comments:
Post a comment:
Commenting is closed for this article.