Subscribe to our blog: RSS | Atom

Korea, South to North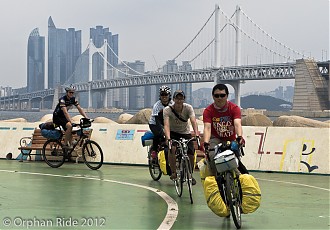 June, 2012: On the fairly luxurious ferry from Japan to South Korea I became acquainted with a Japanese man named Koichi who, coincidentally, was just beginning his three year trip bicycling around the world going in the opposite direction. Another cyclist, Frank from Taiwan, was near the beginning of his six month tour through Japan, Korea, Australia and New Zealand. Prior to our meeting aboard the ferry I had arranged to stay with a new Korean friend in Busan. This young man, Bosung, had recently finished his backpacking tour around the globe and was feeling generous so he invited my two new friends to stay as well. We went on a tour of the gargantuan fish market in the city port area after a breakfast of pork soup, kimchee and beer,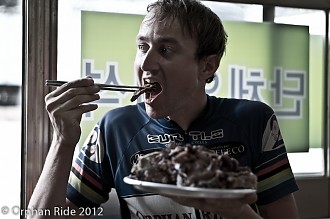 a "welcome to Korea" treat from another Korean, Lee, whom we had befriended aboard the ferry. We were an eclectic group—Japanese was the only common language among us, with the exception of Bosung, who spoke no Japanese but whose English was perfect.
For many months I had had the desire to try dog meat in Korea, the reputation of Korean canine being world famous. Aside from the novelty of such an experience, there was another reason for my hope consuming man's best friend: revenge. I have been chased by dogs on this trip more times than I care to enumerate. Eating dog would, in my mind, balance the scales of justice to some extent. To my great pleasure, Bosung, at my request, brought us to a local restaurant that specializes only in dog, Korean style, with hot sauce, side dishes, dog-broth soup and plates piled high with the stewed, lean, beef-like flesh. Our plate had an abundance of fatty neck meat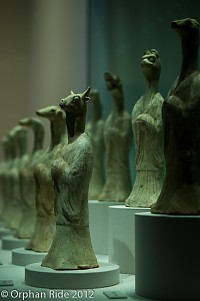 complete with vertebrae. I hoped and imagined that it was poodle, but no doubt it was a mutt named "Happy," if indeed it had had a name. A purebred would no doubt be a pricy menu item.
Bosung also treated us to Korean fried chicken (the best in the world) and soju (Korean rice wine) for supper and then an excellent fish head soup for breakfast at a restaurant that was famous for the dish. On top of these many culinary delights, he saw us off with a pile of supplies for the road and a hand-written letter of introduction in Korean that we might make ourselves known to non-English-speaking locals during our travels. Frank and I had planned to go the same direction, north up the east coast, so we said our goodbyes to Koichi who was cycle westward then north up the west coast. At first Frank and I had only planned to travel together for a day or so, but we got on well together and our pace was
similar, except in the hills where his excess luggage held him back, so we ended up traveling en ensemble all the way to Seoul. The sandy beaches along the coast were quiet and lovely and the abundance of parks allowed for excellent camping just about anywhere. Unlike in Japan, complimentary WIFI is widely available here, allowing for unrivaled convenience for we wired cyclists. The weather was perfect each day but one. On the exceptional day that it rained we paid a modest fee to sleep in a jimjubang, a public bath with a sauna and large common sleeping room. There were three pools with water that ranged from warm to tingling-hot and one icy-cold one meant to be used after the hottest pool.
A South Korean woman in her fifties had been murdered by North Korean soldiers…
Our first goal was to visit the demilitarized zone between North and South Korea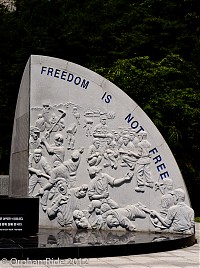 from which place one can peep into the bleak, forbidden north from a public observatory. Frank and I were turned away at the checkpoint a few kilometers from the DMZ and had to hitchhike since only cars were allowed inside. In the part of north Korea that we could see there was a fake town built for propaganda in which no one lived and a road leading inside that once allowed South Korean tourists to visit a special economic zone for shopping inside of the border. A South Korean woman in her fifties had been murdered by North Korean soldiers a several years ago and the northerm regime refused to apologize, resulting in a sealed border ever since.
As odd as it is that the bulk of young South Koreans know surprisingly little about the country's estranged northern half, it can be said with certainty that those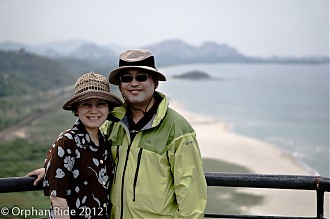 people in the latter know far less about their southern brothers or about the world in general, since their education is put on a strict diet of communist propaganda where North Korea is the center of the earth. North Korea is arguably the most authentic example of the true and practical outcome of socialism.
Such is communism, a forcefully and thoroughly applied form of mass slavery as history has faithfully recorded from the days of the Bolsheviks, Stalin and Mao to the Khmer Rouge and Kim Jong Il. I was shocked to witness first had that this seductive Marxist doctrine is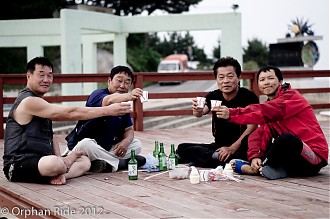 gaining, by way of misguided, leftist university professors and mass media, acceptance among the youth of South Korea, just as it is in North America. "We just need to try to understand them," was the naïve summary in reference to North Korea of a university student with whom I had a discussion. She is not an isolated case. Some say that "there has never been a truly socialist country," but what they mean is that no socialist country has managed to realize its end, the Marxist Utopia, that the doctrine promises. Since it's proponents cannot recognize the corrupted nature of Man, it never will. The people may surrender all to the government, but to whom will the positions answer?
…I pedaled heedlessly into traffic wearing no helmet and a cigarette hanging from my mouth…
The day that Frank and I were to begin our ride west to Seoul across the peninsula a typhoon had centered itself over Japan. The winds from the east were thus strong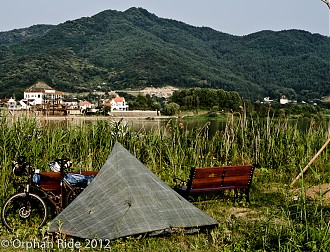 and favored our ride for the entire day and the typhoon blew us nearly to the other end of the peninsula, 170km, in one afternoon. Thus, we only had to ride about 50km the following day to Seoul. During my final few days I was treated by my friends Charles, Fr. Onoda and Marie Kim to many more traditional Korean meals. I boarded the plane to Vancouver with fresh, fond recollections of this endearing country. It would take two months to really experience all that South Korea has to offer by bicycle, but my two weeks were packed with times most memorable.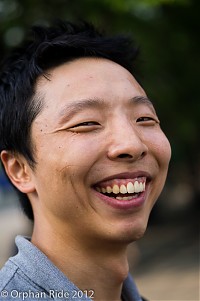 My close friends Simon and Melissa met me at the airport and I pedaled heedlessly into traffic wearing no helmet and a cigarette hanging from my mouth, and remarkably little jet lag to cope with. The Brothers Leese were reunited when Randall arrived after a long day in the saddle from Bellingham. The following day we did a slide show fundraiser for an good humored audience and then made way for Bellingham the day after. In my old university haunt, which, though it had not changed perceptibly, appeared in some intangible way unfamiliar to my well-traveled eyes, my friends Jeff and Natalie took good care to aid our recovery and my repatriation with fantastic, old fashioned American bacon burgers. Then Jeff accompanied us on his road bike to Whidbey Island, were Randall and I interviewed with the local press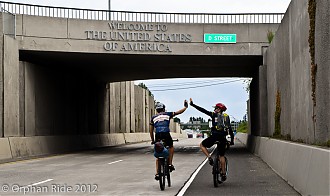 and a television crew from Channel 5, and, finally, after three years and three months of vagabonding in strange lands I was blessed to have a big hug with my father, mother and sisters on a sunny afternoon in late June.
Thus ends the narration of my personal experiences traveling around the world on a bicycle. It will not be, however, the last update to this blog.
Comments:
Post a comment:
Commenting is closed for this article.