Subscribe to our blog: RSS | Atom

Kyrgyzstan, Part 1 – Bishek to Arslanbob
Even before I had begun my climb to the top of Tor-Ashuu Pass from Bishkek, the Ala-Too mountains loomed like a wall before me. I had just left Bishkek, Kyrgyzstan's leafy-green capital behind and was on my way to Sary Tash, a town some 1000 kilometers to the south, where Andrew and I had agreed to rendezvous 15 days later.
The road from Bishkek rose through a crumbling canyon to 3300 meters where it burrowed under the snowy peaks in a leaky, three-click tunnel built by the Soviets. It was said to be unventilated, dark, and generally perilous; furthermore that police sometimes required cyclists to catch a lift through in order to avoid asphyxiation—and protect the tourist industry—ever since the fatal 2001 incident that claimed several lives when a car broke down, halting traffic inside.
It was almost a full day's slow journey to the tunnel's mouth. The sky was clear, and little puffs of orange and yellow trees clung to the steep canyon walls. Automobile traffic was light and the road that ran along the river smooth as glass. This was the main connection between North and South, Kyrgyzstan's chief highway—the M41. Even so, livestock was as common as cars and slow, lumbering trucks whose horns blared impatiently as they wove through herds of bleating sheep and lowing cattle.
When I finally arrived, I cruised unchecked into the tunnel's mouth. Smoke and darkness enveloped me at the same instant. The rare ceiling lamp illuminated curling black fumes that burnt my nostrils and made my eyes sting. Two and a half kilometers to go then and the road still sloped upward into the darkness: I focused my remaining faculties on pedaling— pedaling hard— distracted by blinding headlights, burning fumes and the amplified roar of trucks and cars as they blazed past in a swirl of smoke. I reached the apex of the curve at 1.5 kilometers: halfway there. A pinprick of light appeared and quickly grew as I built speed and momentum in a moment cool air and relief washed over me simultaneously. As I left the purgatorial tunnel behind me, the gilded Suusamyr Valley opened at my feet and flowed toward the horizon till it swelled into the yellow foothills of the distant white Tian-Shan range, which stretched across the horizon like the teeth of a jagged white saw.
I made my way down the switchbacks into the yawning valley. This was typical Kyrgyz yurt country: they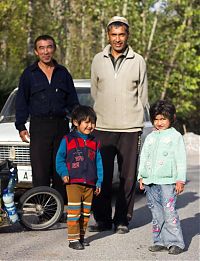 dotted the valley and clung to the hillsides there there where the grazing is good in summertime and early fall. Coal smoke curled up from black chimneys above pale felt and darted into the breeze as if startled by the chill air. Kymys and kurduk —mares' milk vittles—were arranged for sale on wooden shelves out front, tended by rosy-faced women in colorful scarves.
After a supper of mutton pelmeni, I struck camp near a riverbed lush with Fall foliage. Orange and red berries clustered on near-naked branches; thick bushes hedged me in all around. The nearby river sounded loud in the chill and tranquil air—all was slipping into frozen winter. To keep warm, I swathed myself in all my clothing, tent, rain-fly, and an emergency blanket, while the pitter-patter of mice in the undergrowth lulled me to sleep under the shimmering stars.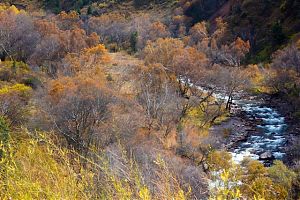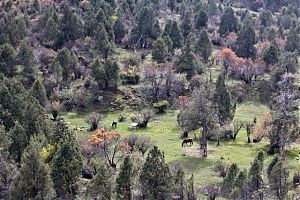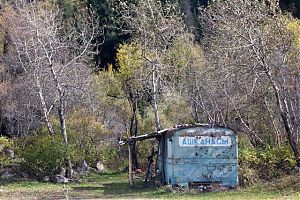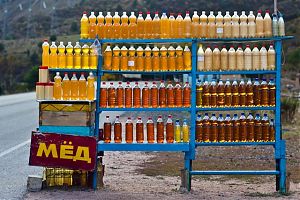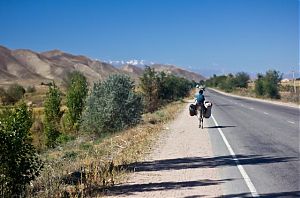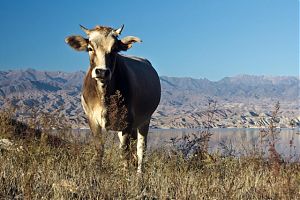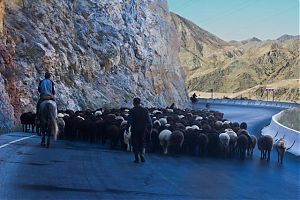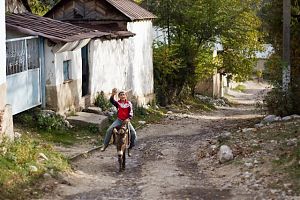 A drizzle of the Pacific Northwest variety woke me before light. A small cooking fire served to heat my porridge before I was off into the mists of the lonely foothills, pale silver with the first trace of sunrise. Low on food and water, I drank from an icy roadside stream (Andrew had my filter in Tajikistan) and purchased some tea and invigorating kymys—fermented mares' milk—from a yurt-dwelling family. The Ala-Bel Pass, lower but colder than the Tor-Ashuu pass, was above and before me.
From its crest I sailed down the south side of the pass into another twisting gorge and the Chychkan State Zoological Reserve (Chychkan means mouse). The way was exceedingly beautiful: the road crossed and recrossed a frothing blue stream that cut along the shear walls of towering, snow-capped peaks, and through forests of flaring fall colour blended with green, silver, and brown, as well as the occasional well-concealed apple orchard (to which I helped myself, of course). Innumerable honey stands and blue beehives also lined road. This continued for forty kilometers of easy coasting back down to 800 meters.
A voluntary detour—no GPS-cursing this time—took me next day into the hills that boast the world's largest walnut forests, some 60,000 hectares in all. I fell in love with the area as I slowly climbed towards Arslanbob, a tiny, bucolic village that doubles as walnut capital of the world. The land sloped down from my left to the river, which was on my right, whence it rose again as pastureland to forested hilltops. Mud-brick houses, shops and barns mingled with colored trees on either side, while yellow hay spilled like golden cataracts from open second-story rooms. Helter-skelter brushwood fences enclosed close-cropped pastures and quiet animals. Beautiful people, apparently as contented as their beasts, strolled along the dusty road tending their rural business.
As the darkness gathered, a kindly Uzbek invited me to spend the night in his home. His handsome, honest face recommended him and I accepted at once. Indoors, I met his daughters, both perfect imps, his rosy-faced wife, and was fed to the gills with mutton, fried potatoes, and walnuts with fresh honey. The bed was wonderfully warm and snug.
Next morning I bade Arslan, my host, goodbye before finishing the last short climb into his namesake town, Arslanbob, whose forests are worth a thousand idylls for their beauty and peacefulness. After a few days and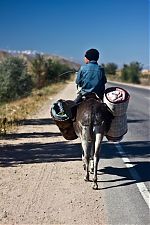 several long walks with a new friend along their leafy avenues, I again mounted my cycle, and hit the road to Osh.
I write from Kochi in Southern India. After 21 months of steady going, we're finally set to arrive at the orphanage in just three days' time! Look forward to more updates and photos soon!


Comments:
Beautiful Photos Randall!
Thanks for the vicarious pleasure.

— cameron talbot · Dec 16, 07:42 PM · #
Post a comment:
Commenting is closed for this article.