Subscribe to our blog: RSS | Atom

Leg Two Begins


As much as I am witness to so many complaints and general ill humor in regard to jet lag, I cannot share the identical sentiments. For myself, it is still far too magical to step aboard one of these Boeing or Airbus time capsules, with all kinds of foreign conversations buzzing about ones ears along with the hiss of the forced air overhead with the giddy anticipation of knowing I will be transported, literally and truly, to a different world in a very short time. If I were to do this sort of thing very often I am quite sure it would lose its luster. But, I cannot but admit that there is something very beautiful and mystical about shutting ones eyes amidst the bustle of stewardesses and rustle of passengers to open them again only to step into an entirely alien environment, senses dulled into state of half-consciousness and a the whole experience saturated by a feeling of joyful awe and mild unease.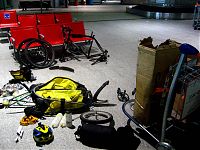 We had to go through Irish Customs in Dublin. Another time through the x-ray for the bags and again through the medal detector for my person. Although, as a recompense I received an Irish stamp in my passport to show that I had been there (for two hours). Squeezing out
of the plane in Charles de Gaul Airport we found our cardboard boxes of luggage the worse for wear but the contents unspoiled. I slowly unpacked my dirty CURTLO bicycle parts and trailer, everything quite disassembled, on the floor near the baggage claim area. Most of the travelers had departed with their luggage but the few people milling around leered with curiosity at our assembly operation as we doggedly put together our traveling caravans that we will call home for the next several years.
…Until we spotted our first kebab shop and we quickly ordered one of these Turkish delights.
On the way out I timidly attempted my first sentence in French at the coffee counter in the airport exit. Somehow the dark woman in attendance understood that I was asking for water for my bike bottles and she filled them without a smile. So, we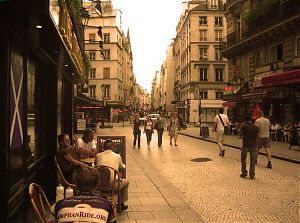 pedaled off into the wheat fields north of Paris. Slowly, as the kilometers ticked off, the streets became more and more urban. All of the restaurants seemed a little out of our budget until we spotted our first kebab shop and we quickly ordered one of these Turkish delights. The sandwich piled high with mystery meat and accompanied by a generous mound of hot, crispy fries and mayonnaise, we satiated our ravenous hunger with gusto. Our first goal was accomplished. Next, to find a wifi signal (I soon found out you have to pronounce it "weefee" if you desire to be understood) so that we could contact our hosts in Paris. Easier said than done!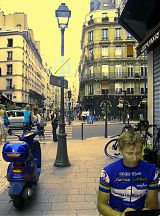 I think that I must have covered most of northern Paris trying to find the elusive unsecured Internet hotspot. Stopping every hundred meters or so I would stop on the sidewalk (pedestrians gawking at my strange deportment), open my laptop and search for a signal. There were usually plenty of secured signals but never public one until we found a Scottish pub. So, I drank a $4 glass of Coke and we were able to make the connection with our hosts, who only lived a short distance off. Randall and I navigated through the holiday traffic, up and down the rows and rows of tasteful Parisian architecture and encircling statues of saints and revolutionaries that form the epicenter of dizzying roundabouts.
Julien and Vladana warmly invited us in to their petite yet tasteful ninth-floor apartment and it was so good to be there. It is not necessary to add that both of us were still in the state of mind that I can only liken to a mode of "Twilight Zone". Coffee, rich and strong in the fashion of France, was served with sugar, and we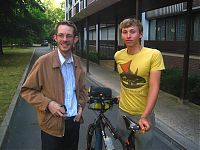 reclined on the sofas, admiring the panorama of the majestic city. Both Julien and his wife were quite fluent in English and we chatted about both their cycle touring experiences and ours, comparing notes. For their upcoming honeymoon the plan is to spend six months in on their bicycles in South America! The afternoon wore on and my eyelids grew heavier and more insupportable in spite of dose after dose of coffee. As it was Bastille day a fireworks show was planned for the evening. The Eiffel Tower was lit up with glittering lights and we all basked on the balcony, sipping white wine as the explosions and dazzling sparks lit up the sky around this monstrous metal contraption.
A few young Afro-French men got into a shouting match nearby that almost erupted into blows but quickly subsided.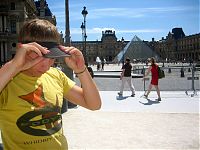 The following morning Randall and I walked about the local blocks and feasted upon hot baguettes, soft, crusty Bree and fresh, tree-ripened fruit before accidentally locking ourselves out of Julien's apartment for the day. There was not a lot to do but lounge about in the park and nibble on tasty morsels, read and take a nap on a park bench. A few young Afro-French men got into a shouting match nearby that almost erupted into blows but quickly subsided. Our hosts arrived home at the end of their work day and we spent another pleasant

and restful night there. With the weariness of transcontinental travel having all but departed the Brothers pedaled off in search of more adventures in this Land of Frogs.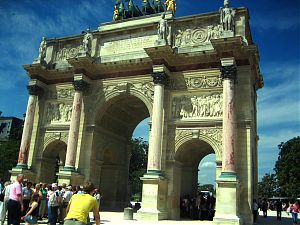 Julien had set me up with some ideal routes for my GPS that traversed to the south over quiet country roads and through quiet rural towns so tranquil in setting and character. Randall had decided to stay in Paris while I went on my mission to catch the important penultimate stage of the Tour de France in the South so we parted ways upon reaching the southern edge of the city and I continued on in the balmy summer weather on roads just wide enough to pass a European car and a bicycle. But the drivers were so few and courteous that I had no cause for concern. I camped next to a river that night with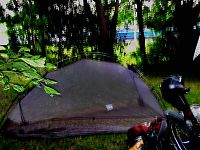 a bottle of red wine, some salami, and a ubiquitous baguette in the company of a barge that anchored by my campsite, which had was manned by a loud and vulgar crew of four. The warm summer day was replaced by thunder showers for the night but my Big Agnes tent and bag kept my bones dry and cozy.
Comments:
I love it!!! Excellent description of city and people…amazing pics! Takes me right back to when I was in Paris in 1994/5? Can't say I had the easiest time, but happy to see you are taking it all in, and fairing better!

— Stephanie · Sep 8, 07:50 PM · #

How delightful! This brings back wonderful memories of when I was in Paris in October/November 2008.
Did you get to visit Saint-Nicolas-du-Chardonnet in the Latin quarter of Paris?

Paris is a beautiful old city and I'm sure you both loved it. Looks like you got to do a lot of sightseeing as well!
Best wishes for continued safe travels!

Yes, went to St Nicolas for mass on a couple of occasions but not until I returned to the city from the south. A lovely church, indeed!

— Andrew Leese · Sep 15, 03:24 AM · #
Post a comment:
Commenting is closed for this article.