Subscribe to our blog: RSS | Atom

Morocco

As I compose this sloppy prose I rest in a large and luxurious house with a pool in the farmland of Murcia in Southern Spain and it is my birthday. Last night I slept in a cave overlooking the deep-blue Mediterranean.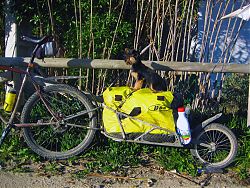 Our story continues as we leave Cadiz for more southerly climes and arrive in Algeciras, a busy, rough-around-the-edges port town opposite Gibraltar. On the way here Randall nearly adopted a new pet. We had camped in the outdoor seating area of a closed beach restaurant in a tiny beach town and a tiny little dog who looked like a stray Scotty joined us for dinner. After feeding him few hunks of bread and a little dried chorizo he let me pet his bony back, and eventually he curled up at my feet for the night! He went for a spin aboard the trailer the next day but was not altogether excited about it.
…confident apes jumped all over us in play.
We stayed with David Lechuga in Algeciras (thanks, David!) in his palatial flat and and waited a couple of days for some bearings to arrive for our trailer wheels. Randall's bearings bearings had exploded shortly after departing Cadiz. Our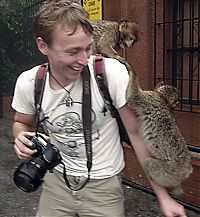 wonderful host took us for a day in Gibraltar and we hiked all over the rock, sometimes in the clouds, and the confident apes jumped all over us in play. One of the bigger ones even climbed into someone's Jaguar through the open window as they were giving it some food, causing the three British passengers to scurry out of the vehicle in a panic and wait for the primate to eat everything it could find in the car before it climbed out nonchalantly, leaving only empty chip and candy packaging in its wake!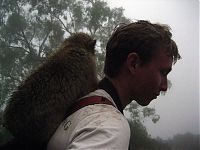 Finally, on to Morocco. The ferry crossing took ninety minutes and we set tires in sunny Tangier, nary a tout or hustler to be seen in or around the terminal in the early afternoon. From what I saw of Tangier (not much) it did not seem like to seedy, riffraff infested town of ill-repute that it was reputed to be in the past. We bicycled down the coast until dark and camped in the filthy forest of a military installation. A security guard named Redouen befriended us there and shared his heavily-sweetened tea ("Moroccan Whiskey"), olives and bread with us and we slept amidst the piles of rubbish after a couple of ours of conversation in French (the second language of Morocco), some lessons in Arabic and some good laughs. The following day was beautiful, sunny and warm and we continued down the coast and then inland into the sparsely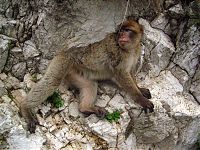 populated farmland east of Larache. Well after dark we found a field that seemed like the perfect place to pitch camp, and we did. About forty-five minutes later two men appeared wielding pipes as weapons and walking toward us out of the darkness. Their faces softened into amusement when they saw that we were foreigners and got the point across (the spake only Arabic) that they had come to beat us with pipes for trespassing but when they saw that we were just camping tourists they let us stay. The crowds of farmhands being trucked in the foggy morning all waved and hooted, smiling, at us as we broke down camp.
…gatherings of rural children either waved and yelled at us, played chicken, or through rocks or sticks at us (but not with good aim)…
During a breakfast of fresh-fried donuts and tea in a filthy souk (outdoor market) and being stared at by nearly everyone (we were well off the tourist path) we met an Israeli business man who owned some berry plantations in the area. [As a side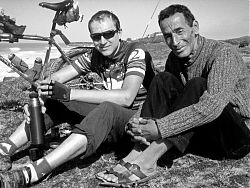 note, the northern half of Morocco is lushly green and fertile and the country itself somewhat sparsely populated.] He informed us of a small farm road that ran parallel to the main tole road down the coast. This road was not on any of the digital maps that I had seen and saved a generous chunk of time since the known national road cut quite a bit further inland before rolling westward to the coast. So, we took this road through tiny villages and passing greenhouses where they grow bananas, piles of refuse (sometimes burning, mostly not), and a big lake. One image that hangs in my memory is that of a man cloaked in a jelaba standing on the edge of the lake amidst pieces of garbage, his hooded head facing the lake as we rode past.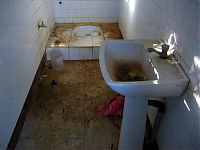 Local taxis bumped and jolted their way past, gatherings of rural children either waved and yelled at us, played chicken, or through rocks or sticks at us (but not with good aim); men smiled and cheered us; and women sometimes raised their vales over their mouths in modesty. We reposed in the city of Kenitra in a hotel that cost $7 a piece, had fresh rotisserie chicken and hand-cut fries for $2.50, and scrubbed away the salty sweat in the hot waters of the hamam (public bath) for $0.80.
Comments:
Post a comment:
Commenting is closed for this article.