Subscribe to our blog: RSS | Atom

Mountain Passes and a Broken Wheel
Early Winter, 2009
Two mountain passes and a broken wheel are all that separate me from Santiago de Compostela. I am just leaving Leon, to lose the route and be threatened shortly after by a stout, orange-vested official with an "I'll call the police if you don't…!" in regard to riding on the highway, before arriving in Santa Catalina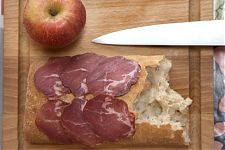 under the portentous flakes of lightly falling snow. The first pass looms above and before me like the day to come, malignant and foreboding, tomorrow's obstacle, tonight's anticipation. I meet a young German fellow who goes on about a nice American around-the-world cyclist he had met the day before until I can't take it any more and introduce myself as the cyclist's brother.
It's a long climb to the top of the pass, Alto de Poio, next day. The snow stings my eyes as often as I raise them, while the winds blast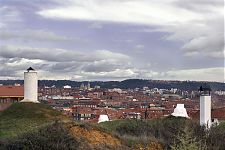 me, and the hill rolls slowly underneath. Finally Andrew and I reach the top and begin a fast, frigid descent. I glimpse a panorama of orange forests leaping up to snow-capped, rock-flecked mountains as often as I can raise my eyes from the harrowing twists and turns that lead me further and further into the green valley below. Quaint, brightly-hued villages float past. We arrive in Ponferrada, drenched and cold.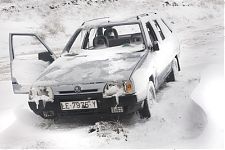 We started next day from the albergue of that town, San Nicolas, at 9:00am sharp. It was the first day all week with no headwind: there may even have been a slight tailwind, but it's difficult to say.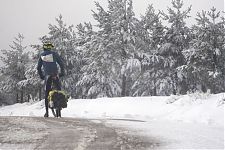 My brother and I split up before the start of the climb. At Albergue San Nicolas I had heard something about an alternate route around the mountain, via the carretera, and indeed, in Villafranca, I found what seemed to be that very same route. Elated at not having to climb that fearful mountain, knowing the difficulty of riding over 1000 meters elevation in that part of the world, at that time of year, I sailed at a good clip along the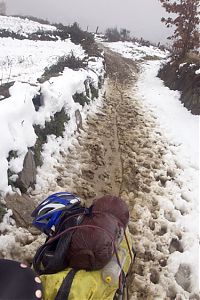 road as the signs guided me onto smaller and smaller paths. Finally, after a long climb, I was deposited on a steep, rocky trail that climbed up through the fog, above the snow line, and into slushy wet mud. I was on a narrow sheep path, as evidenced by the sweet smelling dung and deep holes where they had floundered before me. My wheels sunk into the mire, and I had to push for a long way. I kept this up for an hour or moreuntil I arrived in Laguna de Castilla. I had suspected that I was doing the climb, and not taking a circuitous route, and my arrival here assured me that this really was the case. From Laguna there was a narrow track, recently plowed, up and up and up through bleak white purgatory of steep, foggy hills until the snow covered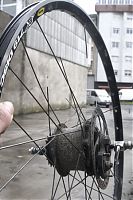 the road completely, and I was forced to get off and push, my muscles aching from the strain. I was dehydrated, discouraged—how long would this last? I might have to push for hours. Imaginary Springtime news headlines floated through my head monotonously "American pilgrim found dead in the thaw, etc." Then a spoke snapped. But finally I reached another town, O Cebreiro, and a slightly larger, slightly clearerer road leading away from it. After riding for about 15 minutes, I slowed to a halt. It didn't feel right; was I going the right way? I dug out my GPS from a cluttered handlebar bag and turned it on. It was new, and I hadn't really used it yet. I couldn't tell much from it, and the battery died a minute later anyway. So I decided to go back to O Cebreiro,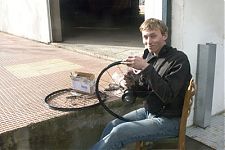 and ask directions. Soon I found from a local that my sense had not deceived me, and so I followed the yellow arrows onto a major road. From there it was smooth sailing to the end of the path and the descent that led to Triacastela.
From Triacastela I took the walking path yet again. It was fine at first, but soon degenerated into a narrow sheep track again, muddy and wet, extremely rocky, and steep. It was more of a creek than a path, and there were enormous broken branches blocking it that needed to be cleared before one could pass. I had to push much of my way up the 900 foot climb to the next peak. Water was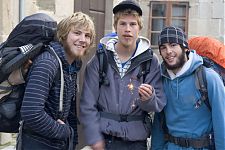 coursing down the path, a mixture of mud, rotting leaves, and uneven, natural stone steps. I bumped and banged my way down, sometimes sliding sideways for a foot or two before managing to right the bike. It was a very haphazard descent. Finally I came out onto a road, not far from Sarria. The road was paved. My wheel wobbled precariously on the descent. Two spokes were broken, the rim was bent. I was exhausted, and muddy, and soaked to the bone.
3 December, 2009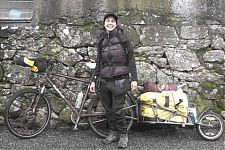 The local bike shop ordered my new, "special" parts—spokes and a rim identical to the other, which was cracked and bent beyond repair. Several days later I had finished my replacement wheel (after a few unpleasant disagreements with the bike shop owner over spoke tension), and was ready to ride. While passing my last evening in Sarria, I met some young pilgrims who had walked all the way from their homes in Switzerland. They were delighted to take a stash of fireworks that I'd hauled some 2,500 miles from New York with the intention of lighting them at some point.
Next day I arrived in Santiago; several hours later we were on our way to Portugal.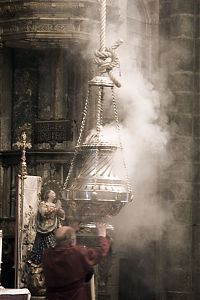 Comments:
Post a comment:
Commenting is closed for this article.