Subscribe to our blog: RSS | Atom

Quail Springs


A number of photos have been loitering aimlessly on my hard drive for the last several weeks. In the humane interest of putting them to work, and squeezing some good from their unfortunate being, I will here post them for acclaim,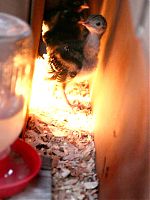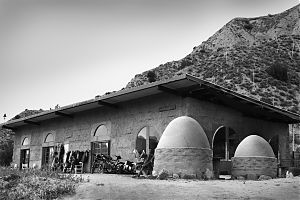 condemnation, or simple indifference.
Firstly, we wish to thank Warren and our friends of the Quail Springs Permaculture Farm outside of Cuyama, in the San Joaquin Valley for hosting and feeding a couple of hungry, wayward cyclists. We had a lovely time, and look forward to visiting the farm again in several
years, when and (more importantly) if we achieve our goal; admitting the possibility of some dreadful, yet foreseeable accident, like death or marriage.
We met Warren quite fortuitously at the Burger Barn in Cuyama, while we were establishing ourselves as customers with a cup of coffee (merely in order to use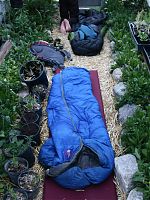 their facilities unrestrictedly, I confess—there wasn't much else around).
Photos, clockwise from top left: 1: Our noisy company for the night—not conducive to a good night's rest!; 2: The main building—a beautiful straw bale structure, with earth-ovens in front; 3, 5: A foretaste of the tropics! (We slept in the greenhouse, as the other lodgings were full) 4: Earth-ovens from the front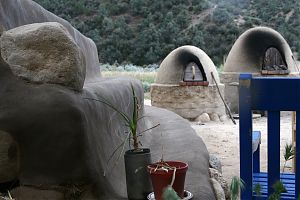 Post a comment:
Commenting is closed for this article.