Subscribe to our blog: RSS | Atom

Of Reunions and the Last Leg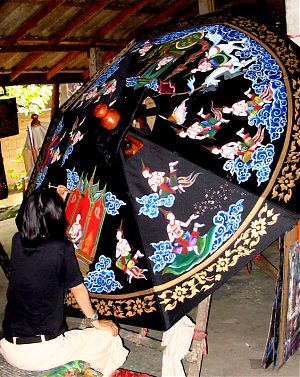 I begin write this entry in an ethnic Uyger truck stop restaurant in the vast deserts of the far western province of China, the Xinjiang Uyger "Autonomous" Region. Indeed, I have broken through the "Great Firewall" of China, the internet censorship circuitry at the service of the government for the protection of the people from ideologies opposed to the communist agenda, among other things. The Orphan Ride website has joined the likes of Facebook on this blacklist, but thanks to a workaround I am able to keep you up-to-date in spite of being behind the Great Firewall.
In late March I was to fly down to Singapore to spend the weekend with our great friend and supporter, Father Couture, and his parishioners, and that I did. This side trip only had one minor hangup, which I will now relate.
…confiscated by the Thai women in charge of security, along with some food from the market.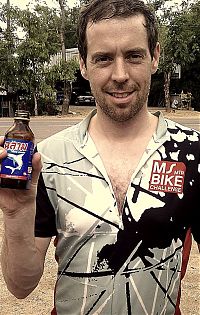 I never leave my hair-cutting shears behind when I travel. That would be as equal a negligence to me as that of a photographer leaving behind his camera or a chef his knife. My only oversight was that I only had a carry-on bag and once I had passed through Thai immigration there was no going back. The shears were picked up in the x-ray machine and confiscated by the Thai women in charge of security, along with some food from the market. One of the younger ones was genuinely devastated to see the culinary masterworks going to waste and whimpered with watery-eyed disappointment, "nam prik, delicious…" A middle-aged security woman told me that she would keep the shears and that I could pick them up from her upon return. This was a great relief, since this particular tool of the trade is, as one might guess, highly valuable!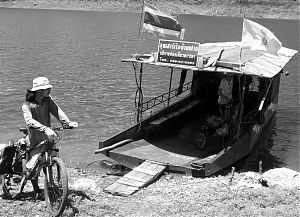 Singapore was very much as I expected based upon what I knew of this country's reputation. Clean, modern and affluent, it has been dubbed the "Switzerland of the East," due in part to the massive number of heavy-hitting banks here. Everything is new-looking, including the cars especially, and all of the buildings are air-conditioned. There are four national languages: English, Chinese, Malay and Tamil, a high number for a tiny country-city-island of five million. English and Chinese appear to be the most widely spoken, as Singapore was an English colony and most of it's inhabitants are now ethnic Chinese.
I was befriended by several of the young Chinese parishioners here as well as a young Indian from Malaysia named Jonathan, and they all invited me to sample some of the local culinary delights, the facet of this emerging cultural ferment that Singaporeans take great pride in. We first sampled the famous Chicken Rice, of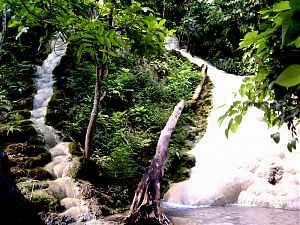 course. The dish is a simple yet delectable one in which a chicken is boiled and the remaining stock is used in which to cook the rice. Once chopped into slender slices, the tender flesh is arranged atop the mound of rich rice, and a garlic-lime-ginger-chilli sauce is served on the side. Also on Easter Sunday I had the privilege to be invited to the celebration of one of the families' 25th wedding anniversary. Jonathan the Tamil, once he and the rest of us had tipped several glasses of wine, kept us all entertained by singing an entire library of classic Italian songs that he knew by heart, and sung very well at that! The rest of my free time was spent working on my Chinese visa application; visiting the aquarium and the vast, impressive botanical gardens of Singapore.
Jeff, after nearly 24 hours of plane travel including layovers, arrived in remarkably good spirits.
Upon returning to Thailand the rainy season had finally arrived in full force. This monsoon is not as one from the cold, damp Pacific Northwest might imagine. Most days it will rain, but only for an hour at most per session, and the drops are very large. One might say that it rains in sheets—the storms are incredibly dramatic! Though often overcast with high, unoppressive clouds, the air is warm and there are many a bright hour when the sunshine breaks through the high ceiling.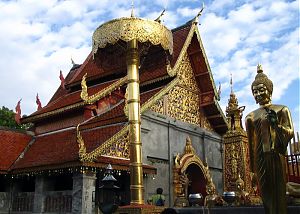 My great anticipation was a visit of my dear old friend, Jeff, originally from Maine but now a Washingtonian, and a cyclist. This would be his first experience in Asia, even his first time away from North America. I had for many weeks looked forward to our reunion and the opportunity to share some experiences and make some new memories. Jeff, after nearly 24 hours of plane travel including layovers, arrived in remarkably good spirits. It would seem that the adrenaline and giddiness one feels as he stumbles into an entirely alien atmosphere are ample to overcome the fatigue of long-haul air travel for at least a day!
The very next day we began on a short loop by bicycle with Sawang around the north of Chiang Mai. We first passed through Sankampaeng, where one may observe the fine, intricate art of umbrella-painting and watch as the heavy-duty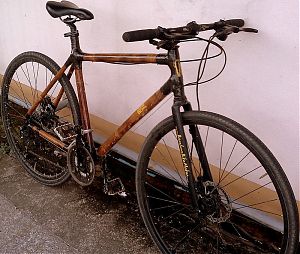 paper is made from pulp, by hand, and attached to bamboo frames. After a lunch we worked our way through the mid-afternoon heat to a village hot springs area. The route, which passed through lushly-forested hills and small valleys filled with rice paddies, was serene beyond measure. At the hot springs we bathed with the scalding water (indeed, one pool is used by the villagers for cooking eggs and sweet potatoes!) and then each had a traditional Thai massage, a painful yet therapeutic combination of deep-tissue pressure and muscle-stretching technique. This was followed by a meal of lab moo, a spicy dish of raw (yes, really raw) pork; vegetable soup; sticky rice and several locally-produced rice whiskeys.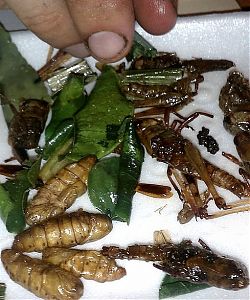 The next morning we biked to a large reservoir and chartered a boat to take us to the other end, where a superb road led to a national park, and here the perpetual streams of crystal-clear water had washed the sandstone clean, leaving sparkling, milky trails through the intensely green forest on the hillside. According to Sawang, "the only food we can get here is barbecued chicken, sticky rice and som tam (green papaya salad)," as if that were a detriment to our staying there! So, we camped under a large sheltered area overlooking the jungle-hills, flanked in low wisps of mist, that precede the valley far below.
In Chiang Rai we met an American man who constructs bicycle frames from locally-grown bamboo.
Other things we did were, of course, many more bike rides and interesting local food samplings in Chiang Mai, along with visits to some of the local tourist sites. Jeff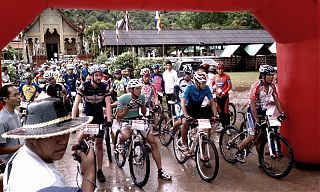 really enjoyed the Sunday Walking Street, a pedestrian avenue of more than two kilometers that crosses the Old City, where artists and artisans, many of them hill tribes' people, show and sell there crafts, and crowds of Thais mingled with western tourists stroll to enjoy the festive street food and music. Many of the musicians are blind and earn a part of their living from busking around the city. Indeed, one may also support the blind community here by getting a traditional Thai massage at the Chiang Mai Thai Massage Conservation Club by a sight-disabled masseuse for the equivalent of $3 per hour.
We also took a trip up to the smaller city of Chiang Rai, from which place I continued to Burma simply to walk through the border and back in order to extend my visa for another two weeks. In Chiang Rai we met an American man who constructs bicycle frames from locally-grown bamboo. The joints of the frames are bonded with carbon fiber. Each of us tested the mountain bike and the road bike with a spin around town and I was impressed by the light weight and responsiveness of these partially-organic rides! Bamboo, with it's inherent ability to absorb vibration, is said to be an ideal material for bicycle frames, though it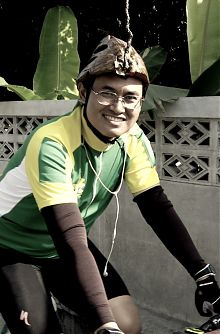 certainly cannot compete with modern, factory-made carbon fiber frames in terms of weight. A bamboo frame typically weighs a pound or two more than a two-pound carbon frame. As for curb appeal and ride quality, however, these bamboo bikes are show-stoppers!
Jeff and I both competed in a local mountain bike race one rainy day. It was only 15 kilometers from town so we biked down in the morning to warm up, and on the way we were caught in a torrential downpour. The grounds of the Buddhist temple in the small village where the registration area was set up were completely flooded and the crowds of Thai mountain bikers were taking shelter under the plastic canopies. As expected, the race, which mostly followed dirt roads, was a filthy one, with muddy water from the puddles drenching us as we sped through them. The whole experience was one I won't soon forget.
All of these entertaining times had passed too quickly, and it was soon time for me resume the Orphan Ride. I had sent my passport back to the
USA
and it was returned, $250 later, with a brand new Chinese visa good for one year.
Randall, on leave from India for two months, made his way up by train to Chiang Mai from Malaysia the day before Jeff was to leave, and we celebrated his arrival and Jeff's departure with a ride out to the nearby lake of Huay Tung Tao. We had a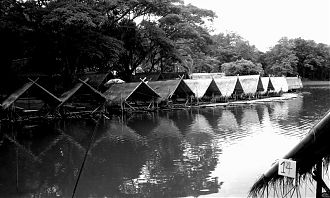 peaceful lunch there in a floating bamboo picnic area. During my last week in Chiang Mai I showed Randall around the city and we did some very demanding rides in the mountains to the west of town. His intention was to get back into cycling form and then tour by bicycle from northern Thailand through Malaysia, to the south, and on to Singapore at the end of the peninsula. We parted ways yet again over a breakfast of coffee and fine croissants (the pain au chocolat were better than I had tasted in all of France. Believe it!), and I made my way to the bus that was bound for the border of Laos.
Comments:
nice…nice…nice. And I thought I was doing good riding to Spokane last week. Great adventures…keep em rollin'.

Well said Andrew. It was a great adventure and I miss riding with you my friend. You are in our thoughts and prayers!

— Jeff Caldwell · Jul 9, 03:51 PM · #
Post a comment:
Commenting is closed for this article.