Subscribe to our blog: RSS | Atom

Of Rice Terraces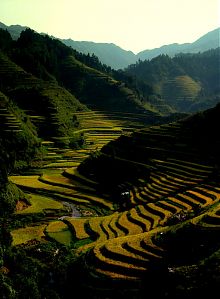 For those of you who abhor politics, please skip to the fifth paragraph for a continuation of the journey…
Here's coming at you from balmy Singapore, a big Chinese Bellevue on an equatorial island. The dull drone of traffic from the six-lane street outside is the only sound that breaks the serenity of my air-conditioned office-bubble.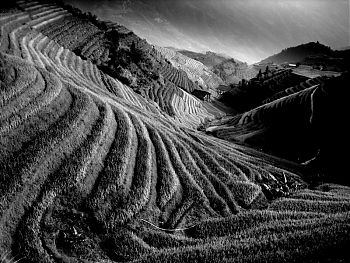 There is little to say of my last several hundred kilometers to Guilin. I was stopped a couple of times on the unfinished superhighway by police who tried to inform me that the road was too dangerous, presumably because of the tunnels. Strangely, they did not exercise their authority, so I was allowed to go on. I exited onto a small country road at the very end. The pavement was very bad or nonexistent, but traffic was light and the villages that I passed through were so tranquil and the minority people so much like the "Hill Tribe" people of Northern Thailand that I began to really enjoy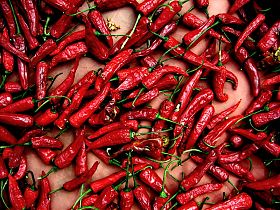 myself in spite of the fatigue and my unbathed staleness. On a couple of different nights I camped above the idyllic rice terraces and awoke at sunrise in an peaceful setting that put me into the right frame of mind for the road ahead. Insects chirped loudly in the trees—a strange combination of pine, banana and several other species that I cannot identify—and I came into view of many "wind and rain bridges," spectacular structures that are specific to the Dong ethnic groups that reside in this region of southern China.
…I opted to take the risk of being underwhelmed by another overpriced Chinese tourist attraction.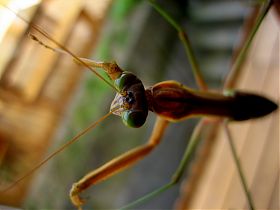 After passing through a large number of rice-terraced hills I was hesitant to spend money on the entrance fee to the Dragon's Backbone Rice Terraces that are located a day's ride to the north of Guilin, but with a four days' cushion between then and my flight, I opted to take the risk of being underwhelmed by another overpriced Chinese tourist attraction. Light rain sprinkled upon me as I climbed the switchbacks to Ping'An Village in the dark of night. When I passed through the gate of the parking lot I was bombarded by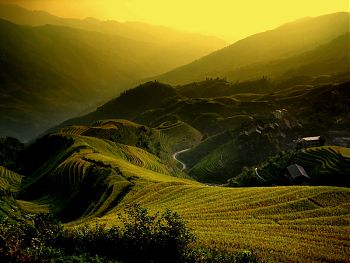 female touts wearing their traditional costumes and agreed to follow one of them to her hotel. Before I knew it I found myself hobbling up endless flights of stairs with my trailer in my arms. Finally, I lost patience and told her that I was going back to the youth hostel for which I had spotted an advertisement on the way up. I knew what to expect at a Youth Hosteling International residence: hot showers, WIFI and cheap dormitories;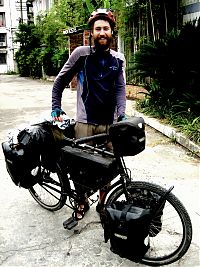 and as a bonus I could push my bicycle up a dirt road to get there.
My tout was waiting angrily near the entrance of the hostel to tell me that the hostel was full. "Just go and ask them yourself!" she declared. It turned out that she was right, but what she had not anticipated was that the hostel had a lovely balcony outside the restaurant and I had a tent! So, I camped there for three nights and in the daytime hiked around the rice terraces, taking photos like the other tourists and visually inhaling the incredible sights; which, I might add, were worth every single yuan that I had paid for entry and more.
…and flew to Singapore.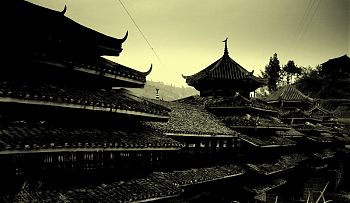 Guilin is an overrated city, but decent place to begin for those savvy seekers of awe-inspiring natural beauty that can be found in several locations within a one hundred kilometer radius. From there I pedaled to the airport one morning, packed my trailer into a box, turned my handlebars ninety degrees and flew to Singapore.
Comments:
'Who was it that promised $40k per year with benefits upon completion of a bachelor's degree in, say, history? Was it Wall Street? Was it a university recruiter, their parents, or…?'

Yes, we are all responsible…

I sure don't see any revolution, just protesters; and since this movement is very large it is hard to ignore (like we usually do). If the cold doesn't break their will a few agent provocateurs will likely turn it violent and just maybe we can pack them into a fenced parking lot so we can keep watching American Idol.

— Nick · Oct 31, 01:20 PM · #

The viewpoint of one who has circumnavigated the globe cannot be underestimated. Just my opinion…

— Justin · Nov 7, 11:49 AM · #
Post a comment:
Commenting is closed for this article.