Subscribe to our blog: RSS | Atom

Oregon North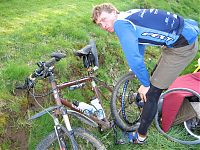 Refreshed, we arose with fresh zeal for the road. Today, Good Friday, would take finally take us out of our home state. After so many setbacks I was not sure what would befall us this day, aside

from the drizzly rain and overcast skies. As usual, we departed late. But for good reason: our host, Linda, made us an offer we couldn't refuse – a proper breakfast.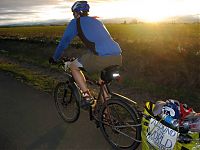 After the 100 mile day previous it took a couple of hours on lovely, lush Military Road (it's prettier than it sounds!) to wake the legs up and get rid ourselves of that heavy, gravely feeling.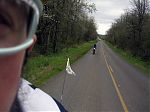 After a quick break in Longview we crossed the bridge and began the trek on Highway 30 to Portland. Now, for some reason I was under the impression that the Good Friday Liturgy was at 3pm, which allowed 3 hours to cover the 50 miles to Portland. We kept a fast pace of 15.5 miles per hour (hey, you try pulling a 100 lb trailer with a mountain bike!) to try to make the connection in time on the rolling road next to the Columbia River. The weather had turned to our favor so the spinning was not unpleasant.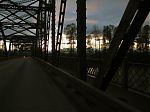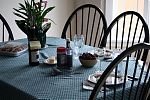 Our GPS took us right through the heart of downtown and to the base of a hill (Vista-something). After 70 miles of pushing this steep grade did not have a lot of appeal, it's safe to say. But it did not appear to go very far. We began grinding up and the real estate became more and more striking, with Romanesque pillars and intricate landscaping interspersed with green, terraced hillside parks. Every time we came to the top of an intersection the route took us up a new grade more steep than the last. Crawling along at 4 or 5 mph we must have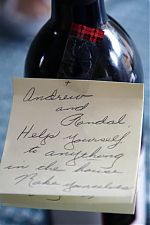 wound our way up through the castles and chateaus of Portland for half an hour before finally bolting down a thrilling and confusing descent down narrow, obscure residential streets. We arrived at the church breathless…and…the parking lot was empty! The joke was on us!
It was 4:00 PM and Randall had broken a spoke. As he fixed the spoke the priest there informed us that the liturgy had been at 2pm and generously donated some of his bread and cheese to go with our sardines. After raw cocao beans and stale energy bars this meal was most welcome!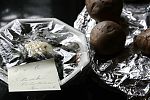 This very moment we are feasting upon a butter-cream confection and beer. More to come…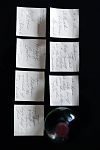 At this point, utterly defeated, but spirits high we made the choice to take up an offer of a place to stay for the night in Salem, about 50 miles south. The twisty, swoopy descent out of Portland in the lazy, late-afternoon sun was a hoot! By the time we arrived at our destination in Salem I was completely zonked and ravenously hungry. This was our longest day in the saddle yet at 125 miles – truly in the penitential spirit of Good Friday. Though our kind hosts were out of town, they allowed us permission to raid the pantries and that is exactly what we did!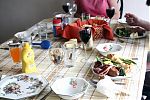 The next day we set out with clean clothing and full stomachs for an easy 70 mile jaunt to Eugene. The country roads out of Salem were laden with hills but the natural beauty of the country side and Dante's Purgantorio streaming from my iPod took the edge off the protests of our spent legs. Arriving after dark (again) in Eugene our friend Felicity rushed us to the Easter Vigil and our dear friend Father Brandler greeted us there with his endearing smile.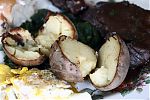 We woke up this morning to a table set with wine, grapes, steak, eggs, potatoes, hot-crossed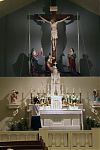 buns, and sumptuous buttered spinach which we enjoyed with gusto. Thanks to the Cliffords for keeping us like royalty! We are about to feast on similar culinary perfection after the aforementioned aperitif of butter-cream, so, adieu.
Post a comment:
Commenting is closed for this article.