Subscribe to our blog: RSS | Atom

Orphan Ride T-Shirts and Jerseys: How to Get Yours!


Official Orphan Ride T-Shirts and Cycling Jerseys have hit the stores and are available now! Well, actually, the second batch of jerseys are not finished yet but will be soon. 100% of the profits benefit the Indian orphans directly!
IMPORTANT: For our supporters we are pleased to announce that if you donate $150 or more you have the option of a free t-shirt! If you donate $250 or more you may have a t-shirt or a cycling jersey! This policy is retroactive, so those of you that have already donated simply need to bring your donation receipt to Eddy's in Langley to redeem or send an email to Jessica with sizing info and a shipping address if you would like it to be delivered. Of course, you may opt to forgo this gift in favor of contributing your entire donation in support of the cause.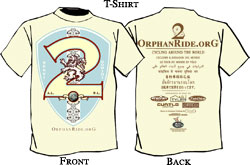 The T-Shirts are made from 100% organic cotton. Rather than screen printing, the artwork has been applied to the fabric with state-of-the-art Direct to Garment printing. In other words, the artwork will not crack, chip or disintegrate over time. The Orphan Ride Crest on the front of the shirt was designed by Zimmerman Studios of Whidbey Island. Purchase Here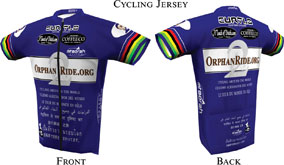 Our Cycling Jerseys are also sublimated with graphics printed directly into the fabric. These jersey's are of the highest quality and made with the most breathable fabric available. Jersey's are 100% made in the USA by Mt Borah Custom apparel. Purchase Here
Comments:
Post a comment:
Commenting is closed for this article.