Subscribe to our blog: RSS | Atom

Outa' India

The mainstay volunteer at the priory, Joseph Carron, was about to leave. For a Swiss citizen, a 6-month visa in India is effectively only a four month visa since a Swiss may only stay for 90 days at a time. The new policy for tourist visas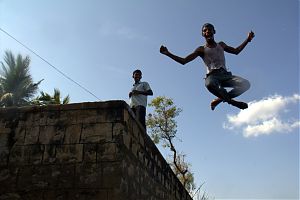 stipulates that one must remain outside of India for a minimum of 60 days before reentering the country, so he would only have 30 days left on his "six-month visa" when he returned. Joseph left for his two-month hiatus and his many responsibilities were divided among those of us who remained. Randall and I had an equal share in organizing athletic activities for the boys on alternate days of the week. I had never been placed in this type of supervisory position before and, to be honest, the anticipation of such a task filled me with more dread than the thought had of crossing the hot, desolate Kyzylkum Desert by bicycle months earlier. In the end this new experience became one of my fondest memories from my time spent with our orphan kids.
After some attempts to build interest in ultimate Frisbee, dodge-ball and some awful Indian game called "thief and police," which ranged from marginally successful to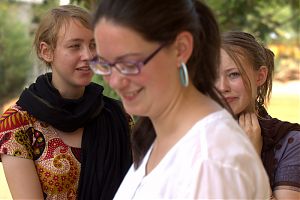 downright ill-fated, I found that they were particularly talented at the game of football, which we call "soccer" in the USA. However, the oven-like climate of Tamil Nadu in the Summer months had an oppressive effect upon this sport since it requires much exertion. Not until several weeks had passed did I learn, through Joseph "Chapati," the orphan boy, that a former American volunteer had not only taught them the game of baseball, but that he had also supplied them with most of the necessary equipment! The boys had a fairly good understanding of the rules. I rewarded the ones who fixed the broken mitts and hunted down the missing items from around the grounds with packs of sandwich cookies.
The barefoot outfielders would often have to scramble over hazardous piles of rebar and scrap lumber…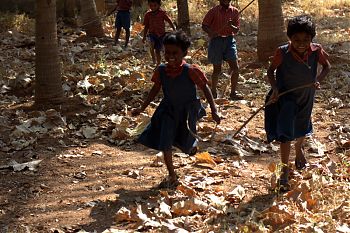 Before long we had some exhilarating, heated (not that we needed any more heat!) baseball tournaments underway, which almost all of the boys participated in with great pleasure. Cricket is the sport of the Subcontinent as an inheritance from colonial Britain; baseball is not played here, so what we had going in this backwater town of Palayamkottai was something rather exclusive and unique. Even I had a place in the game as umpire, though my poor understanding of some of the more obscure rules inevitably caused several surmountable crises. Also, our outfield was scattered with the building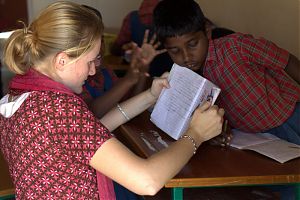 supplies of the new boys' dormitory and study hall. The barefoot outfielders would often have to scramble over hazardous piles of rebar and scrap lumber for the ball. Needless to say, many runs were scored! Baseball became a sort of craze; before we knew it, the boys were practicing of their own accord during school recess rather than lounging about as they usually had before. All of this thanks to an American volunteer who set the foundations, one who I likely will never know. And then, just as the boys were becoming quite good at this sport, it was time for me to leave.
I had been planning the continuation of my trip and weighing my options for several weeks. My mind had originally been set upon bicycling up to Nepal and from there into Tibet and then eastern China. It took only a little research on online travel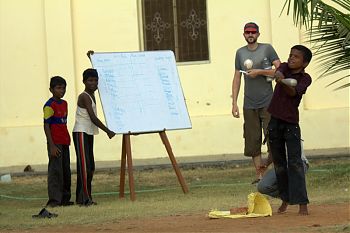 forums to dissuade me of this idea. Since the 2008 independence riots in Tibet, security had been stepped up, and it has become practically impossible for a non-Chinese-looking foreigner to bicycle through the Tibetan Autonomous Region (TAR) without expensive permits and a guide. Even sneaking past the police checkpoints at night, as touring cyclists had successfully done pre-2008, seems to have become nearly impossible. And, no, I would not have had many reservations about doing this if the security situation was now as it were before. On top of it all, when entering from Nepal, one will receive a maximum of a three-week visa for the same cost ($140) as a one-year visa would cost from a Chinese embassy in the USA.
In Delhi they said that I would have to apply in my home country.
My contingency plan was to return to Kashgar in the far west of China and follow the Northern or Southern Silk Route across the vast country. This would mean either returning via Pakistan on the Karakoram Highway or taking a series of flights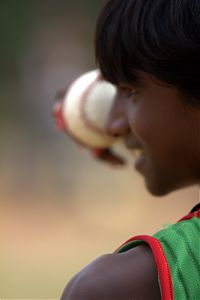 and ground transportation via Southeast Asia. Having enjoyed the beauty and thrills of exotic Pakistan the former option was my first choice. Some phone calls to the Pakistani embassies in Delhi and Los Angeles yielded no fruit. In Delhi they said that I would have to apply in my home country. In LA they said that they would not grant me a visa if I sent my passport to them since I was not physically present in the USA. The Chinese embassies in the USA, however, routinely grants visas to U.S. Citizens abroad who send their passports back to America to apply for a visa. The advantage is that one may receive a 1-year visa rather than the 1-2 month visa that they would receive at, say, the Chinese embassy in Bangkok for the same cost.
So, I set my sights on Thailand, a place in which I had sojourned in years passed. It was not without joy that I foresaw my last available option, for I have been truly at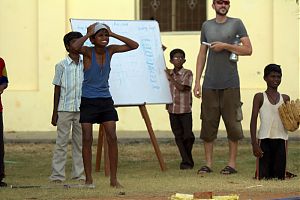 home in the mountainous northern region of Chiang Mai, with its bounty of fine cycling, heavenly cuisine and laid-back vibe. Yes, many folks visit Thailand for the wrong reasons, but for every lonely, dissipated Western/Japanese male hedonist there are at least three others folks who visit the 'Land of Smiles' for the amazing food; the friendly people; the warm climate; and opportunities for adventure in the lush mountains, jungle and sea. I found affordable promotional tickets from Kochi to Malaysia and onward to Chiang Mai for the 30th of March and set my plans in stone.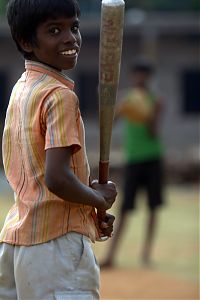 The repugnant thoughts of my upcoming 300 kilometer bicycle ride back to Kochi were tempered with the anticipation of several weeks in paradise, some of which would be passed with my longtime friend Jeff from my former hometown of Bellingham, Washington. When the day finally arrived, I said my goodbyes to Randall, my sisters and the other volunteers, the orphan boys and girls, the wonderful sisters in charge of the orphanage and dear Father Brucciani. We had one last meal of felafel and hummus, some Middle Eastern dishes I had recently learned to prepare from the recipes here, that gave us a break from the often tasty but often monotonous South Indian food. Northern food is far better, in my opinion, by the way.
The first night back on the road I was caught in a thunderstorm and found refuge after dark in a grove of coconut palms a little way off the road. It was spooky being alone there with the flashing lightening and barking dog nearby, but I saw no people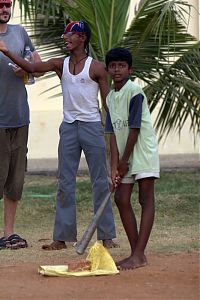 until the morning, when two burly, surly men came over to make sure I wasn't up to mischief on their property. The next day saw me over the hills into the lush, green state of Kerala and to the busy north-south road that leads to Kochi. Just as custom ring-tones are popular around the world these days, 'horn-tones'—yes, that's right, horn-tones for motorbikes, cars and especially commercial trucks—are all the rage in India. The truckers seem to have a special affinity for a deafeningly loud, off-key version of the Godfather theme song. If I make it to Purgatory, my way to Paradise will be on Indian roads—for years.
Of course, we would love to be Communist!
After being denied a camping place from several homeowners with exceptionally large plots of land I settled into a cheap, decrepit lodge on the main road. Like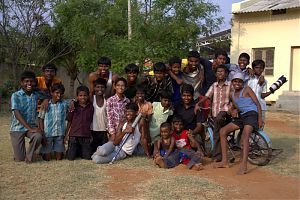 practically all of the windows in Indian habitations, my portal to the outdoors was guarded by a set of heavy, metal bars. You may come to your own conclusion why this is the case on the Subcontinent rather than in other parts of Asia, but I must reason that unwanted visits from thieves or other, worse types of antagonists have lead to a general lack of trust or insecurity that permeates the population of India. That said, one should also make use of all of the bolts on the doors of their hotel rooms. I believe I've seen as many as four on a single door.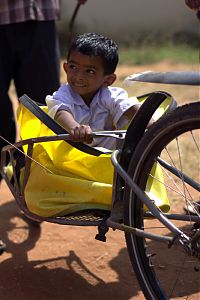 An interesting thing about Kerala: the Lonely Planet author praises the state of Kerala for having the world's "only freely-elected Communist government." I wonder if our author spent more than three days in Kerala or attempted to scratch the surface to find out why the political party the governs this state label themselves "Communist". After some quick inquiries of educated Indians I learned that this party was offered funds from the Soviet Union several decades ago to become "Communist." When they smelled the rupees, they said "of course, we would love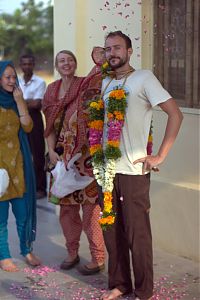 to be Communist!" The party adopted the title and the hammer and sickle logo, and that is as Communist as they became! One can, from little observation, easily discern that Kerala has no more religious suppression than anywhere else in India. Rather the inverse. Aside from atheism, the other ideal of Communism, that is, a sort of economic equality, appears not to be any more present here than elsewhere in the country. Again, rather the inverse. Evidently, the "Communist Party of Kerala" is nothing more nor less than another association of self-serving Hindu politicians.
As I enjoyed my final real meal of fantastic Northern food at the Dal Roti restaurant in Fort Cochin, I realized that there were some things about this country of countries that I would truly miss: namely, the explosions of color and the music.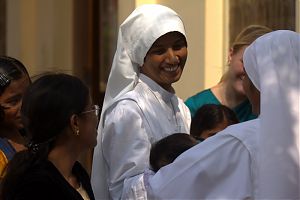 I'm not ashamed to say it, I really do favor Indian music—almost all of it. Especially the duets. And the Indian women, who are beautifully subdued and traditional, though in demeanor appearing to be a bit oppressed in many cases, dress with great taste in their brightly colored saris. Often the very houses they live in boast as much vivid pigment.
My legs and joints, unaccustomed to the motion of spinning after three months of almost no bicycling at the priory, protested with pangs of soreness as I made my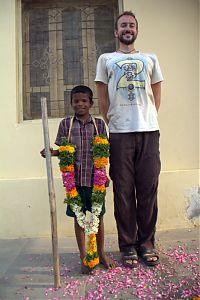 way to the airport. I had found a real bicycle shop in Kochi, called The Bike Store, no less, and the kind and well-spoken owner, Shuhaib, gave me two cardboard bicycle boxes. I folded them up and tied them to the top of my trailer for the 25km ride to the airport. Once there I spent over two hours packing my stuff into the large boxes outside the airport, and with the leisure of time to spare I practiced my last several Thai language lessons. I slept in the airport of Kuala Lumpur amidst my luggage for a few hours, overcome with a delightful potpourri of anticipation, subdued excitement and peace. A new chapter was soon to come!
Once again, all photos are compliments of Randall and all rights are reserved.
Comments:
Post a comment:
Commenting is closed for this article.