Subscribe to our blog: RSS | Atom

Paris--Extra!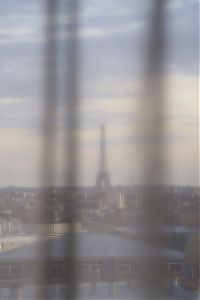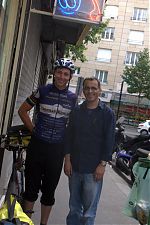 Randall accompanied his brother to the outskirts of Paris where they were to part for a space; they had hence spent a great deal of time together—too much, it might be said, and so this separation was to both a boon. As oxen from the yoke, they strayed apart.
After a hearty handshake and bon courage! on either side, the younger brother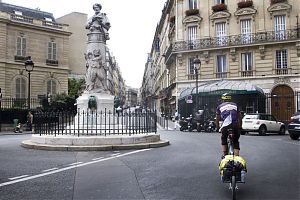 turned his cumbersome bike and trailer toward Paris, the elder in the direction of the "Giant of Provence," Mont Ventoux, far to the south. The brothers agreed to meet up again in a week.
Weaving through heavy afternoon traffic, Randall made his way slowly back to the city center—the avenues of sky-scraping facades, and sundry shops, where the smell of hot bread wafts through the streets, where lilliputian Euro-cars scramble down narrow cobbled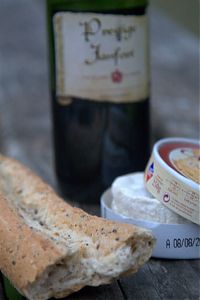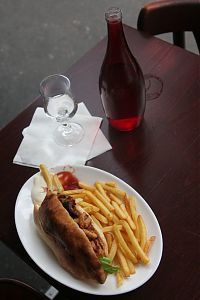 lanes into the great veins of coursing traffic. This is where he loved to be: riding at a furious pace amid the cars and playing a glorified game of chicken in the expansive roundabouts, pedaling with all haste to avoid collision, through accident or impatience. But for all that, the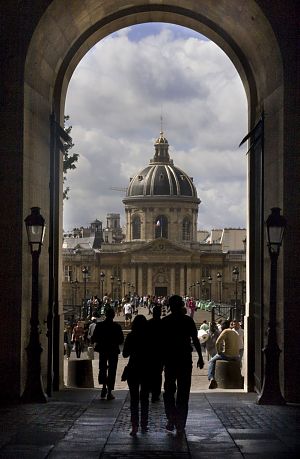 French automobilists are surpassingly courteous. In truth, one need not worry about impatience or rudeness—where a redneck Californian might roar past at a narrow margin, horn blaring, jettisoning garbage in the bicyclist's general direction, the French leave a wide berth without so much as a 'ribbit.'
He had a mission: find an in internet cafe (not too expensive) and contact a Whidbey friend who he knew to be in Paris. It was a good pretext to fly at breakneck speed around the city, anyway. But eventually he found what he needed, thus securing a place to stay within the Center.
It took several days to get a feel for the city, to become quite comfortable with his nascent linguist abilities, and eat enough baguettes not only to nourish his body, but the French Spirit Within as well (it lives solely on food). Indeed, all the while he was absorbing more than the mere molecules of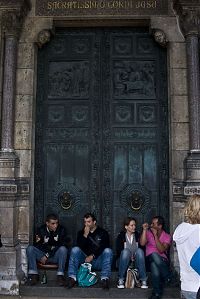 wheat from the bread he consumed.
But perhaps 'gourmandize' is a better word to be used in relation to French cuisine. For example, "Randall gourmandized a sizeable quantity of fresh baguette, sumptuous cheese—especially chevre—and good wine over the duration of his stay in Paris." Which is, incidentally, a historical truth.
But moving on now.
After several days of thus digesting the food and culture, he was ready for a change: Why not make an excursion to Normandy? "Several hundred kilometers would tick by in no time at all, and I can be back in time to meet Andrew at the train station—simple," he thought. But Paris and inactivity had made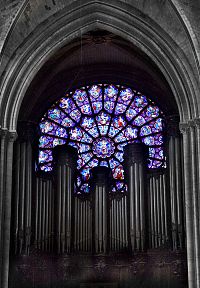 him soft. He struggled—no, that word's too embarrassing—he fought through the frenetic streets of Paris, through the forest, past the Chataeux de Versaille, into the country; here it was a simple matter of using his compass to guide him North and West. By the middle of the second day since his departure, he had pedaled approximately 130 kilometers, and was was firmly convinced that he was well on his way to destination Lisieux. O! woeful fate! It was not to be so: the roads are treacherously serpentine, and such was his trouble: he was frustrated in every attempt to pinpoint his location.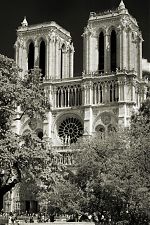 Not a single city was listed on the map. As he was riding, he turned in the saddle to look behind, as one does many times in a day, and espied a sign that read:
PARIS 30 KILOMETERS.
He was back in the City by nightfall.
However, not having a place to stay, he was forced to seek shelter in the forest of the city's Parc de Boulogne. He waited until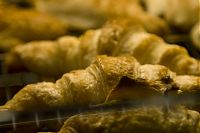 dark, and crept through the dense underbrush until he was sufficiently far from the path to avoid being noticed by any night-prowlers or otherwise unwanted company. Nevertheless, bulky, bloodthirsty ravens cawed ravenously in the foliage of the surrounding trees, which pressed, close, dark and formidable, upon his tent. Darkness fell, and Randall drifted into sleep. He would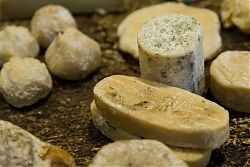 resurface some hours later in a pool of bright sunlight, flowing like a dream into the city of Paris, and many days yet to come.
Comments:
Post a comment:
Commenting is closed for this article.