Subscribe to our blog: RSS | Atom

Paris to Lisieux (and other excursions)


Early August, 2009
Posted from the Scottish Highlands
Paris would soon be left behind.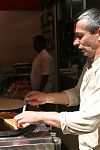 But while Andrew moves on to Lisieux and Mont Saint Michelle, I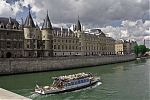 must linger for a space. I might be strolling along the Seine, or visiting one of the many museums—probably the Louvre, through the Cluny Museum is fascinating too, housed in the old residence of the Cluny Abbots—before I stop for a finger-burning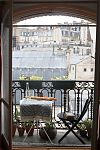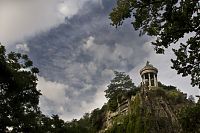 Nutella Crepe near the Pont Neuf. As I eat, my eyes travel eastwards along the river. I can nearly make out the towers of Notre Dame—the landmark for tasty kebab in the narrow alleys just across. Later I would stay with my 5th Parisian host, where I would

meet two Polish cyclists, with whom I at once felt an affinity. They had arrived in Paris late the night before, and what befell them was similar to some of our experiences. Not being able to find their hosts' residence, they struck camp in the courtyard of an apartment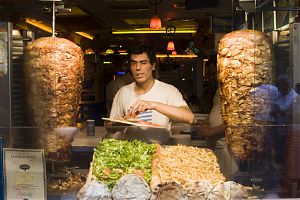 building, unaware that the doorway separating them from a warm bed was only several meters away. Naturally they were quite dejected.
That day I watched the Mont Ventoux stage (where I knew Andrew to be) of the Tour de France from an Irish pub, the entrance fee being a pricey pint of Guiness. It was an exciting stage on the whole, or would have been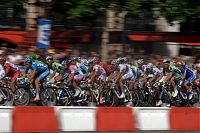 were the channel not changed several minutes before the first riders were to cross the finish line, only to to be turned back after it was all over. Next day I would see them speed past on the Champs Elysees: four hours of waiting was rewarded with several subsequent blurs as the riders made their laps. Several minutes, and it was done,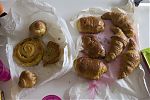 and I was done with Paris
I now find myself in the main square at Lisieux, where Andrew has left us with his last post. We've just visited the Basilica, and now seek a place to stay in town. Our day-by-day, by-the-seat-of-our-pants flexibility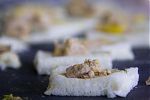 has inclined us to stay an extra night. While seeking hospitality, we find Clemence Farcy, who would prove to be an excellent host—hospitale, friendly, and generous.
Clemence introduced us to her friends and treated us to some of the French cuisine,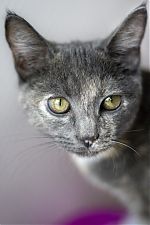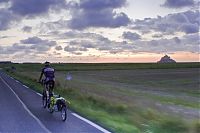 including several different kinds of pastry—some local—as well as fois gras, and the local drink, an apple liquor called Calvados. Her little cat, Alphabet, kept us company while she was at work. Afterward we went for a picnic on the coast of Normandy. The water was warm—we went for a swim, and had a lovely time altogether.
Such a fine time, in fact, that I decided to spend my birthday in Lisieux. After an excursion to Mont Saint Michelle, Caen, and a run-in with an Australian Olympic rowing champion—Martin Cross—we were back in Lisieux with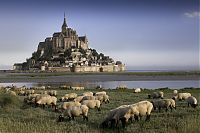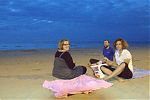 Clemence and our friend Marine.
From there we would ride to Calais for the cross-channel ferry…
Comments:
Post a comment:
Commenting is closed for this article.