Subscribe to our blog: RSS | Atom

Peaches'n'Cream with Hot Needles


Tehachapi – at the bakery we were able to do a lot of promoting. People saw our bikes outside and would ask questions like "You're going around the world? What's your route?" or the inevitable "How are you going to cross the oceans?" We have come up with a few marginally witty answers to that one.
"Giant balloon-paddle-tires and pontoons."
"We will float on the back of a giant tortoise, flanked by dolphins." (Glenn DP gets partial credit for that one.)
"Turn our bikes into hang gliders an ride the thermals."
These responses usually evoke a grin or a chuckle.
2 for the price of 1 MILES!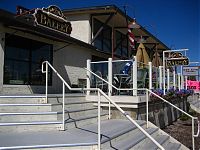 As the morning passed into afternoon the wind picked up in Tehachapi. When we finally hit the road, around 4pm, it was a veritable gale. And this blasting force was directed in our favor! We lasered through hills and mountains blanketed in massive wind props used to generate electricity ("Wind Farms"). Sometimes it was frightening. Even though the shoulder of Highway 58 was large enough to provide room for error, riding at 40 miles-per-hour (65KPH) without pedaling and sometimes being buffeted from the side by stray puffs of air was enough to mentally infuse one with a sense his own mortality.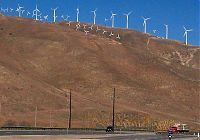 The desert beyond the hills was very desolate. We blasted on with a the tailwind on the wings of God at a good 25-30 MPH in the warm sunshine. Getting such a late start I was initially quite sure we would not make the 80 miles to the town of Barstow. We stopped in the town of Boron (or Borax?) for water but the proprietors advised us not to fill up with tap water. "Arsenic in the ground here. Ever seen Erin Brokovich? Hinkley is the next town east of here."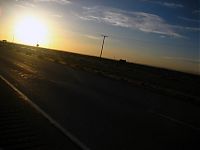 "What do people drink here, then?" I asked.
"Bottled water. But most people here get cancer anyway," was the bleak answer to my naive question.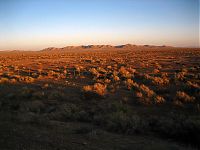 So we bought a gallon of water for $1.29 and pressed on through Hinkley, arriving at Barstow just as darkness enveloped the red-brown, parched landscape. As we rode into town we passed a Holiday Inn Express and decided to stop and try our luck at a complimentary room. This being a new experience for us we were completely prepared to accept rejection and set up camp behind a church or post office. Randall, the more endearing of us, told the girl at the front desk what our mission is and popped the question. She called her manager and, to our joy were gifted shower and room for the night!
Who says we have to rough it??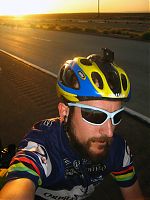 The Holiday Inn Express in Barstow is on Main St, which is also part of Historic Route 66. They have a cool map of the old highway in mural form behind the front desk. After a good nights' rest and a hearty continental breakfast we got another late start, around 12pm.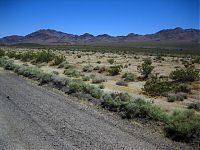 This time we suffered the consequences of our lack of discipline to a greater degree. The day was HOT. Really HOT. We followed Route 66 in the cruel sun for 30 miles, until the pavement became so rutted and broken I decided to jump back onto the interstate. My water bottles had become hotter than the air (think greenhouse effect) so it felt like I was drinking sports drink out of a recently-fired tea kettle!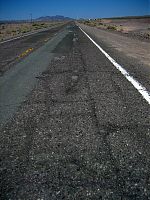 At the 50 mile mark I arrived at the town of Ludlow. Waiting for Randall I had some ice cream and sat for about 30 minutes. Some truckers asked, "Are you the bike ride we saw down the road with your wheel off?"
"No. That was probably my brother." I said.
"Oh! His wheel was off and it looked all bent up! And his trailer was unhooked and he was holding his back. I thought he might have been hit!"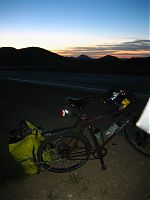 At this unsettling news I asked a few more questions and then called the highway patrol. The kind officer finally tracked him down up the road about eight miles east of Ludlow. Randall had only had a flat tire, and had not stopped at the DQ (where I was waiting) but only the gas station to fill his bottles. I caught up and then dropped him again and waited at dusk. No sign of Randall, I camped in a large gully between the northbound and southbound lanes of I40, in the midst of the mountains of the Mojave Desert.
As I dug through my handlebar bag the next morning searching for my wallet, Randall caught up. Handlebar bags: the best purchase I have made, short of a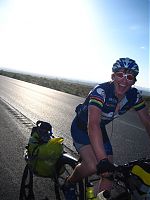 double waffle cone in the 100 degree heat of Oatman yesterday. Before the handlebar bag the handling of the front end of the bike was less than solid. The reason is, when you have a trailer or other type of luggage system weighting the rear of a bicycle the ride is unbalanced. The front end gets squirrelly. It was very difficult, but not impossible, to pedal "out of the saddle", and riding with one hand downhill was risky at best. Since weighting the front with handlebar bags the bike is much more stable and one can pedal out of the saddle with ease to relieve the weary bones.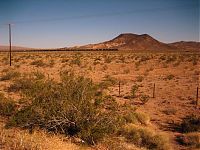 But, I digress. I called the DQ at Ludlow in search of my missing wallet, and sure enough, I had left it there. Those of you that know me will not be surprised at my absentmindedness in this regard. There is a trail of small belongings of diverse value that I have left behind from Bakersfield to Needles. No doubt I will leave some possession here in Kingman, Arizona!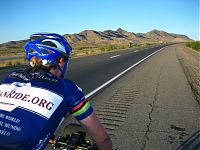 There was a $100 bill in my wallet that someone (no one knows who) took liberty to as a finders' fee. Otherwise everything was intact so the kind lady on the phone offered to send it on ahead. So we rode through the morning and the Mojave Desert to a rest stop at 50 miles, where we spent the mid day in the shade of some oaks to beat the heat. Interrogated in a friendly manner in regard to our mission by loads of day-trippers and hoards of tourists we were able to do a lot of promoting and quite some fundraising. Many generous souls handed us cold water bottles, granola bars, and jerky. That day we had had a few flat tires from bits of wire left over from shredded truck tires on the shoulder. We spent our spare time repairing those and finally made the short climb and long descent into Needles, CA.
I dub this town "Hot Needles," for it is like unto rolling oneself in a bed of glowing points to be there at mid day.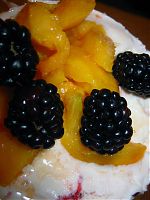 On the cool Colorado River and Arizona border, Needles lies at 400 feet above sea level. Hence, it is one of the most warm places in the U.S. Temperatures hovered in the 115-120F range while we were there. Our first night we stayed in the Needles Inn, at which the proprietors kindly put us up. The next day we met the owner of the Best Western, who offered to host us another night. Thank you to both establishments for your hospitality, as I know not how we would have slept out in the open when it is still 90F at 3am!
Comments:
Post a comment:
Commenting is closed for this article.